French Open
How many Grand Slams has Djokovic won? Roland Garros, Wimbledon, US Open, Australian Open
World number one Novak Djokovic is level with Roger Federer and Rafa Nadal on 20 majors as doubts remain about his Australian Open participation.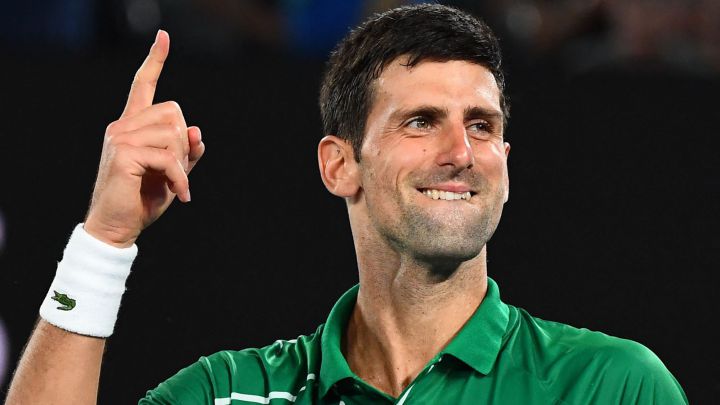 Novak Djokovic was widely expected to lift a 21st major title in Melbourne before Australian authorities revoked his visa, leading to serious doubts over whether the world number one will be allowed to compete at the 2022 Australian Open. The Serbian was heading into the tournament as the heavy favourite to lift the trophy in the absence of Roger Federer and with both Rafa Nadal and Andy Murray battling ongoing injury problems.
Djokovic last year narrowly missed out on a calendar year slam - winning the four major titles at the French, Australian and US Opens and Wimbledon - when he lost in the US Open final to Daniil Medvedev. Only two male players in history have ever pulled off a calendar year slam, Don Budge (1938) and Rod Laver in 1962 and 1969. Had Djokovic succeeded, his claim to be regarded as the greatest male player ever to wield a racquet would have been boosted immeasurably. Neither Federer nor Nadal have a calendar year slam to their names and had Djokovic overcome Medvedev, his crowning achievement would also have inched ahead of the Swiss and the Spaniard in the all-time slam stakes, with the three currently tied on 20.
Djokovic, Nadal and Federer dueling for supremacy
The triumvirate of Nadal, Federer and Djokovic - with an honourable mention for Murray - is arguably the single greatest sporting rivalry of all time. Tennis has witnessed some wonderful rivalries during the sport's long history - Connors-McEnroe-Borg, Navratilova-Evert, Sampras-Agassi, Emerson-Laver - but none have been as crushingly dominant as the reign of the 21st century Big Three. Since Federer's first slam at Wimbledon in 2003, only nine other players have lifted a slam: Andy Roddick, Gastón Gaudio, Marat Safin, Juan Martín del Potro, Murray, Stan Wawrinka, Marin Cilic, Dominic Thiem and Medvedev.
Of those, only Murray (3) and Wawrinka (2) have won more than one. Roddick, Gaudio and Safin's slams came before Nadal and Djokovic had established themselves and Thiem and Medvedev's Australian Open wins were in 2020 and 2021, with the light fading a little on the era of the Big Three. The other 60 majors during that period of almost two decades have gone to Federer, Djokovic and Nadal.
Federer is absent in through injury and Nadal is just returning - although the Spaniard won the Melbourne Summer Set as he limbers up for the Australian Open - which paved the way for Djokovic to add to his 20 major titles at Melbourne Park, where he has never lost a final. The Serb's participation remains in doubt as the wrangle over his visa and medical exemption rages on, but few would bet against the three titans of the modern game adding a couple more slams to their laurels before the "next gen" are finally handed the baton.
🗣 'Federer is the greatest player that ever played because of what he does on the court but also off the court, the way he conducts himself.'

Even if Djokovic does surpass Federer and Nadal in the Slam stakes, he can never truly be the 🐐 ⬇️https://t.co/GPum22kcZ8 pic.twitter.com/Kyispk2JGZ

— Off The Ball (@offtheball) January 7, 2022
Djokovic's 20 Grand Slam titles
Australian Open: 2008, 2011, 2012, 2014, 2015, 2016, 2019, 2020, 2021 (nine titles)
French Open: 2016, 2021 (two titles)
Wimbledon: 2011, 2014, 2015, 2018, 2019, 2021 (six titles)
US Open: 2011, 2015, 2018 (three titles)
Grand Slam runner-up
Djokovic has also been runner-up in 10 Grand Slam finals. He's never had to settle for second place in Australia, winning every final he has reached.
French Open: 2012, 2014, 2015, 2020
Wimbledon: 2013
US Open: 2007, 2010, 2012, 2013, 2016