Egypt vs Sudan summary: score, goals and highlights, AFCON 2021 Group D
Egypt 1-0 Sudan: AFCON 2021 as it happened
Egypt 1-0 Sudan: headlines
- Abdelmonem's header earns the three points for Egypt
- Pharaohs finish second in Group D and qualify for last 16
- Sudan consigned to bottom spot in the group
- Nigeria top Group D with maximum points after beating Guinea-Bissau
Peeep peep peeeep! All told, it's been a pretty comfortable evening for Egypt, who should probably have won by a couple. As it is, they'll have to content themselves with a 1-0 victory, courtesy of that first-half header by Mohamed Abdelmonem. It's enough for the Pharaohs to secure second place in Group D and a berth in the last 16. As for Sudan, they finish bottom of the group with just the one point.
Thanks for reading!
Salah skips past Mohamedein on the right wing and into the Sudan box, but Hassan is quickly across to clear the danger before the Liverpool man can pull the trigger.
Three minutes of added time in Yaoundé.
Nigeria now 2-0 up
In Garoua, Nigeria have doubled their lead against Guinea-Bissau, William Troost-Ekong scoring for the Super Eagles.
A double change for Egypt. El Soleya and Mohamed are replaced by Hamdi Fathi and Marwan Hamdy.
Abdelmonem is booked for going through the back of Makki. Another free-kick in a dangerous position for Sudan... but Mohamedein blazes it high over the crossbar!
Sudan win a corner, which Elfadni takes - and scuffs straight at the first man.
Burhan Tia's men then go on to keep the ball in the Egypt half for a sustained period, before Abas Omer wins a free-kick off El Soleya.
Abdelrahman shoots low, El Shenawy sees it late and parries, and then does well to parry again when Karshoum follows up! That could very easily have been 1-1, and perhaps that plot twist wouldn't have been so unthinkable after all.
Better from Sudan.
Sudan's attacking threat has dwindled to pretty much zip in the second half.
Fifteen minutes to go at Ahmadou Ahidjo Stadium, and it'll take the mother of all late plot twists for Egypt to be denied a last-16 spot now. Carlos Queiroz's men may still only be 1-0 up, but they look very comfortable.
Sudan make another change, bringing on Sharif Makki for Omer.
A moment earlier, Zizo laid a left-wing free-kick low towards the top of the box, where Salah had peeled off to strike first time. However, the forward's shot was deflected away.
Marmoush is off for Egypt, Trézéguet replacing him.
It really should be 2-0 to Egypt. Marmoush clips a ball from the left to Salah on the right-hand side of the box. After chesting it down, Salah lays it off low into El Soleya's central run towards the penalty spot, where he is one on one with Achrine. El Soleya's sidefooted finish is high, though! A huge opportunity missed.
Salah almost doubles Egypt's lead with a fine individual goal. Latching on to a loose ball just outside of the Sudan box, he skips past two challenges before thumping a low shot at goal, but Achrine moves his feet quickly and gets into position to parry.
Nigera take lead against Guinea-Bissau
Nigeria are now on course to finish with nine points out of nine in Group D, after Umar Sadiq gave the Super Eagles the lead a couple of minutes ago.
Egypt make their first change of the match, replacing El Said with Zizo.
There's a shooting chance for Egypt, but Achrine parries well! El Soleya is given far too much time to control, steady himself and shoot on the edge of the Sudan box. He arrows a low shot towards the corner, but the Sudan goalkeeper gets across quickly to turn it behind!
The corner then comes to nought. Before it was taken, Sudan's Mahjoub was booked for an offence I confess I missed. I'm assuming he gave the referee - Botswana's Joshua Bondo - a little bit too much lip.
Here, courtesy of the CAF social-media team, is some footage of the Egyptians' celebrations after Abdelmonem's opener late on in the first half:
Sudan have made three half-time substitutions. Most notably, they've replaced goalkeeper Mustafa, who has clearly picked up a left thigh injury as he came out of the dressing room with some heavy strapping on it. Ali Achrine is on in his stead.
Gumaa Abas Omer and Yasin Hamed are also on for the Sudanese, with Hussein and Al Rashed making way.
No changes for Egypt at half time.
Peeep! Back underway in Yaoundé.
Peeep peeep peeeep! That's half time at Ahmadou Ahidjo Stadium, where Egypt are worth their lead.
Sudan have looked reasonably dangerous on the odd occasion that they've broken at pace, but as the half wore on those occasions became less and less frequent.
Mohamed Abdelmonem's header separates the teams, and as things stand Egypt are joining Nigeria in the last 16.
Two minutes of time added on in Yaoundé.
Al Rashed carries the ball down the right channel for Sudan, before taking a pot shot from about 25 yards or so out. Elneny is in position to block, though, before Egypt bring it clear.
Egypt go very close to a second! El Said drives into the Sudan box and lashes a left-footed shot towards Mustafa's left-hand corner, but the Sudan goalkeeper does ever so well to get down and parry. He got a really firm hand to the shot, which was hit with plenty of venom.
Over at Roumdé Adjia Stadium in Garoua, it remains goalless between Guinea-Bissau and Nigeria. So as things stand, Nigeria are topping Group D with seven points, Egypt are taking second with six points, Guinea-Bissau will be third with two and Sudan bottom with one.
Egypt are incensed - and are right to be - when Hassan lunges at Marmoush with a wild challenge, swinging his boot at the player in a manner reminiscent of that Andy Robertson tackle at Spurs recently. After much pushing and shoving, Hassan gets away with a yellow card, before Mohamed heads the free-kick over the bar.
Egypt lead! Abdelmonen heads home! The defender stoops to meet a left-wing corner at the near post, and Mustafa has not time to react before it flies past him and into the net!
Close! Mohamed rises to meet a right-wing corner and gets a fair amount of power on his header, but although it's directed towards the corner, Mustafa gets across well to parry!
Mohamedein gets forward for Sudan and fires a long-range effort at goal with his left, but it drifts well wide.
Kamal bursts into the Sudan box from the right, and is initially in a lot of space to shoot. However, he dallies just a moment too long and, when he finally pulls the trigger, two white shirts throw themselves at his shot and it's deflected behind. Salah delivers one corner kick then another, but twice the Sudanese defence deals with it.
Salah tries to break into the Sudan box from the right wing, but is very well marshalled by Mohamedein and the ball runs out of play for a goal kick. After a not uneventful first 10 or so, there's been rather less to report since then at Ahmadou Ahidjo Stadium.
At one end, the ball is played to Salah in the Sudan box, but he can't quite lay it off to Mohamed to shoot. At the other, Sudan again break into the Egypt half at pace, but can't work it to Abdelrahman and the chance is lost.
There's a shooting chance for Egypt left-back Ayman Ashraf, but Mustafa gets down low to parry! Ashraf burst into the box, barrelling past the challenge of Elfadni, before fizzing in a low, angled drive towards the far corner. However, though he got plenty of power on his strike, it was too close to the Sudanese goalkeeper.
Egypt's Mohamed is down and in some pain after landing awkwardly following an aerial challenge with Hassan in the Sudan box. He's finally up and looks like he'll be OK.
Just before play was stopped so the magic sponge could be applied to Mohamed, by the way, Sudan had again broken quickly and with plenty of menace.
Hussein is looking very sharp in the Sudan attack. He turns and sets off towards the Egypt goal, but Abdelmonem is there to block when he pulls the trigger,
Mohamed heads just wide for Egypt! El Said whips a lovely dead ball into the box from the left, but the Galatasaray striker's glancing effort flashes a yard or two past the far post. It's been a lively start in Yaoundé.
After that initial period of Egyptian attacking play, Sudan then charge up the other end and carve out a very, very presentable chance to grab an early lead! Abdelrahman holds the ball up magnificently at the tip of the Sudan attack, before releasing Hussein to his right. He bursts into the Egypt box and cuts inside... but blazes over!
Egypt are immediately on the attack. First, Salah peels off towards the left-hand side of the box, but his backheel towards the penalty spot can't find another player in a red shirt.
Moments later, Elneny fires a bouncing ball well over the bar after Mohamed's neat chest-down found him in plenty of shooting space just outside the Sudan area.
Peeep! Underway at Ahmadou Ahidjo Stadium.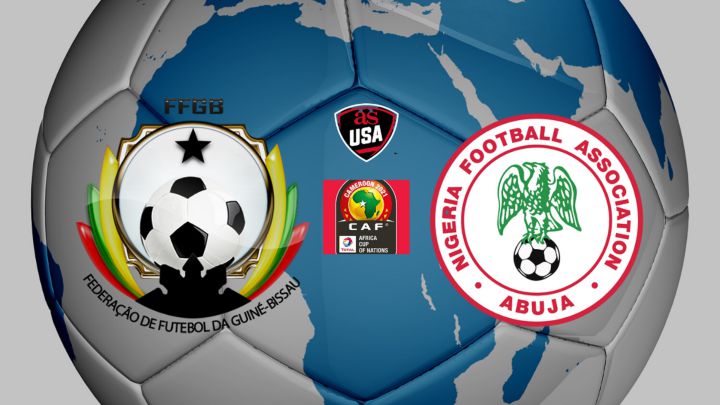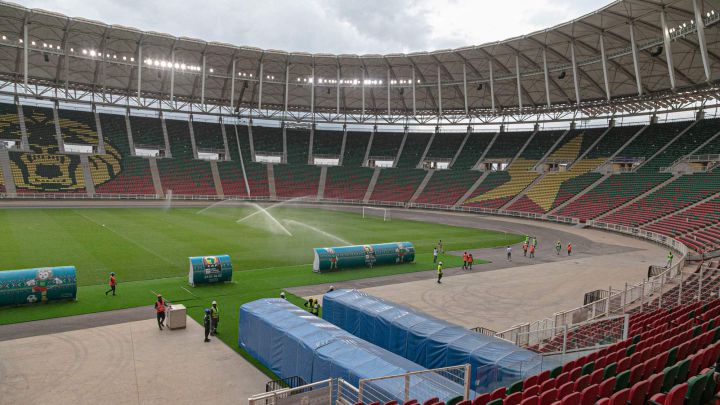 Egypt and Sudan's sixth AFCON meeting
Egypt and Sudan have met on five previous occasions at the Africa Cup of Nations, most recently 14 years ago.
At AFCON 2008, a goal by Hosny Abd Rabo and a brace for Mohamed Aboutrika gave Egypt a 3-0 group-stage win over the Sudanese in Ghana, where the Egyptians went on to lift the trophy for the sixth time in their history.
Sudan have just the one AFCON win over Egypt - back in 1970 - while the Pharoahs have been victorious in three of the teams' tournament meetings.
How things stand in Group D
Having lost 1-0 to Nigeria before beating Guinea-Bissau 1-0 last time out, Egypt sit second in Group D, three points behind the Super Eagles, who are already through to the last 16.
Indeed, Nigeria's victory over Egypt means Augustine Eguavoen's side have also been confirmed as group winners, as the Egyptians will have the inferior head-to-head record even if they finish level on points with the Nigerians.
While a point against Sudan will assure Egypt of second place in Group D, defeat would leave Carlos Queiroz's men sweating on whether three points will be sufficient to take them through as one of the four best-ranked third-placed finishers.
As for Sudan, they started out with a 0-0 draw with Guinea-Bissau, then went down 3-1 to Nigeria, and are currently bottom of the group. However, they'll still snatch second if they win today - unless Guinea-Bissau spring a surprise against Nigeria.
Were that to happen, though, four points would still almost certainly be enough for Sudan to go through in third place.
(Image: www.CAFOnline.com)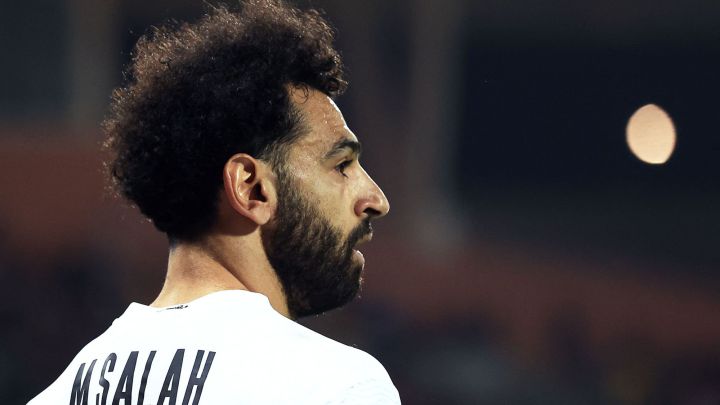 Egypt team news
Starting line-up: El Shenawy, Kamal, Hegazy, Abdelmonem, Ashraf, Elneny, El Soleya, El Said, Salah, Mohamed, Marmoush
Sudan team news
Starting line-up: Mustafa, Elfadni, Hassan, Karshoum, Mohamedein, Al Rashed, Khedr, Mahjoub, Hussein, Omer, Abdelrahman
Egypt vs Sudan: preamble
Greetings! Welcome to our live coverage of Egypt and Sudan's Group D matchday-three clash in Yaoundé, as Carlos Queiroz's seven-time African champions look to get the point they need to secure a spot in the last 16 at AFCON 2021.
The Pharoahs face a Sudanese team who can also reach the knockout stages today - as long as they win. Depending on the result of Guinea-Bissau vs Nigeria in Group D's other game, three points for Sudan would either lift them up to second at Egypt's expense, or (very likely) earn them a last-16 place as one of the four best third-placed finishers.
However, it's worth noting that a victory for Sudan would be only their second at an AFCON finals since they won the tournament 52 years ago. What's more, Burhan Tia's men are on a run of 13 games without a win and are up against a side who walloped them 5-0 at the Arab Cup a month ago.