What is the situation in the conflict between Ukraine and Russia?
Russian President Vladimir Putin has amassed a huge military presence at the Ukrainian border, sparking concern that an invasion is imminent.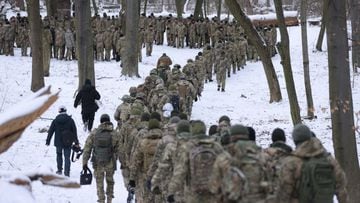 In recent weeks the situation on the border between Ukraine and Russia has escalated rapidly as President Putin amasses a considerable military presence on the ground.
Ukraine was the most populous nation, aside from Russia, to emerge from the collapse of the Soviet Union and the two sovereign nations share many cultural and societal similarities. Reports claim that a Russian take-over of Ukraine remains one of President Putin's greatest ambitions.
In a briefing released last week a senior US state department official wrote: "What concerns us is the total picture."
He continued: "It is the amassing of 100,000 troops along Ukraine's borders combined with moving forces into Belarus over the weekend … these numbers are beyond, of course, what we would expect with regard to a normal exercise."
Russia flexes its military mite at the Ukrainian border
There has been no physical confrontation between the two states in recent weeks, but a significant troop deployment in the areas surrounding Ukraine has caused a storm. The Guardian reports that Russian troops have travelled more than 4,000 miles to reach Ukraine's border, doing so on the pretence of a naval drill.
Russia maintains a large degree of influence in neighbouring Belarus, which also shares a border with Ukraine and could be a potential launching point for an invasion. It is thought that a significant military force, including elite spetsnaz troops and Iskander short-range ballistic, has been relocated from Russia's eastern military district. From that range, analysts warn that Russia would be able to threaten the Ukrainian capital of Kyiv.
In addition to that threat six Russian landing ships, with the capability of transporting troops, tanks and other military vehicles, are currently moving through the Mediterranean and bring with them the possibility of a naval invasion on Ukraine's southern coast.
Diplomatic solution is still possible after days of talks
Last week US Secretary of State Antony Blinken made a trip to Geneva to meet with representatives from both sides in the hope of finding a diplomatic solution. His most important engagement was with Russian Foreign Minister Sergey Lavrov and the two are thought to have discussed the extraordinary deployment of troops on the Ukrainian border.
The 90-minute meeting did not result in any concrete agreement between the two nations, but both appear willing to continue with diplomatic efforts for now. Speaking to reporters after his meeting with Lavrov, Blinken said: "If Russia wants to begin to convince the world that it has no aggressive intent toward Ukraine, a very good place to start would be by deescalating by bringing back and removing these forces from Ukraine's borders."
Both Blinken and President Biden have said that they expect a Russian invasion into Ukraine in the near future and reiterated that any military excursion would be met with a strong response from the West.