Senegal vs Cape Verde summary: score, goals and highlights, AFCON 2021
Senegal 2-0 Cape Verde: as it happened
Senegal 2-0 Cape Verde: headlines
- Mané gives Senegal lead with shot off underside of crossbar
- Dieng makes sure with stoppage-time goal on the break
- Cape Verde end up with nine men after Andrade and keeper Vózinha sent off
- Senegal chasing first African title after losing 2019 final to Algeria
- Teranga Lions to face Mali or Equatorial Guinea in quarter-finals
- At least eight fans killed in stampede before Cameroon match on Monday
Peeep peeep peeeep!
Senegal are into the quarter-finals, but they've made very heavy weather of a tie in which they were one man up for 35 minutes, and two men up for another 35.
Sadio Mané and Bamba Dieng's goals give Aliou Cissé's men yet another 2-0 win over Cape Verde - their fourth in a row, no less - and they'll meet either Mali or Equatorial Guinea in the quarter-finals on Sunday.
Thanks for reading!
Again Senegal break with men over, and this time they do make it count! Dieng plays a one-two with Diédhiou, which leaves him in on Rosa at the top of the Cape Verde box. His finish is low and - more or less - into the corner, and the Teranga Lions are heading into the quarter-finals!
It's end-to-end stuff now. With Cape Verde's outnumbered players still getting back into defence, Senegal have men queuing up in the box for a pull-back... which doesn't come!
At the other end, back come Cape Verde, who work it to Monteiro on the left. However, his pass across the top of the box is cut out.
Five minutes of time added on at Kouekong Stadium.
Hello there: a glimmer of life in the Cape Verde attack. First, Monteiro calls Mendy into action when he connects with a right-wing cross with an enterprising backheel, albeit he can't get much power on it.
Next, Pedro Brito's men win a free-kick on the left - but it's fairly easily dealt with.
Idrissa Gueye is in behind the Cape Verde defence after exchanging passes with Dieng, but after carrying the ball forward into the box, he can only drag his shot into the side-netting.
Senegal make a double change, replacing Ciss and Pape Gueye with Fodé Ballo-Touré and Joseph Lopy.
Boulaye Dia plays a one-two and, after advancing into the box and collecting the return, tries to square the ball across goal, but can't beat the first man.
Cape Verde were not much of an attacking force before, and now with nine men their forward threat is non-existent. It seems like a case of how many Senegal win this by - but the way things are going, I wouldn't bet a lot of money on a margin bigger than one. The Teranga Lions are astonishingly plodding in attack.
Dieng cuts inside from the left, advances towards the Cape Verde box and lets fly from 25 yards or so, but sends his shot well, well off wide.
A moment later, the substitute tries almost exactly the same move, and this time fires into Rosa's side-netting.
Cape Verde make another change, bringing Kenny Rocha Santos off for Júlio Tavares.
Nampalys Mendy is booked after dragging down Jamiro Monteiro on the halfway line.
Indeed. Bamba Dieng is on for Mané. Cape Verde also make a change, taking Dylan Tavares off for Nuno Borges.
It looks like that might be Mané's final involvement. The medics are on after he sits down on the turf, presumably still dazed by that clash with Vózinha.
Senegal lead! A minute after barrelling into the box and thrashing in a low shot that substitute keeper Rosa beat out, Mané finds the net!
When a right-wing corner is headed away only as far as the back of the box, the forward takes a touch, gets the ball out of his feet and curls it in off the bar!
The referee is called over to the pitchside monitor, to check on a possible infringement by Diédhiou before the ball ran through to Mané, but after watching it back a good few times, he gives the goal!
Cape Verde's substitute goalkeeper Marcio Rosa is on, with Garry Rodrigues the outfield player hooked.
After all that, Pape Gueye takes the resulting free-kick, but sends his shot off target.
Indeed: after watching back the Mané-Vózinha clash a few times, he brings a red card out of his back pocket and brandishes it in the goalkeeper's direction! I really don't know what to make of that; it's no Schumacher on Battiston, but it's true that there is just a little hint of a malicious barge in Vózinha's challenge as he and Mané jumped for the ball.
Either way, Cape Verde are down to nine men!
That's the first time I can remember Édouard Mendy touching the ball - and he almost creates an opener for Mané.
After coming out to claim a Cape Verde corner, the Chelsea keeper's long kick downfield meets Mané's run in behind the Blue Sharks' defence. As the ball drops on the edge of the Cape Verde area, however, Vózinha comes out to meet Mané, and the pair are both left in a heap on the turf after a nasty, nasty clash of heads.
They're both finally up, and now the referee is over at the pitchside monitor checking something; I'm not sure what, exactly. It can't be a penalty, as it's outside of the box. A red card against the goalkeeper?
Mané nods a right-wing cross down to Pape Gueye on the edge of the Cape Verde box, but Gueye thrashes the bouncing ball well over Vózinha's bar.
Senegal plop the ball about in front of Cape Verde's two defensive banks of five and three, but are really struggling to create anything of note. Nampalys Mendy tries his luck from range, and his shot trundles behind.
Cape Verde have made a half-time substitution, replacing Pico with Diney in defence.
Peeeep! We're back up and running at Kouekong Stadium.
Peeep peeep peeeep! We knew these were two sides in less than rampant goalscoring form, and so it proved in the opening 45 in Bafoussam, where it remains goalless. Mané's opening-minute shot off the post was by far the closest we came. That aside, the half's most notable moment was Patrick Andrade's sending-off, after a VAR review, for his robust challenge on Pape Gueye.
Fairly understandably, given they're a man down and the clear underdogs, Cape Verde haven't done a whole lot going forward; that said, Senegal have hardly been pulling up many trees, either. It all depends on whether they tire with 10 men, of course, but even if they can't create much up top, Cape Verde may well have a decent shot of taking this one to penalties.
Senegal work the ball out to the right for Bouna Sarr to cross, but he shanks his delivery into the stands behind the goal. Time is almost up.
Two minutes of time added at Kouekong Stadium.
Cape Verde get Rocha Santos into a promising cross position deep in the left-hand channel, but his clipped ball drifts aimlessly out for a Senegal goal kick.
At the other end, Mané almost latches on to a high, angled ball delivered to the left-hand side of the Cape Verde area, but Vózinha is quickly off his line to boot the ball into row Z. The keeper appears to have hurt himself in the process of making the challenge, but after a brief bit of medical attention he looks like he'll be OK.
That's bright play by Mané, who exchanges passes with Idrissa Gueye before collecting the return inside the Cape Verdean box. Just as he prepares to pull the trigger, however, Steven Fortes slides into put the ball behind.
The corner is only half-cleared to the top of the box, where Pape Gueye takes a left-footed swipe at the dropping ball, but can only send his effort well off target.
Jeffry Fortes tries to bustle into the Senegal box, but succeeds only in bringing down Diallo. Senegal break, but a lofted ball forward towards Boulaye Dia is easily gathered by Vózinha.
Senegal pop it about in the Cape Verde half for a good minute or so, before Bouna Sarr is penalised for a foul on Dylan Tavares.
Back come Senegal, who work it to Diédhiou when the forward pulls off to the right. He looks up and quickly shuttles the ball into the area and across goal to Mané's run into the box, but Vózinha is on his toes and scampers off his line to get to it before the Liverpool star.
Here's an opportunity for Cape Verde to get the ball into the Senegal box, though. The Blue Sharks win a free-kick some 10 yards inside the Senegalese half, which Steven Fortes will clip into the area.
Fortes' delivery is easily dealt with, however.
We've seen almost nothing in attack from Cape Verde, and that's unlikely to improve much now they're a man down.
A brief hint of a Cape Verdean forward foray is quickly snuffed out, and in the blink of an eye, Senegal are thundering over the halfway line on the break. Diédhiou tries to lift a cross to the penalty spot and onto Mané's head, but Vózinha is quickly off his line to grab hold of the ball.
It is changed to red! Cape Verde are down to ten men!
Cape Verde's Patrick Andrade is booked for after catching Pape Gueye's foot with a studs-up tackle. Andrade protests to referee Lahlou Benbraham that it was a case of six of one, half a dozen of the other, but the Algerian referee doesn't agree... and indeed he is being called over to the pitchside monitor to see whether Andrade's yellow should be changed to red!
Gueye slaps his free-kick straight into the wall. The rebound bounces back to the PSG midfielder, who lifts the bouncing ball over towards the far post. The flag is up for offside, however, and Cape Verde have a free-kick.
There's really very little of note happening at Kouekoung Stadium.
Ah, and just as I write that, Mané is brought down on the edge of the area by Kenny Rocha Santos, and Senegal have a very dangerous dead ball opportunity, which Idrissa Gueye is standing over.
Olembé Stadium quarter-final to be moved after deadly crush
CAF president Patrice Motsepe has vowed that African football's governing body will, together with the Cameroonian authorities, conduct a full inquiry into yesterday's stampede at Olembé Stadium, and will take steps to make sure such a tragedy is not repeated.
"We have a duty to find out exactly what happened and more importantly to put in preventative measures to ensure that what happened never happens again," Motsepe said today.
The AFCON 2021 quarter-final due to be staged at Olembé Stadium, which is located in the Cameroonian capital of Yaoundé, is to be moved to another venue.
Right away, Sadio Mané almost gives Senegal the lead! The ball is laid off to the Liverpool star at the top of the Cape Verde box, and he wraps his foot around a powerfully-hit strike that looks for all the world like it's bending into the top corner of Vózinha's goal. It bounces back off the upright, however!
Minute's silence for victims of stampede
There was truly terrible news at AFCON yesterday, when at least eight football fans were killed in a stampede outside Yaoundé's Olembé Stadium, before Cameroon's 2-1 last-16 win over Comoros. There was a minute's silence before kick-off at Kouekong Stadium, as a mark of respect to those who lost their lives.
Full report: At least eight people killed in Cameroon stadium stampede
Peeeep! We're underway at Kouelong Stadium.
Another 2-0 win for Senegal...?
Today is Senegal and Cape Verde's first ever meeting at the Africa Cup of Nations finals.
The sides' most recent clash came in a June 2021 friendly, which Senegal won 2-0 courtesy of goals by Idrissa Gueye and Sadio Mané. Indeed, the teams' last three meetings have ended in 2-0 victories for the Teranga Lions.
As I mentioned earlier, this is only the second AFCON knockout game in Cape Verde's history. The Blue Sharks' sole previous knockout tie at the tournament came in the 2013 quarter-finals, when they went down 2-0 to Ghana.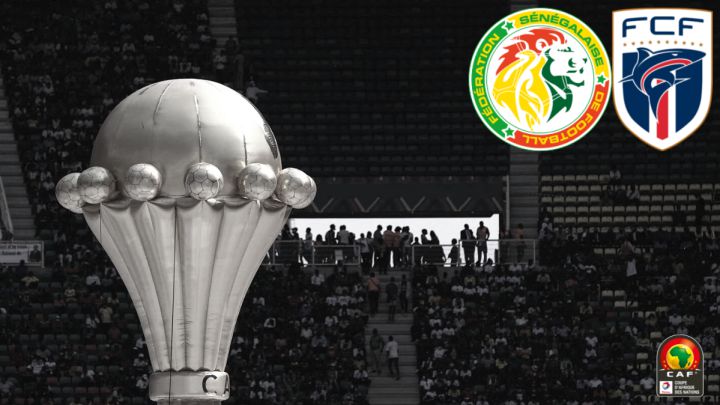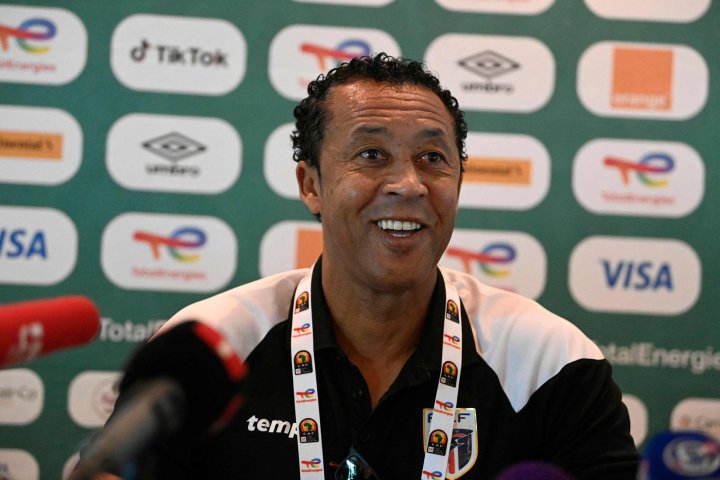 What the coaches said: Pedro Brito, Cape verde
"We have worked hard in our training and facing a team like Senegal is an added motivation, because the match is like a Derby. They have to respect us as a team the same way we respect them. The competition has seen a lot of surprises, and we hope to be the other team that will cause an upset as our mission is to win the game and move to the next round."
(Quote via CAF; photo: PIUS UTOMI EKPEI / AFP)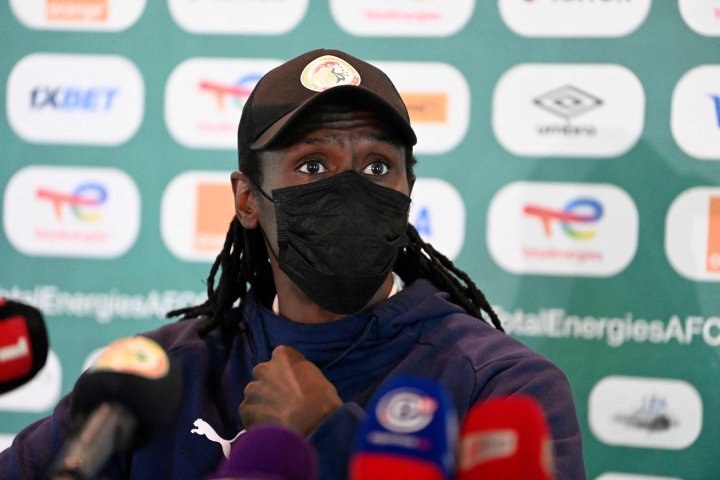 What the coaches said: Aliou Cissé, Senegal
"We have worked so hard in the past week, and I am happy the players have regained their full confidence as we face a Cape Verde team in a Derby that we want to win. Cape Verde have a wonderful team, but we are more than ready to face them, considering we can always create surprises when we reach this stage. The rest days have given us time to focus as a team. We are very motivated to get a win in what will be a very good game."
(Quote via CAF; photo: PIUS UTOMI EKPEI / AFP)
Three changes each for Senegal and Cape Verde
Senegal head coach Alious Cissé makes three changes to the team that drew 0-0 with Malawi in the Teranga Lions' final group game, bringing Nampalys Mendy, Pape Gueye and Famara Diédhiou into the team.
There are also three changes to the Cape Verde side that drew 1-1 with Cameroon last time out, Steven Fortes, Garry Rodrigues and Ryan Mendes coming into the Blue Sharks' XI.
Cape Verde have been dealing with a gastroenteritis outbreak which, according to a statement yesterday by the Cape Verdean FA, had affected 18 members of their delegation, including players. They've been fairly unforthcoming about exactly who has been hit by the bug, so it's unclear how many of today's trio of changes it has caused.
Cape Verde team news
Starting line-up: Vózinha, Steven Fortes, Pico, Stopira, Jeffry Fortes, Andrade, Rocha Santos, Tavares, Rodrigues, Monteiro, Mendes
Senegal team news
Starting line-up: E. Mendy, B. Sarr, Koulibaly, A. Diallo, Ciss, B. Dia, I. Gueye, N. Mendy, P. Gueye, Diédhiou, Mané
Senegal vs Cape Verde: welcome
Hello there! Welcome to our live coverage of today's AFCON last-16 clash between Senegal and Cape Verde. Kick-off is just under an hour away at the 20,000-capacity Kouekong Stadium, which sits some 15km outside the western Cameroonian city of Bafoussam.
Competing at their 16th AFCON finals, 2019 runners-up Senegal topped Group B to reach the knockout stages, but didn't exactly serve up edge-of-the-seat stuff. Aliou Cisse's men managed just the one goal on their way to a win and two draws: a 97th-minute penalty by Sadio Mané in their opening game against Zimbabwe.
As for Cape Verde, who are appearing at the tournament for only the third time, their four points in Group A were enough to take them through to the last 16 - and only the second AFCON knockout game in their history - as one of the best third-placed teams.
A total of two in their goals-for column thus far means Pedro Brito's men haven't been free-scorers, either. Allied with Senegal's combination of goal-shyness and defensive meanness - they're the only team at AFCON 2021 yet to concede - this rather suggests we may not have trouble keeping count today.
I very much hope I am wrong about that, though!