What is Tom Brady's family life? wife, kids, parents
Tom Brady holds the record for the most Super Bowl wins in NFL history, with six rings, is the loving father of three kids and married to Gisele Bündchen.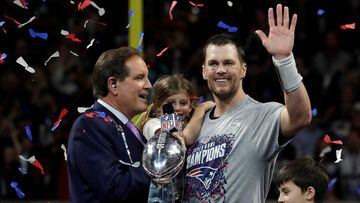 Tom Brady loves to share his triumphs with his children, after his recent win against the Green Bay Packers at Lambeau Field he went to embrace his son Jack in the stands. He often has a child in hand during Super Bowl victory parades, he'll be hoping to do so once again this year.
Who is Tom Brady's wife?
Tom Brady started dating Gisele Bündchen in 2006 when she was a Victoria's Secret angel. A mutual friend introduced him to her on a blind date. She told Vanity Fair in 2009, "I knew right way–the first time I saw him. He smiled and I was like, That is the most beautiful, charismatic smile I've ever seen!"
The two were married in 2009 in a small ceremony in Santa Monica with a second ceremony a few months later in Costa Rica.
Who are Tom Brady's kids?
Tom Brady has three children. His first child is John "Jack" Edward Brady whom he had with his ex-girlfriend Bridget Moynahan. The two dated for three years from 2004 to 2006. That same year, Brady started dating Bündchen. A few months into their relationship Moynahan announced that she was pregnant with Brady's baby. Jack was born in 2007 and Bündchen has raised him as her own.
She told Parade magazine "I want him to have a great relationship with his mom, because that's important, but I love him the same way as if he were mine. I already feel like he's my son, from the first day."
Brady and Bundchen's first child together is Benjamin "Benny" Brady who was born in 2009. His two sons are quite different unlike his brother he is not into sports. Brady said of his two sons to Men's Health "Jack is just like me: he holds a lot in. Benny, he lets it all out."
The couples second child together is their daughter Vivian Lake Brady born in 2012. Brady loves to spoil his daughter.
Who are Tom Brady's parents?
The legendary quarterback is the fourth child and only son of Galynn and Thomas Brady Sr. They raised him and his three older sisters Nancy, Julie, and Maureen, in San Mateo, California. They often took him to home games of the San Francisco 49ers nurturing his growing passion for football.
Brady's mother was diagnosed with cancer in 2016. She successfully fought through the disease with chemotherapy and radiation. Today, she is cancer-free and looks forward to every one of her son's football games.