LALIGA
Aubameyang departs Arsenal as Camp Nou move looms
Arsenal have confirmed Pierre-Emerick Aubameyang has left the club by mutual consent, with Barcelona expected to announce his signing.
Pierre-Emerick Aubameyang has left Arsenal by mutual consent ahead of his expected move to FC Barcelona.
The Gunners confirmed on Tuesday that Aubameyang had been released from his contract, which was due to expire at the end of next season.
Arsenal's decision is expected to pave the way for the 32-year-old to sign an initial six-month deal with Barcelona. A statement from the Gunners read in part: "Pierre-Emerick Aubameyang has left the club by mutual agreement.
"We wish Auba all the best for the next chapter in his career and thank him for his contribution to the club."
Aubameyang joined Arsenal in January 2018 and shared the Premier League Golden Boot with Mohamed Salah and Sadio Mane in his first full season in England.
He scored twice as the Gunners overcame Chelsea in the 2019-20 FA Cup final and found the back of the net 92 times in 162 appearances in all competitions for the club.
However, Aubameyang was stripped of the captaincy by Mikel Arteta in December for a disciplinary breach believed to relate to returning late from a trip abroad.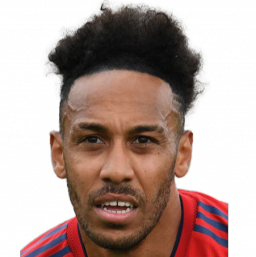 He was also the subject of an internal investigation by Arsenal after it was alleged he could have breached coronavirus restrictions to get a tattoo in February of last year. 
Arteta dropped Aubameyang from his squad after taking the armband off him, with the Gabon international's last appearance for the club coming in a 2-1 loss to Everton on December 6. 
Aubameyang scored four goals in his 14 Premier League appearances this season, averaging one every 259.8 mins – his worst in a campaign since arriving at Emirates Stadium.