Beijing 2022 Winter Olympics Day 10: medal count by country | news summary 14 February
Winter Olympics: Day 10 as it happened
Beijing 2022: medal table
1. Norway: Gold 9 Silver 5 Bronze 7 (21)
2. Germany: Gold 8 Silver 5 Bronze 2 (15)
3. USA: Gold 7 Silver 6 Bronze 3 (16)
4. Netherlands: Gold 6 Silver 4 Bronze 2 (12)
5. Austria: Gold 5 Silver 6 Bronze 4 (15)
6. Sweden: Gold 5 Silver 3 Bronze 3 (11)
7. China: Gold 5 Silver 3 Bronze 2 (10)
8. ROC: Gold 4 Silver 6 Bronze 8 (18)
9. France: Gold 3 Silver 6 Bronze 2 (11)
10. Switzerland: Gold 3 Silver 0 Bronze 5 (8)
11. Italy: Gold 2 Silver 5 Bronze 4 (11)
12. Japan: Gold 2 Silver 4 Bronze 5 (11)
13. Slovenia: Gold 2 Silver 3 Bronze 2 (7)
14. Canada: Gold 1 Silver 4 Bronze 10 (15)
15. Republic of Korea: Gold 1 Silver 3 Bronze 1 (5)
16. Australia: Gold 1 Silver 2 Bronze 1 (4)
17. Finland: Gold 1 Silver 1 Bronze 2 (4)
18. Hungary: Gold 1 Silver 0 Bronze 2 (3)
19. Czech Republic: Gold 1 Silver 0 Bronze 1 (2)
20. New Zealand: Gold 1 Silver 0 Bronze 0 (1)
20. Slovakia: Gold 1 Silver 0 Bronze 0 (1)
22. Belarus: Gold 0 Silver 2 Bronze 0 (2)
23. Spain: Gold 0 Silver 1 Bronze 0 (1)
24. Belgium: Gold 0 Silver 0 Bronze 1 (1)
24. Latvia: Gold 0 Silver 0 Bronze 1 (1)
24. Poland: Gold 0 Silver 0 Bronze 1 (1)
Beijing 2022 Day 10 headlines:
- Norway top of medal table after Day 10
- Global Athlete hits out at Kamila Valieva verdict
- Canada women through to ice hockey final
- Kaillie Humphries wins the first-ever Olympic gold in the monobob
- France's Gabriella Papadakis and Guillaume Cizeron, gold and new world record in figure skating ice dance event
- Xu Mengtao wins gold for China in freestyle skiing
- Austria claim gold in men's ski jumping
Winter Olympics news articles:
Thanks for joining us!
That's all from us on Day 10 of the Winter Olympics.
We'll be back soon with the action from Day 11.
Norway lead the way with 9 gold medals!
Ski jumping gold for Austria
Austria win the ski jumping gold in the men's medal event.
Slovenia finish runners-up and get the silver medal. Germany are third.
Another gold medal for Austria!
119 points earn Austria gold by eight points in the men's ski jumping! Manuel Fettner has done it for his nation.
Gold - Austria 942.7 (Kraft/Huber/Hörl/Fettner)
Silver - Slovenia 934.3
Bronze - Germany 922.9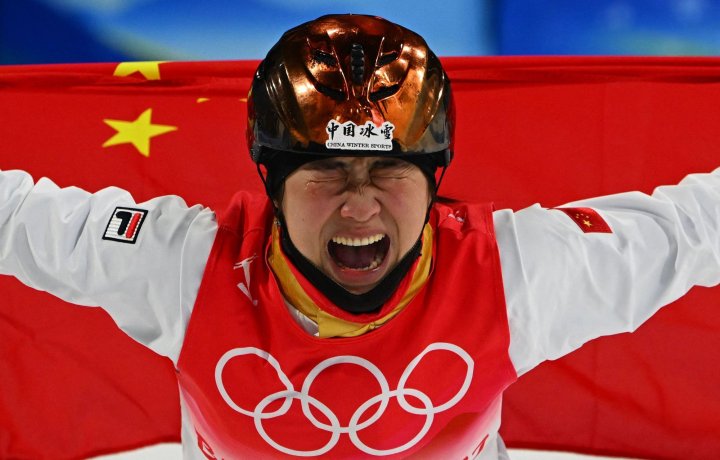 Just look what it means to China's Xu Mengtao after winning gold in Beijing. At 31, she's an Olympic champion.
Photo: Reuters/Dylan Martinez
Global Athlete statement on the Kamila Valieva ruling
"The Global Sport and Anti-Doping System Needs Immediate Reform"
Winter Olympics: Global Athlete hits out at Kamila Valieva verdict
The clearance of Russian figure skater Kamila Valieva to compete at the Winter Olympics has resulted in calls to reform the anti-doping system.
Valieva was cleared by the Court of Arbitration for Sport (CAS) on Monday to compete in Tuesday's individual event – in which she is considered the heavy favourite – despite the teenager's failed drugs test.
The 15-year-old has already helped Russia to team figure skating gold in Beijing.
Valieva tested positive in December for trimetazidine, a medication that prevents angina attacks but is banned by the World Anti-Doping Agency (WADA) because it aids blood flow to the heart.
Xu Mengtao (People's Republic of China) wins gold in the freestyle skiing, becoming the first Chinese female athlete ever to win an Olympic gold medal in aerials.
Hanna Huskova (Belarus) has won the silver medal, with Megan Nick (United States of America) taking the bronze.
Canada's Captain clutch leads quietly from the front
Reuters - Twelve years after earning a place in Canadian hearts with a gold medal effort on home ice at the Vancouver Olympics, Canada captain Marie-Philip Poulin has quietly blazed a trail to her fourth Olympic final.
Aged 18, Poulin scored both goals in her team's shutout win over the U.S. in the 2010 Olympic final to secure a third successive gold, setting off a glittering international career which shows no sign of slowing down.
Poulin, 30, is now the calm hand on the steering wheel of the most dominant team in Beijing who demolished Switzerland 10-3 in the semi-finals.
"She scores these highlight reel goals but she just leads with this quiet confidence on the ice," said Sarah Nurse, Poulin's team mate in Pyeongchang and in their successful 2021 world championship run.
"She has the best vision I've ever seen in the world and just an incredible leader.
"She's always somebody you can look down to on the bench, and she's always going to give you a little tap on the pads and say good job or tell you to pick it up if she needs to."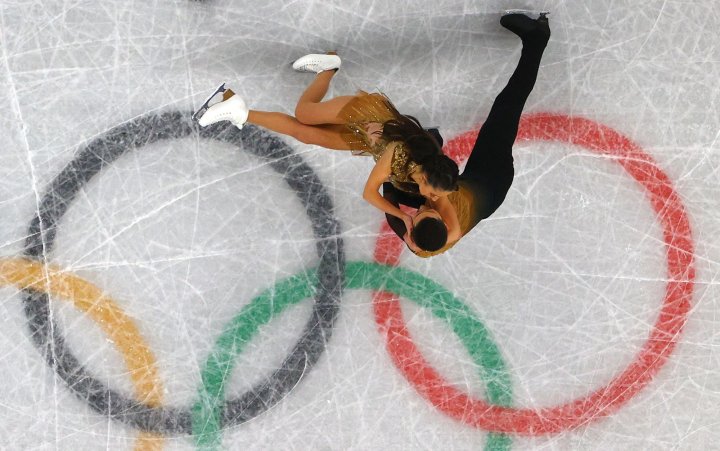 Lilah Fear of Britain and Lewis Gibson of Britain in figure skating action.
Photo: Reuters/Evgenia Novozhenina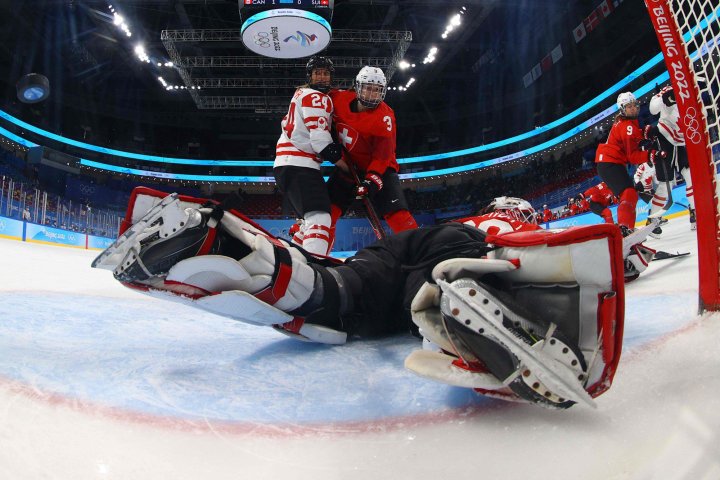 Canada thrash Swiss to reach seventh straight final
Canada reached their seventh consecutive women's Olympic ice hockey final after thrashing Switzerland 10-3 on Monday to set up a potential gold medal showdown in Beijing with arch-rivals and reigning champions the United States.
Canada will face either the US, who ended their run of four straight Olympic golds in Pyeongchang four years ago, or Finland in the showpiece match. The pair meet later in Monday's other semi-final.
"We're taking the game to new heights right now," said Sarah Nurse, an Olympic veteran who recorded four assists. "I know that people look at the scores and again think that we just dominate teams but I think that what we're doing on the ice right now is we're pushing the pace for women's hockey. We're playing a style of hockey that's never been seen in our tournament before and so in five, 10 years other countries are going to be playing our style of play and we're going to keep pushing the envelope and keep making our sport better".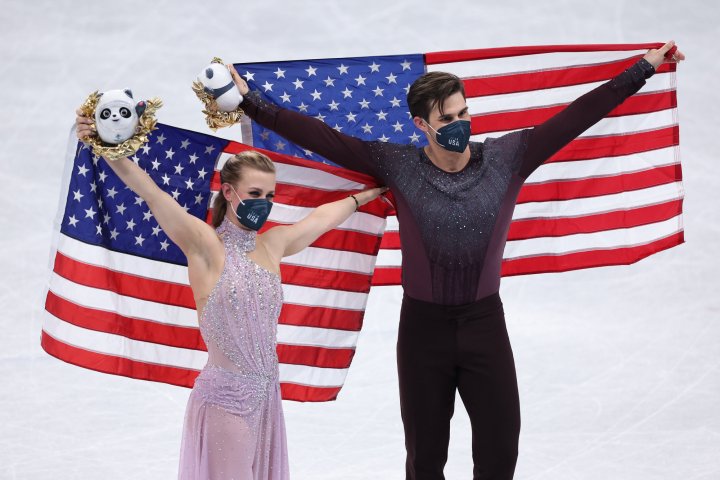 No more Games for Americans Hubbell and Donohue
American ice dancers Madison Hubbell and Zachary Donohue bent down and kissed the Olympic rings on the ice at the Capital Indoor Stadium after winning a bronze on Monday. Having finished fourth in 2018 in Pyeongchang, Hubbell, 30, and Donohue, 31, savoured their emotional podium finish and were in a jovial mood later, laughing heartily when asked if they would compete at the 2026 Olympics.
The pair were told that Britons Jayne Torvill and Christopher Dean and Jayne Torvill were 36 and 35 years old when they won Olympic gold in 1994 but insisted they would retire in June. "I'm not saying that physically it's not possible, but no," Hubbell told reporters. "Maybe we'll have a very successful transition into a career where we could be alongside some of our coaches and be here in another capacity, but on the Olympic ice, it's not happening."
The ice dance bronze was Hubbell and Donohue's second Olympic medal after they opened their campaign in Beijing by winning the rhythm dance in the team event, helping the US to silver.
"When I finished, I just was grateful for being here," said Hubbell. "It was just a moment I think for both of us to say goodbye to Olympic ice, and thank this journey that's created the people that we are today."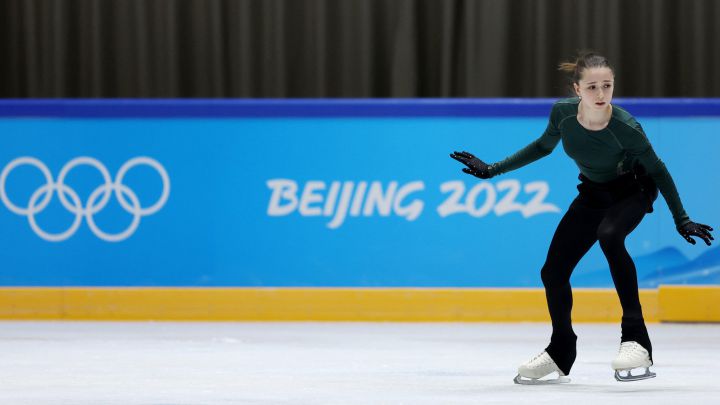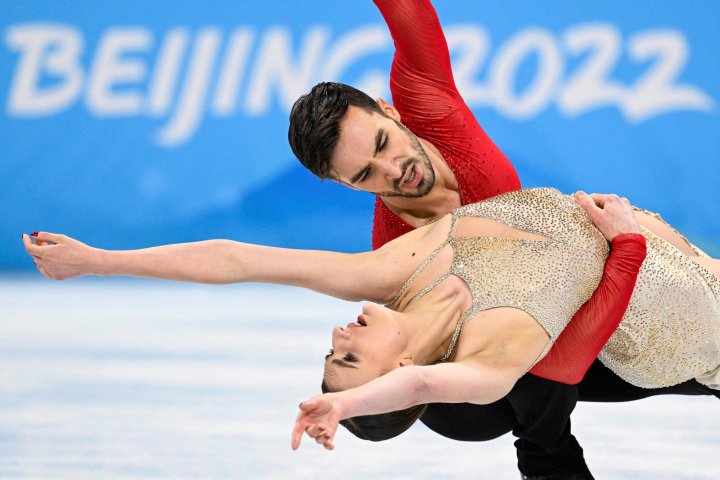 France win ice dance gold medal
Gabriella Papadakis and Guillaume Cizeron put their Pyeongchang heartbreak behind them as the French pair claimed figure skating ice dance gold with a world record at the Beijing Olympics on Monday. Skating to the dramatic piano and cello music of Gabriel Faure's Elegie, the four-times world champions once again dazzled with their silky, seductive dance.
World champions Victoria Sinitsina and Nikita Katsalapov of the Russian Olympic Committee took the silver with a season's best score in their free skate for a total of 220.51. United States pair Madison Hubbell and Zachary Donohue took the bronze with a total of 218.02.
Kaillie Humphries makes history in the monobob
Kaillie Humphries won the first-ever Olympic gold in the monobob on Monday. It was not even close as the 36-year-old "blonde bomber" racked up four runs with a total time of 4:19:27 in the snow-blanketed hills of Yanqing, 74 km (46 miles) north of the capital.
Her teammate, Elana Mayers Taylor, and Canada's Christine de Bruin were left in a scrap for silver and bronze. Mayers Taylor finished 1.54 seconds behind Humphries and the Canadian was 1.76 seconds behind the reigning monobob World Series and two-woman bobsleigh World Cup champion.
For Humphries, it is her fourth Olympic medal - she won bronze in Pyeongchang four years ago in the two-woman and golds in the same event in Sochi and Vancouver. But she wins this time as a member of the USA team - Humphries switched teams and citizenship from Canada after filing a harassment complaint against Bobsleigh Canada in 2018.
Hello everyone and welcome to Beijing for Day 10 of the 2022 Winter Olympics.
Following Sunday's events, Norway have knocked Germany off the top of the medals table after Marte Olsbu Roeiseland won the 10-kilometer pursuit race to collect her third medal of the Games with team mate Tiril Eckhoff taking bronze. It remains tightly-packed at the top with Germany, USA, Netherlands and Sweden with eight, seven, six and five gold medals each, followed by Austria, ROC and China with four each.
There are medal events today in the women's monobob, figure skating, freestyle skiing (women's aerials) and ski jumping (men's team final). Plus much more non-medal action including men's bobsleigh, curling and the women's ice hockey semi-finals with Canada already through to the final.