NBA
Pesic: "Jokic and Doncic changed the NBA with their creativity"
Ex-Barcelona coach Svetislav Pesic, who is now in charge of the Serbian national team, spoke about the two European stars influence on the NBA.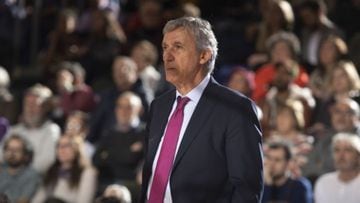 European stars Luka Doncic and Nikola Jokic moved to the NBA to play a different brand of basketball to what most North Americans are used to seeing. Both the Slovenian and the Serbian have carved out their own niches in the best basketball league in the world, and Svetislav Pesic knows it.
The Serbia national team coach, and former Barcelona boss, spoke about Doncic and Jokic who are flourishing since swapping Europe for the US in and interview with Basketnews. "I don't know where this idea that I don't like American basketball came from. It's a different system and a different country, different players... We can see the influence of NBA basketball in Europe. Every season you see more transition, fastbreak, more three-point shots. But in Europe, it's still five against five. We can talking about improving European basketball but the best players are in the NBA," Pesic told Donatas Urbonas. "The NBA hasn't changed Jokic or Doncic and generally, like other European players in the past - for example the great players from former Yugoslavia, of course they change every day with practice. You have to adapt to a new country, new rules, a new style of basketball... But they've changed NBA basketball a little bit, with creativity, with vision. For sure, they play another kind of basketball to most of, let's say, the American NBA players. The characteristics of the great players doesn't change. It's the same as before. The best players bring something new every season - new shots, dribbles, technical and tactical things".
Every year, Jokic always brings something new
He was full of praise for Jokic who, he added, holds in the highest esteem: "Every year, from season to season, he gets better. Because, not only by analysing his statistics, every year he brings something new - he surprises not only his opponents but his own players too. That's the sign of a big player," Pesic continued.
The Serbian coach also had words for Sarunas Jasikevicius, who replaced him on the Barça bench, and believes that the Catalan club is well-placed to mark a new era: "I think Barça has everything to continue winning titles. Even now they are ready to win some championships - the ACB or Euroleague. But you know how difficult it is to win the Euroleague. But for potential, for everything that Barça has at the moment, I think they are ready - whether they use it is another question because there are other big teams. Real Madrid have big problems - last season, they lost five or six very important players. Players like Campazzo and Deck left the club halfway through the season and it's not easy to compensate for that".