Kellyn Acosta ready to fill in for Weston McKennie
The Los Angeles Football Club midfielder is aware that he will fill in for the Juventus player with the USMNT during the upcoming international window.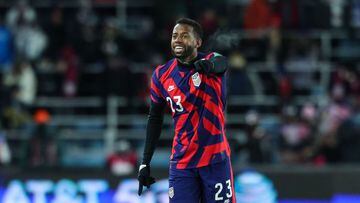 Later this month the United States men's national team will play the last three games of the World Cup qualifiers in CONCACAF in a bid to secure a spot to Qatar 2022. The head coach of the USMNT, Gregg Berhalter, is waiting until the last minute to confirm the roster because several players are dealing with injuries with their respective clubs.
Weston McKennie will return in the summer
One of the most important players for the United States is Weston McKennie, but he suffered a season-ending foot injury with Juventus. This opens up a spot in the midfield for the upcoming three crucial matches for the USMNT and most likely Kellyn Acosta will be the chosen one to replace McKennie.
"Definitely, that is a position that I am used to playing even though I play a slightly different role with LAFC. But Gregg [Berhalter] has played me in different positions in the midfield in the past so it's up to him to choose who can replace Weston. McKennie is a very important player for the USMNT and we will definitely miss him a lot. Having said that, I will give my best if I play instead of him," said Acosta.
The United States will resume activity in the round-robin tournament on 24 March playing against Mexico at the Azteca stadium. Acosta is aware that it is going to be a very difficult match, because of the rivalry they have created over recent decades and because they are four points away from securing a spot in the 2022 FIFA World Cup.
"We are focused on Mexico and not on the next game. They will be a tough rival, we know how they play and they need the points as much as we do. It will be a battle without a doubt, but we are ready for that. With the quality of players we have, we should walk away with the win," added Acosta.