PREMIER LEAGUE
Chelsea allowed to sell tickets to away games, cup matches after UK government alters licence
The UK government has changed Chelsea's special licence, which has been in place since Roman Abramovich was sanctioned on 10 March.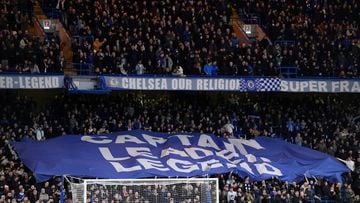 Chelsea will be allowed to sell tickets for away games, cup matches and women's fixtures after the United Kingdom government altered the Premier League club's special licence.
The Blues had been granted the licence to continue operating after owner Roman Abramovich was sanctioned by the government as part of its response to Russia's invasion of Ukraine. The restrictions meant the club were not allowed to sell any tickets that had not already been purchased prior to the announcement on 10 March.
Related news
Chelsea's upcoming Cup games
However, a change to the licence means Chelsea will now be able to sell tickets for certain games. Those include the home leg of their Champions League quarter-final against Real Madrid on 6 April and the FA Cup semi-final at Wembley Stadium against Crystal Palace on the weekend of 16 April.
Chelsea fans can also purchase tickets for future Premier League away fixtures, with any revenue going to the home team. Supporters of away teams, meanwhile, can buy tickets for Premier League games at Stamford Bridge, with the revenue going to the Premier League.
Sports minister Nigel Huddleston said: "I would like to thank fans for their patience while we have engaged with the football authorities to make this possible. Since Roman Abramovich was added to the UK's sanctions list for his links to [Russian president] Vladimir Putin we have worked extensively to ensure the club can continue to play football while ensuring the sanctions regime continues to be enforced."
Offers to buy Chelsea received
A host of potential investors have submitted bids to buy Chelsea following Abramovich's announcement that he wanted to sell the club earlier in March. London-based global investment firm Centricus are the latest group to make an offer, with British billionaire and boyhood Blues fan Nick Candy and the Chicago Cubs owners, the Ricketts family, known to have bid to take over the London giants.