Bellingham is the best candidate to inherit the historic midfield role at Real Madrid as he unites the best virtues of Casemiro, Modric and Kroos.
Borussia Dortmund have done it again. Few clubs are able to recruit promising talent at bargain prices then sell them on at a huge profit a few years down the line. They have done precisely that with the likes of Ousmane Dembélé, Jadon Sancho, Christian Pulisic, Pierre-Emerick Aubameyang and now with Jude Bellingham, who is leaving for Real Madrid. Just three years ago, Dortmund paid Birmingham City 25 million euros for a young player who knew that Signal Iduna Park was the best place for him to develop as a player before taking the next step to join a big club. Those in power at Dortmund were aware that the moment had arrived to cash in on Bellingham, even though the teenager still had two years left to run on his contract.
The beneficiaries of Bellingham's sale will be Real Madrid. They will be signing a player who is just 19 years old but whose movement on the pitch gives the impression of a player who has spent many years at an elite level. His qualities are numerous - leadership, the ability to recover and distribute balls, score and decide games. And even though he still has his future ahead of him, he will arrive at the Bernabéu already a proven leader - as he has shown in Germany and with England's national team, with whom he is first choice and starred at last year's World Cup in Qatar.In that regard he is very similar to Toni Kroos, who Madrid signed from Bayern after his performances in the 2014 World Cup. Bellingham is being tipped to mark a new era in the Spanish capital and lead a revolution in the centre of the park to help Los Blancos continue their dominance in Europe. This summer Madrid will welcome on board a player of pure British talent, in the words of the Beatles' anthem, Hey Jude!

As the official Bundesliga website describe him: three players in one
No one is in any doubt that Jude is the best candidate to inherit the historic midfield role at Real Madrid as he unites the best qualities and virtues of the classic trio in one. Bellingham can perform every function, is a natural leader with a wide and diverse range of skills. In short, he is the complete midfielder.
You only need to look at the statistics to corroborate that. On the one hand, Bellingham is the player who has won the most tackles (482) during this season in the Bundesliga. On the other hand, he's also his team's top goal scorer, with 14 goals this season in all competitions. Much of those figures are founded on the 2526 intensive runs, covering 325.4 km, that the midfielder has clocked during this season in the Bundesliga which makes him the second most active player in terms of physical effort in the top flight behind Mario Götze.
His numbers couldn't be much better. On top of being Borussia Dortmund's top scorer over the course of the current campaign, he has totalled 24 goals and 25 assists during his three seasons with Der BVB. In Germany, he has averaged a goal every 424 minutes and his figures are even better in the Champions League - six goals in 23 appearances which means he averages around 303 minutes for every time he hits the back of the net. All in all, excellent figures for a player whose main task is focused on defending. Nevertheless, he is powerful going forward and used to reaching the opponents' area where he is able to create danger.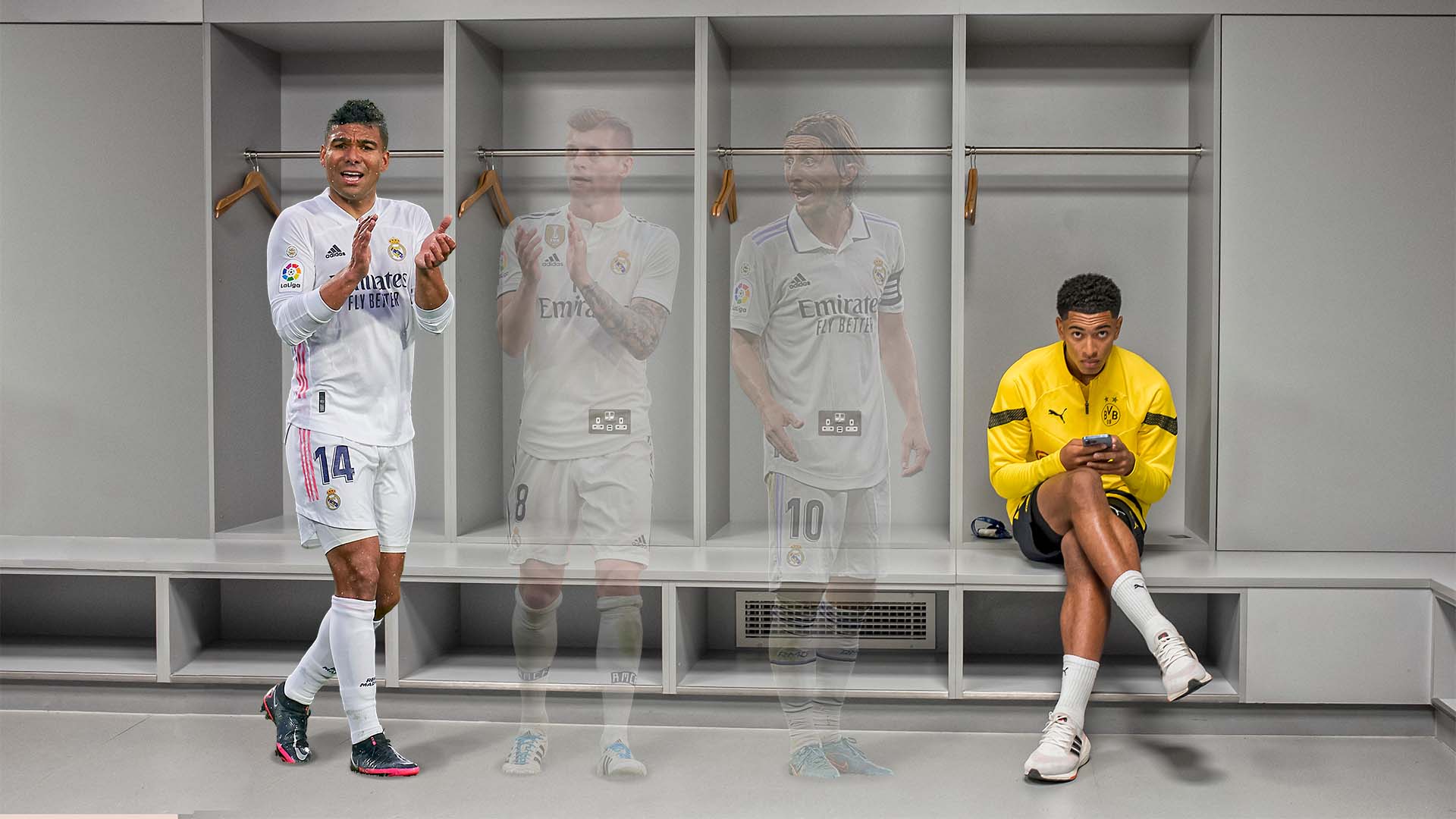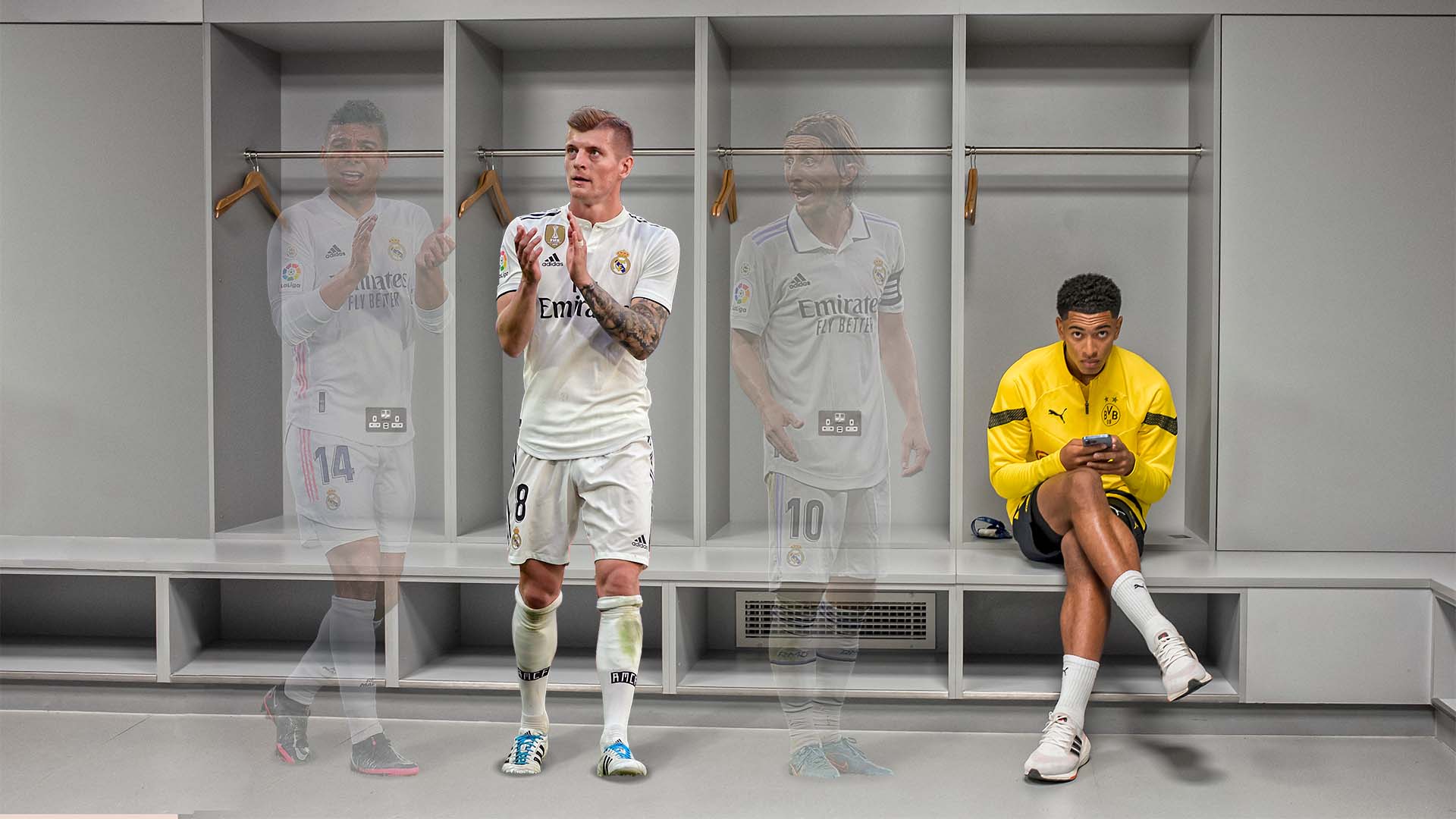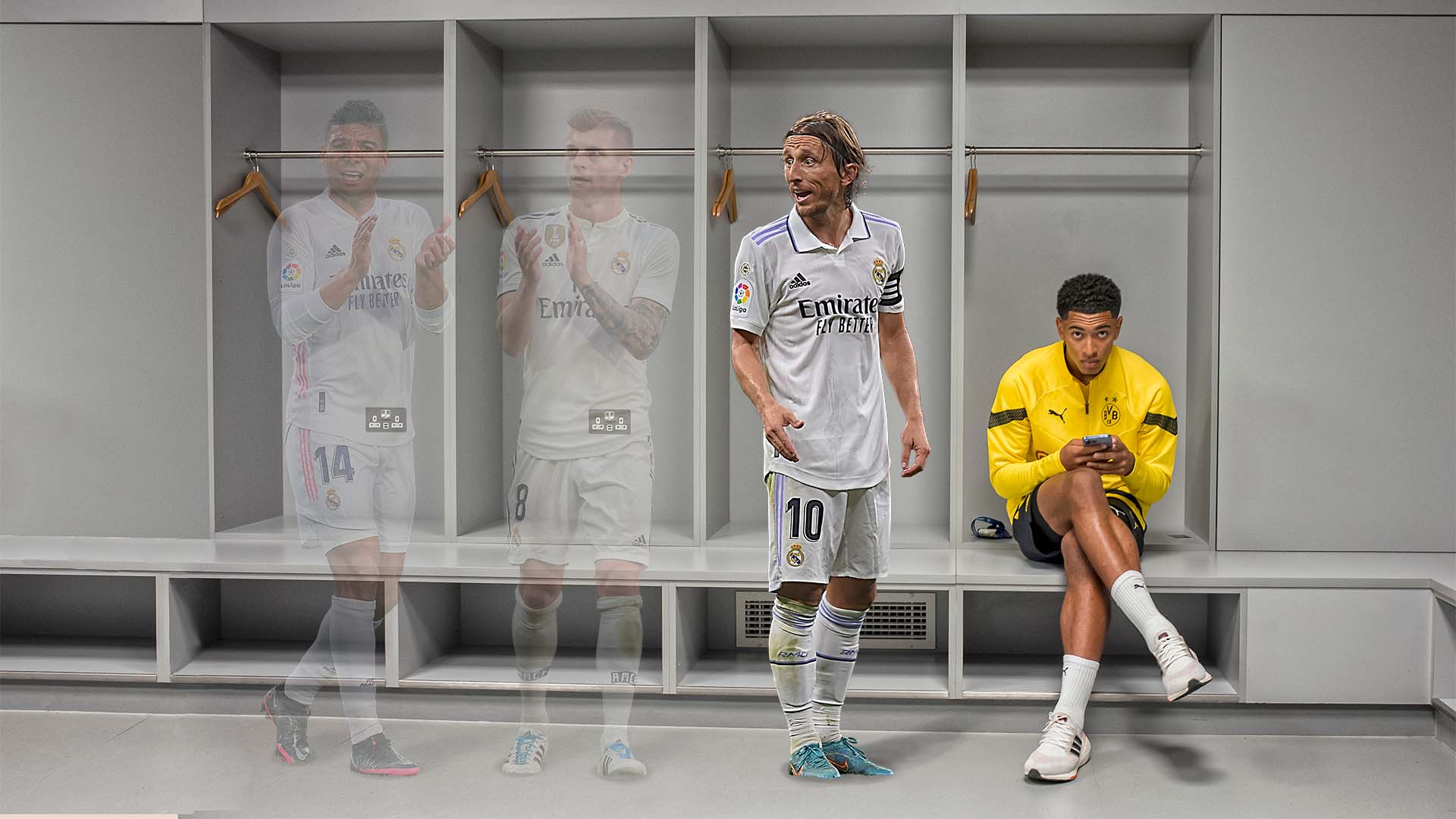 Like Casemiro
Bellingham can perform all of the duties associated with Casemiro because he doesn't mind getting stuck in to get his hands dirty when necessary, hassling rival forwards and stealing the ball like the former madridista used to do to perfection.
Like Kroos
The teenager also knows what it means to be the conductor of the orchestra with the same elegant style as Toni Kroos. He distributes passes, finds team mates in space and is able to release forwards with long balls over the top just as the German has been doing for the best part of a decade in Chamartín.
Like Modric
Perhaps his strongest asset is when he has the ball at his feet, driving it out from the centre of the field, waiting for spaces to open up in the rivals' half and launching the final pass, just like Modric has done with expertise at Madrid.
Age is only a number for Real Madrid's new star. Bellingham is a natural born leader, and had no doubts in showing that when he arrived in Dortmund aged just 16. He wasn't fazed when he had to give any of his team mates a ticking off for not pulling their weight - even the veteran players when they made mistakes which cost the team. He even criticised a referee while the cameras were on him, reminding the official that he had been involved in match-fixing allegations. And he is never shy about raising his voice inside the dressing room whenever he thinks things need to be said. His strong character wasn't always tolerated by some of the senior players, who didn't particularly like being bossed about by someone much younger but his performances out on the field were always his best argument when he needed to defend his thoughts about the team.

"If Jude has one standout virtue beyond his quality as a player, it's that he always wants to win"
Having said all of that, Madrid should also take note of another comment about Bellingham's characteristics. Of Nico Schulz, his team mate at Dortmund, who is 10 years older than Jude, he said this: "You play like shit in every f**king game". Marco Rose, who was the first team coach at the time, understood his outburst and explained, "If Jude has one standout virtue beyond his quality as a player, it's that he always wants to win - whether it's in training or in official games. People express themselves in a stronger, more direct way where he comes from. He wants to win matches. He was annoyed. And that's exactly what we need".