MOVIES
Matt Damon and Casey Affleck filming new movie in Boston
Matt Damon and his bestie's younger brother, Casey are filming a new movie called 'The Instigators' in Boston.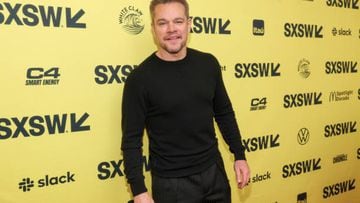 Matt Damon fans have something to look forward to, as the 'We Bought A Zoo' actor is making a new movie. Though his long-time friend, Ben Affleck, will not appear in the picture, the movie does feature the next best thing — little brother, Casey Affleck.
The duo are co-starring in the new film, 'The Instigators' in their hometown of Boston.
'The Instigators' is directed by Doug Liman, who made 'Edge of Tomorrow', and co-stars Hong Chau, Paul Walter Hauser, and Michael Stuhlbarg.
Matt Damon and Ben Affleck are teaming up to produce the film, which is about a pair of robbers, played by Damon and Casey Affleck, who are on the run with the help of one of their therapists after a bunked theft attempt, through their new production company, Artists Equity.
The stars in action
Matt Damon and Casey Affleck were photographed on the set of the movie on Wednesday, which is near a firehouse on Cambridge Street.
The 52-year-old 'Ocean's 11′ actor wore casual jeans and a long-sleeved shirt with black running shoes, while mini-Affleck wore jeans and a green Dartmouth hoodie.
Boston firefighter Paul Blaikie had a chance to meet the co-stars of the film while they were at the fire station and take photos with the two celebrities.
"You had to pretend Matt Damon and Casey Affleck aren't in your firehouse taking your gear," Blaikie told local news station CBS Boston. "But it was interesting to stand by and watch them walking around and stuff."
The Damon-Affleck long-term connection
Matt Damon and Ben Affleck have been making movies together since 1997′s 'Good Will Hunting', and they have included Casey Affleck in many of them.
Meanwhile, Damon and Casey Affleck have done several projects without Ben Affleck too, such as 'Interstellar', 'Gerry', and the 'Oceans' movies.