Johnny Depp v Amber Heard trial aftermath | Reactions to verdict, Heard interview, tell-all book | June 22
Depp v Heard aftermath: headlines
- Heard "trying best to have positive outlook", source tells People magazine
- Heard's behaviour on witness stand doesn't mean she was lying, experts tell Insider
Some of AS USA's related news pieces: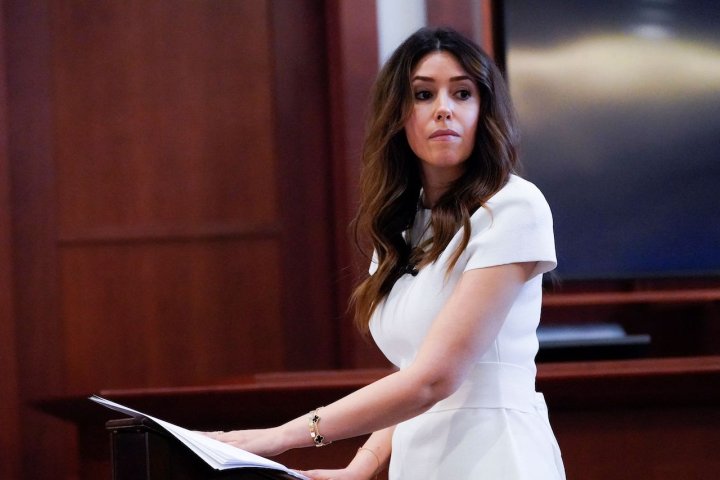 More from Camille Vasquez's Hola! USA interview
In her interview with Hola! USA, Depp lawyer Camille Vasquez recalled digesting the defamation trial verdict with her client, who wasn't at Fairfax County Court to hear it delivered.
"The court was very kind to provide us with a breakout room that we use for lunch and meetings," Vasquez said. "We FaceTimed him; he was so relieved, so happy, and grateful. It was nice to see him smile. A mutual friend of ours and I were speaking, and he said, 'I haven't seen Johnny smile like that in six years.' And it's true.
"There's a piece [sic] to him now that he just didn't have before. He was able to tell his story and was infinitely grateful; he was moved. We all were. I still get a bit emotional about it - to give him his life back."
(Photo: Pool/Reuters)
Depp's Hollywood Vampires to go on tour in 2023
The Hollywood Vampires, the rock supergroup formed by Johnny Depp, Alice Cooper and Joe Perry in 2015, has confirmed it is to tour Germany and Luxembourg next year.
The group has announced six tour dates in late June 2023. Tickets go on sale on Monday at 11am CEST (5am ET).
Depp social-media following soars in wake of Heard trial
Johnny Depp's social-media following has rocketed in the wake of his defamation trial win over Amber Heard, Republic World reports.
According to the publication, the 26 million followers enjoyed by Depp's official Instagram profile is around 10 million more than in the middle of May, when his case against Heard was still ongoing.
The 59-year-old actor on Monday warned fans to be wary of fake social-media profiles purporting to belong to him or people who work with him (see earlier post).
Heard's emotions on witness stand don't mean she was lying, experts say
The way Amber Heard behaved on the witness stand should not necessarily be taken as evidence that she was lying, experts have told Insider.
A Depp v Heard jury member last week told Good Morning America that the Aquaman star "didn't come across as believable" in court, explaining: "It seemed like she was able to flip the switch on her emotions. She would answer one question and she would be crying and two seconds later she would turn ice cold. It didn't seem natural."
However, Dr Kate Porterfield of Columbia University's Dart Center for Journalism and Trauma says such sudden emotional shifts can occur when survivors talk about traumatic experiences, as they first become agitated then seek to calm themselves down.
"Thus, the person can then appear flat, detached, and disconnected," Porterfield said. "All of this is difficult for juries to understand because it seems counterintuitive that a person could look flat or maybe even bored."
Dr Jim Hopper of Harvard Medical School said that it was "only human" for jurors to be swayed by witness' outward emotions, but added: "The question is what knowledge base do you have? […] If they were someone who was traumatized, then are you capable of empathizing with someone who might express that trauma in a variety of different ways?"
Heard "trying best to have positive outlook"
Amber Heard is "trying her best to have a positive outlook" after losing her defamation trial against Johnny Depp, according to a source who spoke to People magazine.
Heard "feels drained and exhausted after the trial", the source said, but added: "She's going okay."
"Amber is still disappointed about the jury's verdict," the source also told People. "She is still weighing her legal options, but right now, she needs some breathing room to just enjoy the summer."
Heard reportedly planning "revenge tell-all book"
Amber Heard is preparing to write a "revenge tell-all book" after losing her defamation trial against former husband Johnny Depp, OK! Magazine USA has reported.
"Amber considers her career in Hollywood over. She's already in talks and is excited about it. At this point, she has nothing to lose and wants to tell all," a source told OK!.
However, a legal expert spoken to by the magazine says Heard needs to tread carefully if she is to avoid ending up "right back in court".
"To the extent that Heard wants to discuss this case and her relationship with Depp in a tell-all statement or book, she needs to be extremely careful as to what she says about him," divorce lawyer Dror Biken said.
"Depp and his attorneys will be reading and listening to everything that Heard states."
Video purporting to show Heard in elevator kiss goes viral
On the YouTube show Popcorn Planet, Andy Signore has shared what he claims is a video of Amber Heard kissing a woman in the elevator LA building in which she shared a penthouse with Johnny Depp.
The video, posted on Tuesday, quickly went viral.
Signore and his Popcorn Planet contributor Ami Goodheart suggest that the other woman in the video could be Cara Delevingne. A friend of Heard's has previously claimed that the 36-year-old had a three-way affair with Delevingne and Elon Musk.
It's important to note that very little about this video is confirmed information: neither the identity of either woman, nor the location, nor the date on which it was filmed.
"It's been a surreal experience": Vasquez talks to Hola! USA about being in spotlight
Johnny Depp's lawyer Camille Vasquez is the new cover star of Hola! USA. Vasquez, 37, sat down for an interview with the magazine, discussing the attention she has received over her role in representing Depp in his defamation case against Amber Heard.
"It's been a surreal experience and, if I'm being honest, a tad overwhelming," Vasquez said. "And something I wasn't prepared for. I was just doing my job. I had a feeling that because of the client and the nature of the case, it would kind of turn into something bigger than itself, but the attention to the legal team - on me specifically - has been interesting."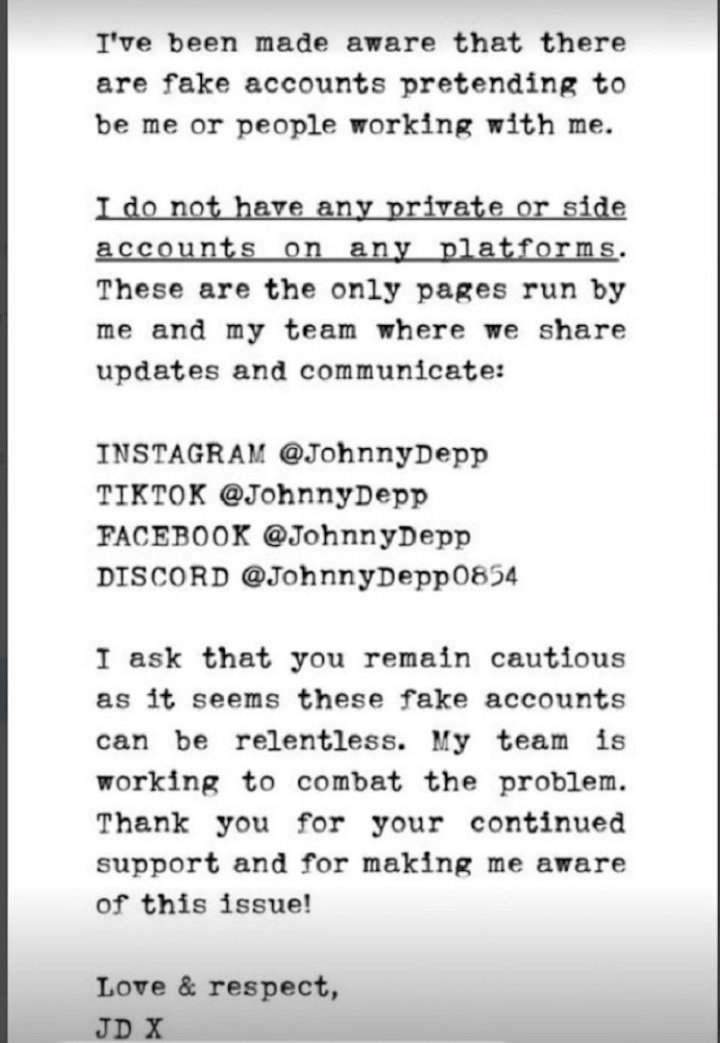 Depp issues warning over fake social-media accounts
Depp has warned his fans to be wary of fake social-media accounts claiming to "be me or people working with me". In a message posted on Monday, he said:
I've been made aware that there are fake accounts pretending to be me or people working with me.
I do not have any private or side accounts on any platforms. These are the only pages run by me and my team where we share updates and communicate:
Instagram @JohnnyDepp
TikTok @JohnnyDepp
Facebook @JohnnyDepp
Discord @JohnnyDepp0854.
I ask that you remain cautious as it seems these fake accounts can be relentless. My team is working to combat the problem. Thank you for your continued support and for making me aware of this issue!
Love & respect, JD xx.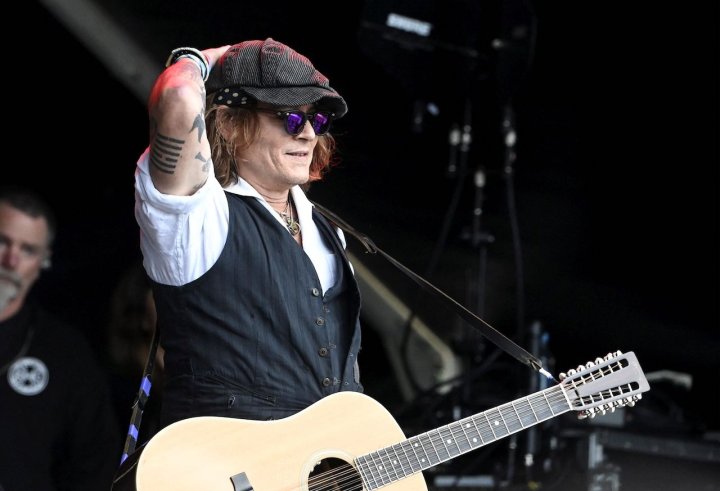 Depp performs alongside musician Jeff Beck (not pictured) in Helsinki, Finland. The concert was part of a European that will see the pair play in Oslo, Norway, on Friday.
(Photo: Lehtikuva/Jussi Nukari via REUTERS)
Depp v Heard aftermath, live updates: welcome
Good morning and welcome to our live coverage of the aftermath of the Depp v Heard defamation trial, which concluded at the start of June.
Amber Heard was found to have defamed ex-husband Johnny Depp in a 2018 Washington Post op-ed in which she didn't mention Depp by name, but referred to herself as a "public figure representing domestic abuse".
Heard was ordered to pay Depp damages of $10.35m, but was herself awarded $2m after the jury in Fairfax, Virginia, found in her favour on one count of her defamation counter-suit.