Johnny Depp v Amber Heard trial summary 30 May
Johnny Depp v Amber Heard trial: Mon 30 May
WATCH: Courtroom footage from the final day of the Depp v Heard trial
Friday was the final day of courtroom action in the defamation case between Johnny Depp and Amber Heard, with both sides delivering their closing arguments at the Circuit Court in Fairfax Country, Virginia. You can relive this in the video below.
Thursday concluded weeks of testimony from both parties and a whole host of witnesses. The jury returns today, Tuesday 31 May to continue deliberations and we could have a verdict at any time. As soon as live footage becomes available, it will be added here.
CONTENT WARNING: The embedded live feed comes direct from inside the courtroom, where strong language and references to content including sex, violence and drug abuse are possible. Discretion is advised.
Johnny Depp appears on stage with Jeff Beck for second night amid defamation trial
We told you yesterday about Johnny Depp pitching up on stage to perform at Sheffield City Hall on Sunday in England, while the jury was on recess during their deliberations. Well, he's appeared on stage again alongside Jeff Beck, this time at the Royal Albert Hall in west London.
Check out more on this by clicking on the image/title above.
Johnny Depp v Amber Heard trial: Craziest moments and weirdest courtroom appearances
The trial between Johnny Depp and Amber Heard appears close to the end, with jurors currently deliberating before returning their verdict. The case has gripped attentions all around the world after Depp sued Heard in Virginia for loss of earnings due to an op-ed in The Washington Post
In the article she described herself as "a public figure representing domestic abuse". The trial, broadcast live throughout, has played out in front of a global audience and included a number of bizarre cameos and strange appearances. Here are some of the weirdest moments from the Depp v Heard trial…
What happens if Johnny Depp loses case?
Although there have been many sides to this trial, accusations being flung in both directions, it is primarily about Depp suing Heard, demanding a payment of $50 million for loss of earnings.
This came about after his ex-wife authored an article in The Washington Post in 2018, where she described herself as a "public figure representing domestic abuse." Despite not naming Depp personally, there was little doubt as to who she was referring to and his legal team have claimed that he lost a significant amount of work and income on the back of this.
If the jury's decision this week is to dismiss his civil claim then Depp will not receive the money he is looking for. It would also mean that Heard would not be liable to pay his legal fees, another hefty sum, no doubt. Then again, the jury could decide that Depp is indeed entitled to some payout for loss of earnings due to Heard's accusations, but somewhere well south of the $50 million demanded.
What happens if Johnny Depp loses the trial against Amber Heard?
The jurors in the civil case between Johnny Depp and Amber Heard are currently on a three-day recess for the Memorial Day holiday weekend, but are expected to resume their deliberations on Tuesday.
The trial has gripped public attention and could prove a significant precedent for domestic abuse victims. It could be a few more days until the jury return a final verdict, but what could it mean for Depp if his defamation lawsuit is rejected?
Elon Musk tweets about Depp and Heard
If you've been reading below, you'll know that Elon Musk has been a part of this conversation and over the weekend he took to Twitter (you know, that platform he quite likes) to wish his ex-partner and her former husband a positive future.
"I hope they both move on. At their best, they are each incredible," he tweeted on Saturday.
This was in response to a tweet that said: "My takeaways from Johnny Depp vs Amber Heard trial: 1. Fame is one hell of a drug (for some) 2. Psychiatrists & lawyers come in drastically varying levels of skill 3. Lying to millions of people is something humans are capable of 4. Love can be messy 5. Mega pint of wine."
Johnny Depp takes center stage to sing with Jeff Beck as jury decides verdict in Amber Heard trial
As the jury was given a recess for the Memorial Day weekend, we may have expected Johnny Depp to have hidden away in some quiet retreat until their verdict was ready. Well, not exactly...
Although Depp is best known for his acting, having starred in films such as The Rum Diary, Charlie and the Chocolate Factory, The Tourist, as well as in the Pirates of the Caribbean franchise, he is also a dab hand at the guitar, playing for the group Hollywood Vampires, which he set up in 2012 with Alice Cooper (the band name coming from his 1970s drinking club) and Joe Perry.
And over the weekend, as the jury deliberated, the man who made Jack Sparrow a household name was on stage as a surprise guest in Sheffield City Hall, England. It was part of Jeff Beck's European Tour and the crowd were amazed to see Depp sing his cover of the John Lennon song, Isolation. As you can in the article, there was a lot of love for the man on trial...
[Amber Heard] ruined his life by falsely telling the world she was a survivor of domestic abuse at the hands of Mr. Depp.
In Mr. Depp's world, you don't leave Mr. Depp. If you do, he will start a campaign of global humiliation against you.
This case for Mr. Depp has never been about money. It is about Mr. Depp's reputation and freeing him from the prison in which he has lived for the last six years.
Johnny Depp vs Amber Heard trial: possible scenarios once the jury gives its verdict
On Friday, we watched the lawyers for both parties make their closing arguments, appealing to the jury to find in their client favour.
The judge then sent away the members of the jurors to deliberate, but that would quickly be interrupted with a three-day recess for the Memorial Day holiday weekend, with them returning to continue tomorrow, Tuesday 31 May. It is unclear exactly how long this process will take, possible just a few hours, or it could be that we don't have a verdict until later in the week.
For those watching on, the question of potential consequences for either actor is front and centre.
How did Elon Musk and Amber Heard first meet?
During the course of the trial, Depp has suggested that Heard began a romantic relationship with Musk before the actors had officially split. However Heard describes the events differently, stating that she became friends with the Tesla CEO after Depp had stood her up at the 2016 Met Gala.
The red carpet event took place in New York City on 2 May, 2016, and Heard and Musk had been invited together as guests of Ralph Lauren. She has claimed that she was unable to check on Depp's whereabouts because he had thrown her phone out of the window.
"I was standing in line right in front of a gentleman. It was Elon," Heard told the court. "I didn't recognise him at first. We started talking and he had reminded me that we had met once before."
"He seemed like a real gentleman. He was really nice," she added. "He sat at a nearby table and we got to speaking that night and then eventually became friends."
Heard and Musk are thought to have dated on and off between 2016 and 2018 and he was named on her witness list for the trial.
In the opening statements for the court case, Heard's lawyers said that Depp had been "obsessed" with Musk at the time. Carino, who had previously served as agent for both Heard and Depp, testified that Heard was dating Musk at the same time as she was attempting to reconcile with Depp.
What nickname did Johnny Depp give Elon Musk in the texts read at the trial?
Correspondence between Depp and Heard has been presented to the jury, as well as reams of messages sent from both parties to friends regarding their situation.
On Wednesday Depp's messages to his friend, talent agent Christian Carino, were read out in court, with reference to billionaire Elon Musk, who started a relationship with Heard after she had split with Depp.
He referred to the Tesla CEO as 'Mollusk' on several occasions, writing "Let's see if Mollusk has a pair."
"Come see me face-to-face," Depp wrote. "I'll show him things he's never seen before … Like, the other side of his d**k when I slice it off."
Find out more about this strange pet name.
What did Kate Moss say in Johnny Depp-Amber Heard trial testimony?
One of the most talked about moments from the final week was the testimony of Kate Moss, the world renowned supermodel from the United Kingdom. She had previously been in a relationship with Johnny Depp, and took to the stand on Day 22 of the Pirates of the Caribbean actor's defamation case against Amber Heard.
Moss was asked by Depp's lawyer about a rumoured incident, one that Heard had referenced, whereby Depp had pushed her down a flight of stairs. Speaking via video link from Gloucester, England, Moss testified that she fell down the stairs because it was raining and Depp never pushed her. She then elaborated her brief answer by saying that after hurting her back he came to her aid.
Depp v Heard trial: a quick recap
Depp, 58, sued Heard in Virginia for $50 million and argued that she defamed him when she called herself "a public figure representing domestic abuse."
Heard, 36, has countersued for $100 million, saying Depp smeared her when his lawyer called her accusations a "hoax."
Heard wrapped up her testimony on Thursday saying she has been "harassed, humiliated, threatened" on social media since accusing the "Pirates of the Caribbean" star of physical and sexual abuse.
"People want to kill me and they tell me so every day," Heard said. "People want to put my baby in the microwave." Heard adopted a baby girl in July 2021. She said the ongoing harassment was part of Depp's crusade to publicly humiliate her.
Depp admitted to writing in a 2016 text that Heard was "begging for total global humiliation" and "she's gonna get it." He said it was written in anger when he learned she was alleging that he physically abused her.
"He wanted to ruin my career," Heard told the jury. "The threats he made to humiliate me, globally, are being lived out in real time, in front of you ... and the whole world." Depp has denied hitting Heard or any woman and said she was the one who turned violent in their relationship. The pair met in 2011 while filming "The Rum Diary" and wed in February 2015. Their divorce was finalized about two years later.
"No human being is perfect," Depp said on Wednesday. "But I have never in my life committed sexual battery, physical abuse."
(Reuters)
Who is Camille Vasquez? Johnny Depp's lawyer in Amber Heard trial
Do you know Johnny Depp's lawyer, Camille Vasquez? Well, if not, allow us to provide a little more info. She's an attorney with Brown Rudnick, a major international law firm, has been leading the cross-examination.
According to the firm, her expertise is in "parallel reputation management and crisis communications issues arising from these engagements." She was hired to form part of Depp's team based on her experience in "plaintiff-side defamation suits" and contract litigation.
She received her undergraduate degree from the Univeristy of Southern California and her J.D. from Southwestern Law School in 2010.
She was selected to form part of Depp's team based on her experience representing individuals through defamation suits that arose from "highly-publicized accusations of criminal conduct."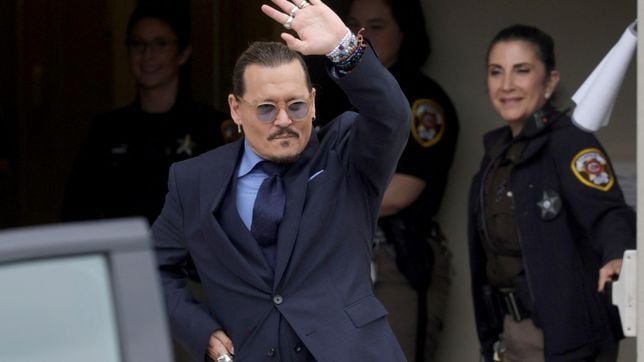 What is the expected date of the verdict in the Johnny Depp v Amber Heard trial?
Although there will not be any direct action to report on today, there is a likely to be related news made available that we can bring you. In the meantime let's reflect on what happened in the final days of the trial.
Attorneys for Johnny Depp attempted to discredit Amber Heard's abuse claims in the former couple's defamation trial, introducing a knife she gave as a gift to the "Pirates of the Caribbean" star and affectionate notes she wrote to him.
At the start of last Tuesday's proceedings, lawyer Camille Vasquez asked jurors to examine the knife Heard bought for Depp in 2012. Heard had testified that Depp had already become violent toward her by that time.
"This is the knife you gave to the man who would get drunk and violent toward you?" the lawyer asked. "This is the knife I gave him as a present, yes," she said, adding that she did not think he would stab her with it.
Johnny Depp v Amber Heard trial: welcome
Good morning and welcome to our daily live coverage of the defamation trial between Amber Heard and Johnny Depp on Monday 30 May 2022.
All the testimonies have been listened to, all the evidence presented, and the lawyers for both parties have made their closing arguments to the jury which has gone off to deliberate on its verdict.
We will keep you posted throughout the day of any developments or related news.