USA finance and economy summary news: July 9
US Finance: Live Updates
Headlines | 9 July 2022
- Elon Musk moves to cancel $44 billion deal to buy Twitter
- BLS announces that 372,000 new jobs were added in June; but unemployment stayed at 3.6%
- Workers across the country may benefit from a minimum wage increase this month
- Euro recovers slightly after falling to 20-year low against the dollar
- Biden administration announces new programs to help student loan borrowers
- Initial unemployment claims increase slightly by 4,000 in the past week, up to 235,000
- National average gas prices continue to fall to $4.696 per gallon
- 4.3 million workers quit their jobs in May, a sign that the Great Resignation continues
- Job openings hold steady around 11.2 million, up from more than 9.8 million in May 2021
Helpful links and Information
- How much can I earn and still get disability benefits?
- Unemployment benefits:California recovers over $1 billion in fraudulent benefits
In the second quarter of this year, we created more jobs than in any quarter under any of my predecessors in the nearly 40 years before the pandemic. We have more Americans working in the private sector today than any day during Donald Trump's Presidency – more people than any time in our history.

The historic strength of our job market is one reason our economy is uniquely well positioned to tackle a range of global economic challenges – from global inflation to the economic fallout from Putin's war. No country is better positioned than America to bring down inflation, without giving up all of the economic gains we have made over the last 18 months.

Of course, having added a record number of new jobs, and achieved historically low levels of unemployment, additional job growth from this strong position will be slower. That is not a bad thing, because our economy should move to stable growth for the years ahead.
More than 372,000 jobs added in June
Last month, more than 372,000 jobs were added to the US econmy and the unemployment rate held steady at 3.6 percent.
The sectors saw the greatest gains were seen the following sectors: professional and business services, leisure and hospitality, and health care.
US could be on path to mass adoption of electric vehicles
The Biden administration has called for half of new vehicles to be all electric powered or plug-in hybrids by 2030. If the US follows a similar trajectory as the 18 nations that came before, it could meet that goal and still have several years to spare.
For the past six months EVs have made up over five percent of new car sales, a tipping point when mass adoption of the technology takes off. If sales in the US follow the trend of other countries, a quarter of new car sales could be all electric powered by the end of 2025.
$2,000 Child Tax Credit 2022: who is eligible for payment?
The Child Tax Credit in 2022 will return to the conditions offered by the IRS before the American Rescue Plan expanded it. The amount of the credit is smaller, and eligibility is more restricted than last year under the rules which were established through the 2017 Tax Cuts and Jobs Act (TCJA). These changes will be in effect through the 2025 fiscal year, if no action is taken by Congress to modify the credit before then.
Here's a look at what taxpayers can expect
Elon Musk is trying to wiggle out of $44 billion deal to buy twitter
In April, Tesla CEO Elon Musk sent a letter to the Twitter Chairman Bret Taylor offering to buy 100 percent of the social media company. Despite putting in a poison pill to avoid being taken over by the electric vehicle magnate, the board of directors eventually agreed to the sale.
However, soon after it appears that Musk got buyers remorse and put the deal on ice on the pretext that he wanted to verify Twitter's claims that less than 5 percent of account on the site were bots. Now, claiming that he hasn't received the necessary information to determine how many spam accounts there are he wants to call off the deal altogether.
Taylor says that a deal is a deal and the company will take the matter to court.
NFL is getting into the business of streaming this season
NFL commissioner Roger Goodell speaking to CNBC said that the NFL is working on its own direct-to-consumer streaming service. Although fans will have to wait for details of what he calls NFL Plus, Goodell said the initial phase will be up and running for the start of this year's season.
"We think it's very important to have a relationship directly with the consumer. We think we have a lot of content and a lot of ability to be able to do that. The consumers want it, so we're very excited about what NFL Plus is going to be," Goodell said. "It will be an important opportunity for us to be able to speak to our fans directly. That's an important strategy for us going forward."
Inflation dampens prospects for Amazon Prime Day shopping spree
Amazon Prime Day, the online retailer's annual mega-discount event, officially begins on Tuesday. However, nearly a quarter on those surveyed said they would forego trying to find any deals, prefering instead to brace their household finances against decades high inflation. Another fifth of consumers said that they would pick up only the necessities during the yearly 48-hour shopping extravaganza.
What states and cities increased the minimum wage in July?
Workers across multiple states will see a raise this month as minimum wage increases take effect. Nationally the minimum wage sits at $7.25 per hour, but many states have passed bills to increase their own.
Rather than a one time increase, states often chose to increase the wage over time as to not create economic shocks for businesses. The drawback of this method is that the increase can be offset by inflation by the time the process ends.
Various states are in the middle of increasing their minimum wage and July marks one of these milestones.
Biden defends economic record as gas prices decrease and US adds jobs
President Biden says the news that 372,000 jobs were added in the US in June is evidence of "significant progress".
"I know times are tough," Biden said on Friday. "Prices are too high, and families are facing the cost-of-living crunch. But today's economic news confirms the fact that my economic plan is moving this country in a better direction.
"The unemployment rate is near a historic low: 3.6%. Private sector jobs are at a record high. Gas prices, still way too high, have fallen now 25 days in a row and this week we saw the second largest single-day decrease in gas prices in a decade. We still have a lot of work to do, but […] we're making significant progress."
New unemployment figures for June
The Bureau of Labor Statistics has announced the unemployment figures for June, finding that the United States added 372,000 new jobs last month. Despite that, the national unemployment rate remained steady at 3.6%.
We'll bring you more on this story throughout the day, with the White House likely to pass comment on another substantial gain for the US labor market.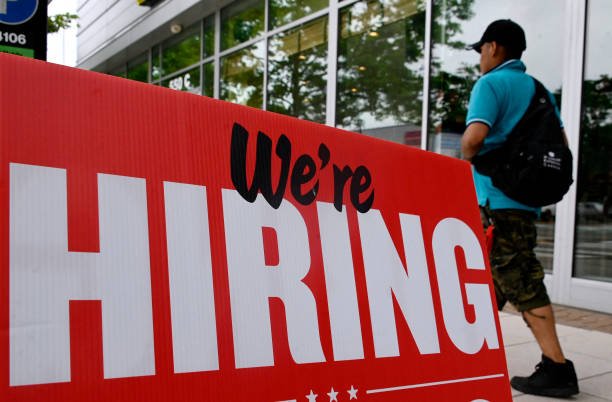 Initial unemployment claims are on the rise, figures show
The Department of Labor has relased their weekly unemployment report, showing that the number of initital claims has risen slightly in the past seven days.
On the week ending on 2 July, initial claims increased by 4,000 to 235,000. The week prior New Jersey (+5,569), Massachusetts (+3,217), Ohio (+2,588), Kentucky (+1,478), and Missouri (+1,375), saw the greatest increases in the number of claims; those with the largest decreases were California (-2,504), Texas (-2,074), Michigan (-1,683), Pennsylvania (-1,628), and Georgia (-1,606).
What are the new student loan regulations to alleviate debt burdens for borrowers?
For months the Biden administration has been under significant pressure to provide the widespread student loan debt forgiveness that he pledged in his campaign. While running, Biden said he would pass $10,000 per borrower of student debt relief but has failed to do anything on that scale to date.
However the Education Department announced new proposals on Wednesday to reduce the financial burden placed on students and graduates. The programs will not benefit all borrowers, but there are hopes that it will help bring spiralling debt balances under control.
Why is the euro falling? Is it a good time to buy?
Many Americans will be planning trips abroad this summer after two years of pandemic-induced restrictions of travel. For some this could well mean a trip to Europe, and recent economic factors mean that you could be getting a good deal when it comes to exchange your dollars for euros.
The euro fell to a 20-year low in comparison to the dollar earlier this week. It has regained some value but travellers could still get more bang for their buck if they decide to exchange their cash now.
Hello and welcome to AS USA
Welcome to our dedicated financial news live feed bringing you all the latest news and information from the United States on Saturday, 9 July.