USA finance and economy news summary | 14 July 2022
US Finance News: Latest Updates
What does euro dollar parity mean for businesses and consumers?
For the first time in two decades, the Euro and the US Dollar have reached parity, meaning that they are exchanging at the same rate. Between the two currencies, around six trillion dollars/euros are traded on the international market each day. The last time the two currencies reached parity was in 2002, when the paper and coin forms of the Euro were released. Since then, the Euro has maintained its position as the second most sought-after currency in the world.
The economies of the United States and the European Union are deeply intertwined and when trouble begins to bring in one, it is likely to appear in the other.
Job losses from automation are "imminenet"
Technological advancements and "breakthroughs in artificial intelligence (AI) and robotics have led to substantial concern that large-scale job losses are imminent."
Many labor market experts have been warning of this fact for decade. The question will soon become, whether or not firms are able to layoff workers and replace them with machines and algorithms.
Which sectors face the greatest threat?
The BLS has reported that the jobs that face the greatest threat include Personal financial advisors, Interpreters and translators, Fast food and counter workers, Janitors and cleaners, and First-line supervisors of retail sales workers. Read more.
GM plans to install fast EV chargers ever 50 miles along US highways
GM is teaming up with PiltoCo and EVgo to set up a network of EV fast chargers at intervals of 50 miles along US highways. The project will involve 500 Pilot and Flying J highway travel centers where a total of 2000 fast EV chargers will be installed in conjunction with the EVgo network.
They plan to have the majority up and running by 2023.
What are the latest Social Security COLA predictions for 2023 after the June CPI?
Inflation has been taking a toll on households across the United States, none more so than those living on a fixed income. The June consumer price index report confirmed what Americans have been seeing that prices are still rising fast.
The 9.1 percent increase announced on Wednesday surpassed the previous month high which many hoped was the peak. It also caused those who predict what the annual cost-of-living adjustment (COLA) will be for 2023 to raise their estimates. Although not released until the fall, beneficiaries will be anxiously awaiting how much their monthly payments will rise to help make up for the loss of purchasing power being felt, now estimated at 40 percent less since 2000.
Netflix joins up with Microsoft to offer cheaper fourth plan with ads
Netflix announced in April that it would be creating a fourth ad-supported subscription plan for consumers available at a lower price, along with its existing ads-free basic, standard, and premium plans. The streaming giant reports that it has teamed up with Microsoft to implement that plan.
"It's very early days and we have much to work through. But our long-term goal is clear: More choice for consumers and a premium, better-than-linear TV brand experience for advertisers," Netflix COO Greg Peters said. "We're excited to work with Microsoft as we bring this new service to life."
Bill Gates to increase charity payouts by 50 percent with $20bn cash injection
Once the richest man in the world, Microsoft co-founder Bill Gates has vowed to give most of his fortune back to society. The bulk of his philothropic efforts are made through the Bill & Melinda Gates Foundation, one of the world's largest private charitable foundations.
The compounding effects of crises, from the pandemic to climate change, the war in Ukraine and rampant inflation "require all of us to do more," Gates stated. So that the foundation can boost its annual distributions by 50 percent to $9 billion by 2026, he will inject another $20 billion of his fortune.
Crypto winter claims another victim, crypto lender Celsius 
The value of crypto currencies plunged after peaking late last year, Bitcoin worth less than 30 percent of its peak value. The drop in values and collapse of stablecoin TerraUSD in May has wiped out small investors and is now taking a toll on crypto firms.
Less than two weeks after crypto lender Voyager suspended withdrawals and deposits then filed for bankruptcy, another has begun the process. New Jersey-based Celsius filed Chapter 11 on Wednesday. Its 1.7 million customers have been unable to redeem their assets after the crypto lender froze withdrawals and transfers last month citing "extreme" market conditions.
Mortgage applications down along with average home purchase price
High inflation is leaving less money in people's pockets and slowing the red-hot housing market. The average loan to purchase a home peaked in March at $460,000, but was down to $415,000 last week as sellers begin to lower asking prices and high-end homes aren't moving. With many Americans priced out of the market and higher home loan costs new application for mortgages have started to drop again.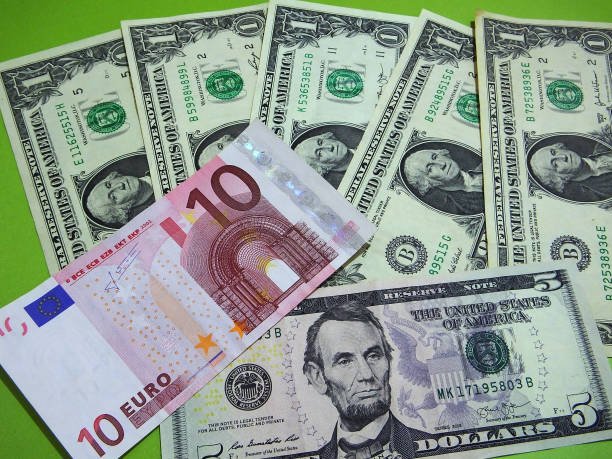 Euro falls to parity with dollar on expectations of sharp rate hike
For weeks the dollar has been surging against other major world currencies but none more so watched than the gains its made compared to the euro. It's been twenty years since the two currencies were at parity, a mark finally meet briefly on Wednesday.
The milestone came after a higher-than-expected inflation report was released for June prompting speculation that the Federal Reserve will move even more aggressively to tackle inflation. While a three-quarters of a percentage increase was considered in the offing, there is talk now of a 100 basis point hike at the end of July.
This has made the US, an evergreen safe-haven for investment, even more so, pushing the strength of the dollar.
Housing price rise decelerating but getting back to normal will take a while
Housing prices have been skyrocketing across the United States since the onset of the covid-19 pandemic to where affordability is at its lowest since the 1980s. Nineteen of the top 100 housing markets in the nation are overvalued by more than fifty percent as prices rise by around 20 percent year-on-year.
However, there are signs that the rapid growth in prices has come to an end with 97 markets showing deceleration over the past six months. But this "runaway freight train," as Andy Walden of Black Knight Inc describes it will take some time to get back to normal.
Mass adoption of electric vehicles in US in sight as nation passes 'EV tipping point'
The Biden administration has called for half of new vehicles to be all electric powered or plug-in hybrids by 2030. If the US follows a similar trajectory as the 18 nations that came before, it could meet that goal and still have several years to spare.
For the past six months EVs have made up over five percent of new car sales, a tipping point when mass adoption of the technology takes off. If sales in the US follow the trend of other countries, a quarter of new car sales could be all electric powered by the end of 2025.
Twitter sues Elon Musk: How much will he have to pay if he loses?
The huge bid made by Elon Musk to buy out Twitter, considered by many analysts to be an offer too big to refuse, has broken down into a large squabble between one of the world's richest men and a social media giant. Musk alleges that Twitter broke its part of the bargain, while Twitter argues that Musk has unfairly pulled out of their arrangement.
Musk has now been sued by Twitter over the buyout breakdown. If he loses, he could be forced to buy Twitter regardless.
Energy alone comprises nearly half of today's inflation numbers. So, here's what's important:

- The price of gas has decreased for 30 days straight, the price at the pump has dropped by 40 cents since mid-June.

- Gas should continue to come down in the days and weeks ahead.
How high is inflation in the US? New CPI reports outlines 9.1% annualised price increase for June
Today's CPI report outlines the rapid rate of price rises in the United States throughout the month of June. Price increases have been felt by consumers all across the country but the figures really put that into perspective as the annualised rate of inflation reached the highest level since 1981.
Here's everything you need to know about the worrying trend and which sectors have seen the most rapid price increases...
What does the CPI inflation report for June mean?
It's another month of bleak economic news for Americans. Building upon May's 8.6 percent increase, June has exceeded expectations to deliver a staggering 9.1 percent interest rate. This makes it the fastest increase in 41 years and it could continue to increase.
While the raw data looks bad, the price increases are nearly all driven by aspects outside of governemnt control: oil, fuel, and gas. While the government could expand US production, this is not a quick fix and would take many months before any impact were felt.
Financial News Live Feed
Hello and welcome to AS USA! We will be bringing you all the latest financial news and information from the US.
The June consumer price index report surpassed expectations, increasing bets that Fed will double down on rate hikes driving stock down.
Recession fears in major economies and worries covid will cause slowdown in China push crude prices to lowest level since February.