USA finance and economy summary news: June 8
Headlines | 8 July 2022
- BLS announces that 372,000 new jobs were added in June; but unemployment stayed at 3.6%
- Workers across the country may benefit from a minimum wage increase this month
- Euro recovers slightly after falling to 20-year low against the dollar
- Biden administration announces new programs to help student loan borrowers
- Initial unemployment claims increase slightly by 4,000 in the past week, up to 235,000
- National average gas prices continue to fall to $4.752 per gallon
- 4.3 million workers quit their jobs in May, a sign that the Great Resignation continues
- Job openings hold steady around 11.2 million, up from more than 9.8 million in May 2021
Helpful links and Information
- How much can I earn and still get disability benefits?
- Unemployment benefits:California recovers over $1 billion in fraudulent benefits
Our economy has recovered all of the private sector jobs lost during the pandemic, with 372,000 jobs added in June and nearly 9 million jobs added since President Biden took office. This rapid and broad-based recovery puts us in a strong position to weather global headwinds.
Biden responds to jobs report
President Biden says the news that 372,000 jobs were added in the US in June is evidence of "significant progress".
"I know times are tough," Biden said on Friday. "Prices are too high, and families are facing the cost-of-living crunch. But today's economic news confirms the fact that my economic plan is moving this country in a better direction.
"The unemployment rate is near a historic low: 3.6%. Private sector jobs are at a record high. Gas prices, still way too high, have fallen now 25 days in a row and this week we saw the second largest single-day decrease in gas prices in a decade. We still have a lot of work to do, but […] we're making significant progress."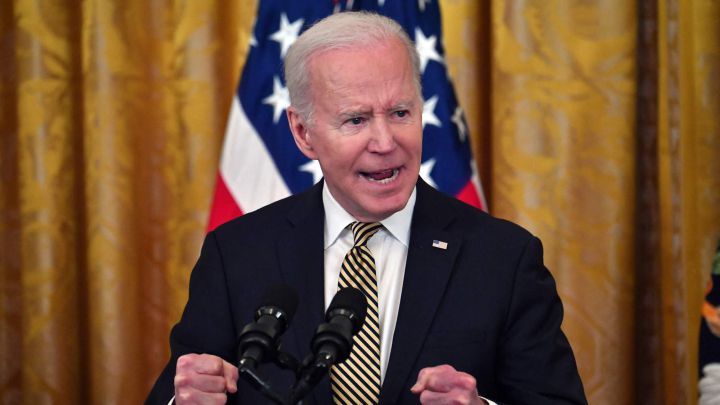 Why is the euro falling? Is it a good time to buy?
Many Americans will be planning trips abroad this summer after two years of pandemic-induced restrictions of travel. For some this could well mean a trip to Europe, and recent economic factors mean that you could be getting a good deal when it comes to exchange your dollars for euros.
The euro fell to a 20-year low in comparison to the dollar earlier this week. It has regained some value but travellers could still get more bang for their buck if they decide to exchange their cash now.
New infrastructure funding provide $1 billion for airports
Part of President Biden's remit when taking office was to provide the additional funding needed to upgrade the nation's crumbling infrastructure and boost transport links in rural areas. Last year his flagship infrastructure proposals were watered down considerably and he has not yet been able to make the improvements that he promised while campaigning.
However, he has been able to sign a significant executive order which will ascribe an additional $1 billion in federal funding for airports.
A statement from the Federal Aviation Agency reads: "The grants expand capacity at our nation's airport terminals, increase energy efficiency, promote competition and provide greater accessibility for individuals with disabilities. Two grants will also be awarded to build new air traffic control towers."
What are the new unemployment figures for June?
The Bureau of Labor Statistics has announced the unemployment figures for June, finding that the United States added 372,000 new jobs last month. Despite that, the national unemployment rate remained steady at 3.6%.
We'll bring you more on this story throughout the day, with the White House likely to pass comment on another substantial gain for the US labor market.
Europe suffers major gas price increases
The economic situation in the United States has been worrying for months, with sky-high inflation pushing up prices for consumers. One of the sectors most affected has been the fuel industry particularly gasoline prices, as a result of the continued sanctions on Russian-produced oil.
However things are even worse overseas and Europe is thought to be close to a recession as it suffers pangs of withdrawal after vastly reducing imports of Russian oil and gas. Germany, the euro block's largest economy, was hugely reliant on Russia's fuel and the removal of that source has had dramatic effects on the economy.
What are gas prices in the US and each state? Today 8 July 2022
The average price of gaosline the United States has continued its gradual decline from the historic highs seen last month. Consumer experts GasBuddy have found that more than 2,500 gas stations across the country are now offering gas for less than $4 per gallon, considerable progress and something that will provide relief for many.
But the price of gas remains a major concern for President Biden as we look ahead to the November midterms. We've got all the latest on the most expensive and the cheapest places to fill up your tanks in the US...
Big Mac economics
One of the most iconic dishes in fast food history is occassionally used as a signifier of broader economic trends, and in this instance it is being used to demonstrate how prices and wages are not always correlated. The national minimum wage in the United States is just $7.25 per hour, but many states have opted to introduced their own, higher, figures.
As is seen in this example, workers in two states could be paying roughly the same price for a product, although their minimum wage, and likely their average wages more broadly, are dramatically different.
$2,000 Child Tax Credit 2022: who is eligible for payment?
This year's Child Tax Credit will return to the conditions offered before the American Rescue Plan expanded it. The amount of the credit is smaller, and eligibility is more restricted than last year under the rules which were established through the 2017 Tax Cuts and Jobs Act (TCJA). These changes will be in effect through the 2025 fiscal year, if no action is taken by Congress to modify the credit before then.
A big change that helped many families last year, instead of receiving monthly installments on the credit as they did from July to December in 2021, the money will be distributed in the form of a single tax credit which will either reduce the size of the recipient's tax bill or increase their tax refund.
Initial unemployment claims are on the rise, figures show
The Department of Labor has relased their weekly unemployment report, showing that the number of initital claims has risen slightly in the past seven days.
On the week ending on 2 July, initial claims increased by 4,000 to 235,000. The week prior New Jersey (+5,569), Massachusetts (+3,217), Ohio (+2,588), Kentucky (+1,478), and Missouri (+1,375), saw the greatest increases in the number of claims; those with the largest decreases were California (-2,504), Texas (-2,074), Michigan (-1,683), Pennsylvania (-1,628), and Georgia (-1,606).
What states and cities increased the minimum wage in July?
Workers across multiple states will see a raise this month as minimum wage increases take effect. Nationally the minimum wage sits at $7.25 per hour, but many states have passed bills to increase their own.
Rather than a one time increase, states often chose to increase the wage over time as to not create economic shocks for businesses. The drawback of this method is that the increase can be offset by inflation by the time the process ends.
Various states are in the middle of increasing their minimum wage and July marks one of these milestones.
Euro suffers significant USD drop
The United States is feeling the effects of the economic sanctions levied against Russia for the invasion of Ukraine, but Europe appears to be suffering even more. The US relied on Russian-produced fuels for around 8% of its needs, but European countries were far more reliant and the sudden pause on imports has had catastrophic effects on the continuent's economies and its most widely-used currency, the euro.
This week the euro dropped to a 20-year low against the dollar, signifying the dire straits currently facing the European economy. Numerous projections have pointed to recessions in many European nations before the end of the year.
Can you get $4 gasoline in the United States?
Yes! At thousands of stations across the country, according to new research from consumer advice group GasBuddy. The fuel experts found that more than 2,500 gas stations in the United States are currently offering gasoline for $3.99 per gallon or less.
This represents a considerable increase on the number doing so in recent weeks and offers more evidence that the national price of gas is beginning to fall after hitting record heights last month. This will be a great relief for motorists who had been forced to pay vastly inflated sums to make essential journeys.
Hello and welcome to AS USA
Welcome to our dedicated financial news live feed bringing you all the latest news and information from the United States on Friday, 8 July.