What is happening with Credit Suisse, who controls its capital and why are CDS so important?
Saudi National Bank's refusal to increase its stake in Credit Suisse's capital has caused the bank share value to plunge sharply on the stock market.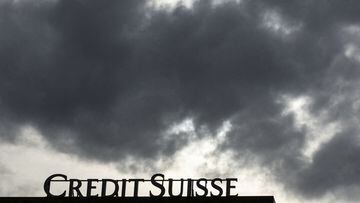 Turmoil in the banking sector continued into Wednesday with Credit Suisse leading the day's headlines. The refusal of its largest shareholder to increase the Swiss bank's capital has caused its shares to plummet by nearly a quarter on the Zurich Stock Exchange. This has set off alarm bells, and the bank is in the spotlight of the financial sector.
Saudi National Bank will not increase its stake in the bank
On Wednesday, Credit Suisse's main shareholder, Saudi National Bank, confirmed that it will not provide more financial assistance. This has caused a plunge in the company's shares, which were down as much as 24 percent at times.
The Swiss bank has seen its value in the stock market slide over the past week after it delayed the publication of its 2022 annual report. That resulted from a call from the U.S. Securities and Exchange Commission "in relation to certain open SEC comments about the technical assessment of previously disclosed revisions." Credit Suisse subsequently confirmed that it had found a "material weakness" in its internal control over reporting.
Speaking on Bloomberg TV, Saudi National Bank chairman Amar Al Judairy confirmed the bank's decision to not put up anymore cash. "The answer is absolutely not, for many reasons outside the simplest reason which is regulatory and statutory," he confirmed. This entity currently owns 9.88% of the bank and considered that if they exceed 10%, "a series of new rules come into force".
CDS, an insurance for investors
Another of the elements to be taken into account regarding Credit Suisse's situation is to know how CDSs work. Better known as Credit Default Swaps, they are, according to the words of Héctor Chamizo, a journalist specialized in Economics and Markets, "a kind of insurance for investors" which protect them against a possible default on a company's debt.
"Credit Default Swaps (CDS), which are a kind of insurance for investors to protect themselves against a possible default on Credit Suisse's debt, could climb to their highest level since the 2008 financial crisis. The market, right now, puts the chances of the bankruptcy of the entity at more than 20%," he said.
"The bank's problem is that it faces a liquidity risk, so it will have to restructure its business. The bank may need to raise about $4 billion of capital even after selling some assets to fund any restructuring or growth efforts. It is believed that later this month, when it presents its new strategy, it could announce a workforce adjustment of 5,000 and a capital increase. While this is happening, its shares are increasingly hemorrhaging on the stock market," he commented.
$8 billion in losses in 2022 for Credit Suisse
These are not good times for the Swiss institution. In 2022, the bank closed the fiscal year with a loss of nearly 7.3 billion Swiss francs ($8 billion), making it one of the worst crises it has faced in its entire history. They have exceeded by more than four times the figures obtained in 2021, when they lost 1.57 billion francs ($1.7 billion). In fact, it is Credit Suisse's worst result since the 2008 financial crisis.