GTA Online
What are the best GTA RP servers in 2023 and how to join them?
If you've become tired of what Rockstar has provided in GTA Online over the past decade, RP servers are an option for PC gamers who want to remain in Los Santos.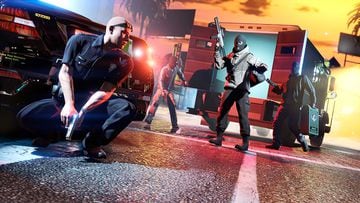 GTA Online, the multiplayer component of the highly popular Grand Theft Auto V, offers a vast open world for players to explore and create mayhem. Throughout the game's 10-year online journey, Rockstar has added various features, ranging from heists and casinos to quests that require the player to prevent an AI from destroying the world, and help recover Dr. Dre's stolen music. The experience is genuinely rare. For those looking for a distinctive experience, the GTA Online RP servers offer an engaging role-playing adventure that significantly improves gameplay.
What are GTA Online RP Servers?
RP servers in GTA Online are exclusive communities that center on role-playing. Gamers embody fictional personalities and participate in various situations that resemble real life. These servers generate a lively atmosphere where players can communicate, collaborate, or contend, all while following a set of regulations and guidelines determined by the server's community and general theme.
How to Access GTA Online RP Servers
Joining an RP server on GTA Online requires a few simple steps. social media groups, or specialized websites dedicated to GTA Online RP communities. To join an RP server in GTA Online, players must follow several simple steps. Although some people may assume that RP servers are available on consoles, they can solely be accessed through the PC version of Grand Theft Auto V. After selecting a server, players usually need to follow the community's specific instructions, which could entail installing modifications, downloading customized content, or applying for membership.
Top 5 GTA Online RP Servers
NoPixel: One of the most popular RP servers with a talented group of streamers and content creators. Its world is diverse and engaging with intricate characters and storylines.
Twitch RP: This server is well-liked amongst Twitch streamers and viewers. It boasts a lively community and a varied cast of characters, providing enjoyable and engrossing play.
GTA World RP: If you want a simpler roleplay experience with less verbal interaction, just turn off your microphone. This way you can still access content about groups, companies, and more.
Eclipse RP: Eclipse RP is popular with players who relish city living and business entrepreneurship, because of its sound economic and legal infrastructure. It provides a realistic urban environment.
MafiaCity GTA RP: An ideal RP server for those interested in organized crime. This game offers numerous opportunities for role-playing and chaos, with options available for players who would like to play as a criminal or law enforcement.