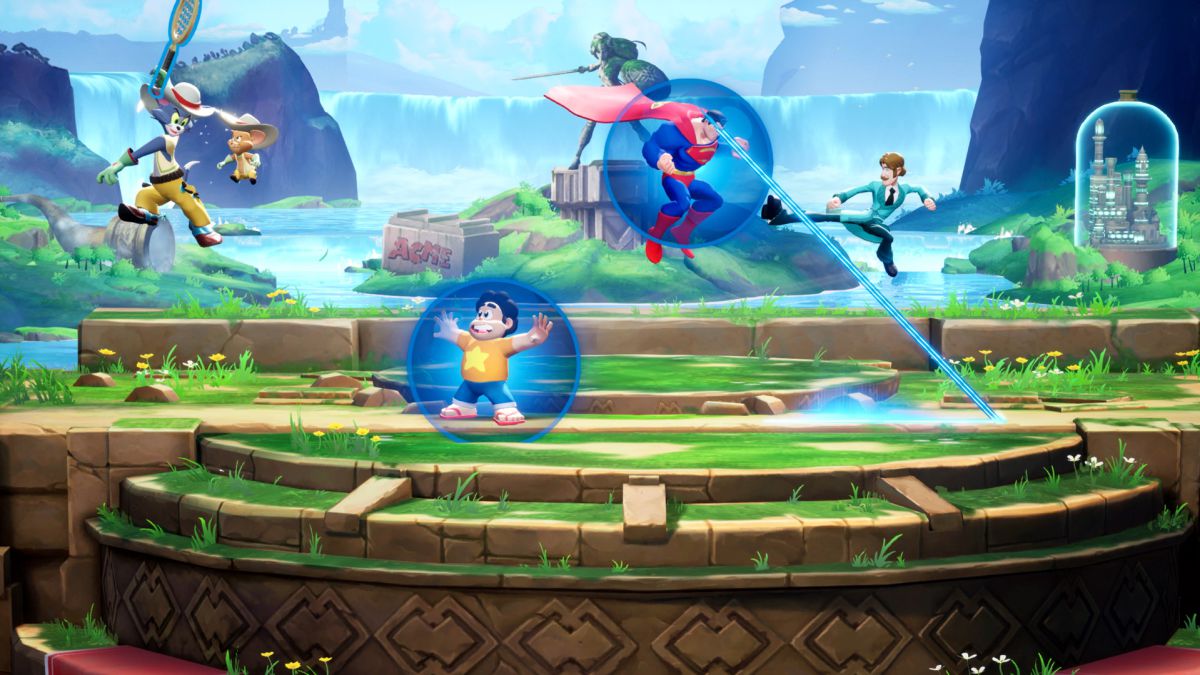 We test Warner's upcoming free-to-play fighting title where they put their biggest stars, from Shaggy to Arya in a fight that could be promising.
Mixing universes, although it has become a trend, is something we have seen over the decades. This has become something normal, from crossovers to real encounters between worlds that we would never have imagined, and in the realm of video games, this is no exception.
Fighting games have become the scenarios where these crossovers have been generated, mixing everything from their own franchises to reaching agreements where rival companies can "define who is the best". On this occasion, it is Warner Bros., owner of a large number of IPs that cover not only different media, but also generations, who comes up with a proposal to bring together their animated worlds in a confrontation that arrives with a formula for this decade.
For the past few days we've been playing Multiversus, the fighting proposal produced by Warner Bros. and developed by Player First Games, where the brawler that was popularized more than 20 years ago by Super Smash Bros. takes a rather unique twist. Here's everything you can expect from this title that has started its closed alpha starting May 19 through May 27.
What is MultiVersus?
As we have mentioned, MultiVerus is a title that brings together several of the franchises and characters belonging to Warner Bros. in a fighting game where the objective is to take out our opponents from the stage. One of the defining features, so far, is its Free-to-Play nature, meaning that it will be free for everyone to download when the title is released. The approach is that everything we get in the game, will be of cosmetic value, as games like Fortnite and Sea of Thieves have done in recent years. On the other hand, its other main pillar is its online mode, where either in 1vs1, 2vs2 and a 4-player Free-For-All, the matches can be done remotely.
For now, the alpha comes with some characters available, while others will have to be unlocked by obtaining in-game currency. The online game, in our pre-alpha test time, was played without a problem. Considering that the number of players in these previous days were few, there never was a connection problem and fortunately, there were games to test it without problems.
From Merrie Melodies to Cartoon Cartoons
One of the remarkable features of MultiVersus is its characters. As I mentioned, they are characters that have been part of the lives of many of us as children -or even young adults- and they range from classic and iconic characters such as Bugs Bunny, Batman and Shaggy, to characters that more recent generations have a closer bond with such as Jake the human, Steven or Arya Stark, the latter being the only character so far in the roster not coming from an animated background. While Warner could have taken these licenses to create a great story, the decision to make it a fighting game comes from the studio's core. "We all have been playing fighting games for years and years," told Veigar Bouius, product manager at Player First Games. "We have been hoping for the opportunity to put our stamp into, to push the gameplay and to innovate to where the genre could go."
We find ourselves with a cast of characters whose mechanics are very different from each other, this in part because of the work done in nailing down the concept of these characters for a fighting game, as well as the definition of the archetypes to which they belong. While many of the basic movements of this fighting genre are kept, it is interesting how the details of these characters add a new layer to the gameplay. One of the best examples is Taz, a character that falls into the Brawler category and has a certain learning curve. As we can expect from this character, his swings are devastating and constant, but he has a little "gimmick" with one of his attacks, being able to "spice up" his opponents. Having added enough salt and pepper (I'm serious) our opponent will turn into a giant rotisserie chicken (again, I'm serious). Managing to eat it in this state is a definite knockout.
However, this amount of gimmicks can be somewhat complex for new players who are not familiar with these fighting games. MultiVersus contains a tutorial that teaches the basics of the moves. "We would like to make character-specific tutorials in the future," Bouius commented on the matter. Although there is a list of all the character moves, it is best to enter "The Lab" mode to use the AI to test these moves.
As for the future of characters, for now, the idea is to "keep adding more characters as we go along," Bouius mentioned. "We are a free-to-play game as a service, we will continue to update constantly adding characters and scenarios, more of everything to the game."
Gameplay and game modes
Another detail that stands out is its game modes. Although at the moment they are limited, with 1v1, 2v2 and Free-For-All combat, it is the second one that attracts the most attention. The main basis of this is teamwork and finding the different synergies between characters. If someone is attacking with Harley Quinn, a second player can use Wonder Woman to fulfill the tank role. To this, we must add that as you level up, you will be unlocking "perks" to get advantages, these being related to the character, as well as the general ones.
One of the doubts with this type of combination is how the game is balanced. This considering that when you make a match, you don't know which character your partner will choose, nor the perks they come with. "We want that characters have enough tools to combat the various things they are going to encounter," Bouius mentioned. "you never know who you are going to go up against and any combination of characters is possible as teammates or as opponents. So it is essential for us that every matchup is balanced so we tested all of them."
It is worth mentioning that MultiVersus will come to PS4, PS5, Xbox One, Xbox Series X, Xbox Series S and PC. Through a Warner Bros. account, we will be able to have both gameplay and raw progression on all the mentioned platforms.
Future and monetization
During our interview with Veigar Bouius, it became clear that it is still too early to be talking about the future of the game. For now, the game will feature "a Battle Pass where players will level up and unlock as they play," Bouius explained. "Characters will also be earnable through playing." In this case, the game will focus only on cosmetic items that don't affect gameplay. "We want to be player-friendly regarding our monetization plan. Anything that is gameplay related can be earned through the game."
And there will be a lot to get in terms of cosmetics, since there are from character skins, to small animations when you are shot from the stage, just to mention some of the first details we saw in this test.
For now, MutliVersus sounds like a title that has the necessary details to spend a pleasant afternoon at a distance with friends. It's still too early to generate a verdict considering that being in an alpha, there are aspects that can change. However, we will be very attentive in Meristation USA to everything that this title brings in the future.