James Harden expected to stay with Sixers after opting out of player option
With his future now determined, both the player and the franchise will have to get to work on making sure there isn't a repeat of last season.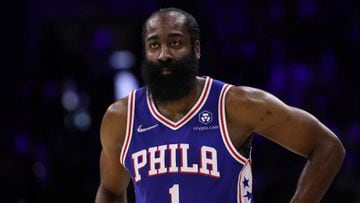 It's D-day in the free agent market, but it seems one bigger names out there has sorted out his future before going to the wire.
76ers' James Harden opts out of player option to stay
According to reports on Wednesday, James Harden's time with the Philadelphia 76ers is set to continue though the veteran guard opted out of his $47.3 million player option for the 2022-23 season. Harden is expected to sign a new contract with the Sixers once free agency commences, but it should be noted that in refusing his option, Harden actually affords the Sixers more wiggle room in the financial department. What's that mean? Philly can now focus on building a better roster around star Joel Embiid and the aforementioned Harden.
What's interesting about this scenario, is that it follows on from a declaration made by Harden shortly after the Sixers were eliminated by the Miami Heat in the Eastern Conference semifinals last month. Harden stated at the time that he would be willing to take a lower salary in an effort to help the team build towards being true title contenders. "I'll be here. [I'll do] whatever it takes to help this team continue to grow, and put us up there with the best of them," Harden said at the time. "We're trying to win a championship. That's the goal. Whatever that looks like." Fast forward to the present and it would appear he's kept his end of the bargain.
Where do the 76ers stand on James Harden?
The story of Harden is one that has had its fair share of twists and turns. After arriving on the back of a trade that saw Ben Simmons, Seth Curry, Andre Drummond and a pair of picks go in the opposite direction to the Brooklyn Nets in February, Harden's start to life in Philly was a mixed bag. There were a handful of huge performances leading up to the playoffs, but in general the consensus was that the former MVP was not living up to expectation. Even teammate Joel Embiid criticized him. Yet as far as the franchise was concerned, there was never any doubt about their long term intentions for him.
"That's the plan is to have him back. That's been the plan since the trade," Sixers president of basketball operations Daryl Morey said of Harden at the season's end. ...Obviously, we have to work with his representation and that'll be between us to figure out how that works," Morey added. ...He's an incredibly talented player just like Joel [Embiid], just like Tobias [Harris], and I'm excited for Doc [Rivers] and his staff to have a whole offseason, work with the players, and come up with the best plan for the roster."
James Harden has to watch his health
While his 21 games during the regular season were credible, as he averaged 21.0 points, 10.5 assists, 7.1 rebounds and 1.2 steals per game, Harden's form dipped in the post season. So much so in fact that his performances became a constant topic of conversation with many saying that his best playing days were behind him. The man himself, however, believes that with time to work on his health and fitness this off season he can get back to his best.
"I've been trying to get right through the course of a basketball season for two years straight," Harden said last month. "And it's like, that's not it. You know what I mean? All last summer I was rehabbing. It was a little frustrating because I'm not used to going through something like that, but it is what it is. I'm just happy to be healthy now. I've got a full summer to be straight and do the things necessary to come back even better next year." That will certainly be the Sixers' hope, but if nothing else they can take comfort in the fact that it's now very clear that Harden is committed to the cause. With the cap space that his move has freed up, the franchise must now play its part if they are to give Harden and Embiid the kind of help they need to be contenders.