The biggest NBA Draft steals of the 21st century: Parker, Kawhi, Giannis, Jokic...
Ahead of the 2022 edition of the event, we take a look back over some of the greatest steals in the NBA Draft since the turn of the millennium.
Tony Parker (28th pick in 2001)
Two years after picking Manu Ginobili at number 57, the San Antonio Spurs did it again. Despite his slight stature and his lack of experience at the top level, Tony Parker came in and took over from Terry Porter as the Spurs' starting point guard. In his first year in the NBA, he was named in the All-Rookie First Team, and from there built a career based on a degree of consistency that's hard to match. Between his second season in the NBA and his final year, in 2017, Parker averaged at least 10 points and 4.5 assists per game. He was a six-time All-Star, a four-time All-NBA Team member, a four-time NBA champion, and Finals MVP in 2007. All of this came as part of one of the best trios ever seen in basketball, alongside Ginobili and Tim Duncan. Parker's stellar NBA career makes him one of the best players ever produced in Europe, and a candidate for the biggest Draft steal of the 21st century.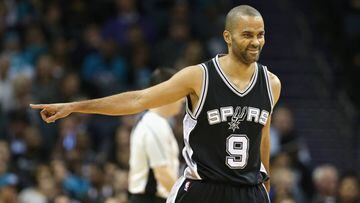 Kyle Korver (51st pick in 2003)
In a Draft that included the likes of LeBron James, Carmelo Anthony, Chris Bosh and Dwyane Wade, it's easy to forget what came further down the order. Well, well after such stars had been selected came Kyle Korver, who in his 17 seasons in the NBA has been synonymous with success. In the 2020 Playoffs, he appeared for the Milwaukee Bucks in the 14th postseason of his career - at the time, a number that tied him with LeBron as the 2003 Draft player with the most Playoffs to his name. And if there's one thing that Korver showed as a player, it's that he was a three-point shooter up there with the very best in history. His 42.9% success rate is the 10th best of all time, while his 2,450 threes made place him fifth, behind only Reggie Miller, James Harden, Ray Allen and Stephen Curry. He led the NBA on three-pointers in four separate seasons and has the best-ever single season percentage: 53.6% in 2009/10. Not bad for a 51st Draft pick…
Paul Millsap (47th pick in 2006)
Millsap went from being in the All-Rookie Second Team to averaging double-digit scoring two seasons later, to exploding into life once and for all after being traded to the Atlanta Hawks in 2013. In Atlanta, he was a key figure in a team that was among the best in the Eastern Conference, and appeared in four straight All-Star Games between 2014 and 2017. Although his figures never reached superstar levels, he has always moved in the area between solid and spectacular. And his versatility, probably his greatest quality as a player, has led him to amass career numbers that not too many others have reached. Millsap has surpassed 14,500 points, 7,500 rebounds, 2,000 assists, 1,000 steals and 1,000 blocks. A top-quality all-rounder.
Marc Gasol (48th pick in 2007)
Before arriving in the NBA in 2008, Marc Gasol had had a fantastic career in Spain, but doubts over his physique meant he dropped as far down as the middle of the second round of the Draft. He was picked by the Lakers, who then included him in the deal that took his brother, Pau, from the Memphis Grizzlies to Los Angeles. In Memphis, it fell to the younger Gasol to prove that he was more than just an afterthought. He became one of the most important players in the history of the franchise, a central element of the team's 'grit and grind' era, the most glorious it has ever experienced. But he didn't only catch the eye within his own team; when it came to choosing the best center in the league, Marc was in the conversation for a good decade. So much so, that he was chosen in the 2015 All-NBA First Team and was named Defensive Player of the Year in 2013. In 2019, he was then integral to the Toronto Raptors' championship win.
Kawhi Leonard (15th pick in 2011)
If Marc Gasol was fundamental to the Raptors' NBA title victory three years ago, then what can you say about Kawhi Leonard's contribution? The small forward is a two-time champion with two different teams, and on both occasions has ended up being the Finals MVP. He's also a two-time Defensive Player of the Year; a seven-time All-Defensive team member; and a five-time All-NBA team member. Leonard's defensive abilities were clear to see in college, but nobody expected him to become such a lethal offensive player, with a mid-range jump shot that has drawn comparisons with Michael Jordan. Unfortunately, the 30-year-old missed the entire 2021/22 season with an ACL injury; when he's fit, he's in the battle to be the best player in the league. While 15th isn't as far back in the Draft as some of the other players on this list, Leonard's performances in the NBA nonetheless make him one of the greatest ever steals.
Jimmy Butler (30th pick in 2011)
Jimmy Butler didn't have a fixed abode as an adolescent; he didn't receive a single offer from Division 1 NCAA teams after finishing high school; and when he arrived in the NBA, he was seen as a mere defensive specialist perhaps capable of inheriting Luol Deng's spot at the Chicago Bulls over time. It's a past that has had a big hand in forging a never-say-die attitude that has helped Butler to overcome the obstacles placed in his way, and has made him one of the most complete players in the league, capable of performing to a high level both in defence and offence. A six-time All-Star and a four-time All-NBA team member, he has found the competitive culture he was looking for at the Miami Heat. His is a career that has exceeded all expectations for a 30th Draft pick.
Isaiah Thomas (60th pick in 2011)
The 2011 Draft was full of surprises. After Leonard and Butler, with the event about to come to a close, up popped Isaiah Thomas in the final spot. Often, players who are selected in the last 10 places don't even end up appearing in the NBA, so picking up a steal at number 60 is like finding a needle in a haystack. All the more so if we consider that Thomas is 5ft 9in tall. It's not known whether the Sacramento Kings saw something in him, or simply took a punt with their pick. But the diminutive point guard quickly set about showing that he belonged in the NBA. In his first year, he played 65 games, 37 as a starter, and averaged 11.5 points and 4.1 assists. By his third season, he was a starter 54 times and averaged 20.3 points and 6.3 assists. Despite that, the Kings chose to trade him. After a few months with the Phoenix Suns, he ended up at the Boston Celtics, where he was twice an All-Star, before injury problems undermined his career.
Draymond Green (35th pick in 2012)
Given the way they've performed, picking up Stephen Curry at seven or Klay Thompson at 11 can also be considered steals. But the jewel in the crown of the Golden State Warriors' Draft selections has to be Draymond Green, who was the 35th pick in 2012. In the second round, you're highly unlikely to find a player who'll go on to be a one-time Defensive Player of the Year, a seven-time All-Defensive team member, a two-time All-NBA team member and a four-time All-Star. As for finding a player who'll have a key role in one of the greatest teams in history - well, that's almost miraculous. But there can be no doubting that without Green, the Warriors wouldn't have won four championships in eight seasons, a run that includes five straight Finals appearances. His tremendous defensive abilities - he's capable of guarding a center, a small forward or a point guard in the same play - his offensive intelligence and the passion he brings to the game have been key to Golden State's era of domination.
Khris Middleton (39th pick in 2012)
There's also a place for the 2012 Draft on this list. Four spots lower down than Green, the Detroit Pistons chose Khris Middleton, who would be traded to the Milwaukee Bucks a year later. From his second season in the league, the stats began to make it clear that this was a small forward who was much more than had initially met the eye. ESPN's real plus-minus ranking had him at 10th in the NBA, and the following term he remained in the top 20. From 2015, his improvement was such that few could ignore the fact that this was a great in the making. He averaged 20 points for the first time in 2017/18 - he has done so three more times since then - and in 2019 earned his first All-Star pick. Two more All-Star selections have followed, in 2020 and 2022. The 30-year-old was a key figure in the Bucks' 2021 championship win - Milwaukee's first in 50 years - and has established himself as one of the biggest names in the NBA.
Giannis Antetokounmpo (15th pick in 2013)
In the press conference at which Giannis Antetokounmpo was unveiled as a Milwaukee Bucks player, John Hammond, then the franchise's general manager, declared that the young Greek had the talent to become an All-Star. Given that Antetokounmpo had been facing comparatively non-existent opposition in Greece, it was an assertion that could be taken as the typical optimism that teams try to project when new blood is brought in. But however much faith Hammond or anyone else had in Antetokounmpo, nobody could have guessed what was to come. Particularly after his first year in the NBA proved so unremarkable. At 27, the power forward is now a six-time All-Star, won two consecutive MVP awards in 2019 and 2020, and was Finals MVP in 2021 as he led the Bucks to the NBA championship. Let the 14 teams who passed on Antetokounmpo nine years ago try and tell you he wasn't a steal.
Nikola Jokic (41st pick in 2014)
The 2014 Draft was among the most anticipated there have been, yet that had little to do with Nikola Jokic. The Serb, who has been chosen as the NBA's MVP in each of the past two seasons, figured in the plans of hardly any franchises. His physique, so far removed from the typical athletic figure of today's player, allied with his slow feet and his lack of contribution on blocks, meant few saw a future for him in the NBA. And it's not for a lack of chances for the league's scouts to spot the great player he had inside him. In the Adriatic League, he averaged 11.3 points, 6.3 rebounds and 2.5 assists at just 20. In the U-19 World Cup in 2013, he caught the eye up against teams that included the USA. Now he's the first player in NBA history to amass 2,000 points, 1,000 rebounds and 500 assists in a single season. Not bad for a 41st pick seen as fat, slow and unable to jump.