USA vs Canada summary: score, stats, highlights | 2023 FIBA Basketball World Cup
USA vs Canada: 2023 FIBA Basketball World Cup third place game
Full time: USA 118-127 Canada (Canada win the bronze medal)
Canada really punished the USA in the opening quarter as they were afforded far too much time and space to shoot, with Dillon Brooks filling his boots. It was fitting that he notched the first three points of the game, and the Canadians held a 13-point advantage at one stage.
The US finally managed to rectify things in defence at the end of the first quarter and came flying out of the blocks at the start of the second, clawing back a nine-point deficit in the blink of an eye.
But just when it looked as if the USA were in full flow, Canada also responded and stepped up their own defence, making a number of crucial blocks as their opponents piled on the pressure. That allowed the Canadians to stay in the game and go back on the offence and they finished the second quarter as they'd started the game, with Brooks on red-hot form.
Canada took control in the third quarter with their more effective defence as the teams tried to outscore one another, which has been a criticism of the USA's strategy throughout the tournament.
However, it looked as if it might pay off in dramatic fashion in in the final quarter. The US were four points down with four seconds left on the clock, with two free throws to come. Mikal Bridges made no mistake with the first, then deliberately missed the second, caught the remind, shuffled out wide and floated in the most dramatic of three-pointers to level the scores.
The momentum appeared to be with the USA but Canada dug deep in overtime, starting 6-0 with Brooks and Shai Gilgeous-Alexander continuing to shine. The Americans became careless as tiredness kicked in and their neighbours picked them off to clinch a first ever World Cup medal.
What next for the USA basketball team?
Not the tournament that the USA and Steve Kerr were hoping for, if we're being honest. That said, they only managed to finish seventh in 2019, so they have actually improved...
The team is clearly hampered by a number of factors, the main one being that the FIBA Basketball World Cup is not a main priority, although they should have more than enough quality in their ranks to do better than fourth. Looking ahead to the Olympics, a raft of NBA's top stars will become available for selection again, which should boost their bid to win gold in Paris.
Today, they weren't helped by NBA All-stars Brandon Ingram and Jaren Jackson Jr. missing through illness, along with Paolo Banchero. But as Kerr has said, "this isn't 1992 anymore" and other nations around the globe are now much stronger than they once were.
That, of course, includes Canada, who will long celebrate the fact they have pipped their more illustrious neighbours to a medal at this World Cup.
US head coach Steve Kerr: "Credit to Brooks and Gilgeous-Alexander"
"We tried everything. When we doubled Gilgeous-Alexander, Brooks was making threes. When we didn't, he was making his pull-ups. Give those guys credits, they both played great".
Shai Gilgeous-Alexander to run Dillon Brooks close for MVP?
Basketball is obviously a team sport but it's hard not to pick out individuals when they are capable of such brilliance. Dillon Brooks will take plenty of plaudits, but save some for Shai Gilgeous-Alexander, who bagged 31 points himself (six rebounds) and had a game-high 12 assists.
Here he is at his very best.
Dillon Brooks: USA vs Canada MVP?
The Houston Rockets' Dillon Brooks really came up trumps for Canada, getting his country on the board with a three-pointer in the opening seconds, which set the tone for the rest of the contest. He went on to notch a game-high 39 points, including four rebounds, and also made five assists.
Stepping up to the plate.
First ever FIBA Basketball World Cup podium finish for Canada
It's not the medal they wanted but it's one they'll still be grateful for. Canada's previous best at the tournament wassixth in 1978 and 1982. Basketball in the North American country has come a long way since then and they'll be a force to be reckoned with in future competitions.
A huge ovation for Dillon Brooks
Has Dillon Brooks ever played a better game in his career? Possibly, but probably not many. The small forward grabbed 39 points and was lethal from long range!
Canada collect bronze medals
FIBA are wasting little time in dishing out medals to Canada, whose players are coming up one by one to get their hands on the bronze.
Did we see Canada going on to win that after being denied so late on in regulation time? I'm going to say that I didn't, but that they showed superb mental strength to go again and clinch bronze.
CANADA HAVE DONE IT! USA 118-127 CANADA
It's all over! Tremendous resilience from Canada as an incredible US fightback! Third place is theirs!
A foul on Brooks, who bags two more points from the free-throw line.
"MVP!" shout the crowd! It's hard to arugue!
It goes in Canada's favour, another blow for the USA.
The officials are reviewing who touched the ball last before going out of bounds.
20 seconds left in this first period.
Reaves with an optimistic one for three...and he finds a bucket!
118-125.
Dort puts another point on the board from the free.
Portis is done for the day, his second unsportsmanlike.
An unsportsmanlike foul called on Portis, which means Canada are likely to extend their lead here.
Still time for USA in overtime to do something, but Canada are in possession.
Barrett tries one from deep...and it's in! That could be huge!
115-124
A nine-point lead, although we've seen this already...
Great defence from Barrett and Powell to force the ball out of bounds.
115-121.
That is not a good time for a turnover from the US...under absolutely no pressure.
Brooks obliges...but only once.
115-121.
Foul by Brunson on Brooks and Canada are going to have another chance to extend their advantage.
No stopping Dillon Brooks today. He digs out yet another one. 36 points for him.
Reaves gets USA back to within two from the free-throw line.
Brunson misses for three but a foul by Powell is called.
112-118.
This has been a great response from Canada, almost as if Bridges' magic never happened.
SGA bags another two for free throws.
112-118.
What a response from Canada! SGA pulls out another beauty from deep and sends Bridges for a hot dog.
How do Canada come back from this?
Overtime underway
SGA first on the board!
111-113.
Is that one of the greatest plays in World Cup history? I think it may be. Never give up.
To overtime we go!
Wow, what a finish!
OLYNYK....HITS THE RIM!
So, so close from Olynyk! It came down in slow motion but hit the rim!
What an unbelievable play by Bridges, that was ASTONISHING.
Canada time out
What do you say to that??
Bridges misses the free throw, gets the rebound, runs it out wide and floats in for three!
BRIDGES LEVELS FOR USA!
WHAT HAVE WE JUST SEEN????
Bridges could do with missing the second one of these...
Foul from Barrett on Bridges, but USA have got four seconds left and are four behind...
Brooks...bags two points!
A foul and a free throw for Canada...
Edwards tries to respond and hits the board...Brooks first to the rebound!
SGA has done it! Two!
107-109!
Haliburton misses for three! A chance for Canada!
Brooks misses the first...but makes the second.
107-107.
Free throw for Canada to draw level and take the lead.
This is going to be CLOSE.
Edwards drives through and clips in from close range! USA lead!
107-106.
Ooooooh, here comes Brooks with another three, superb!
105-106.
Free throw missed, 105-103.
Bridges responds from the baseline! And is fouled in the process! That could be big...
Canada straight back in front as Barrett finds one from nowhere!
Barrett turns it over and is punished, Haliburton tees up Hart for two!
102-110.
Incredible stuff from SGA there...but he's been pulled up for travelling.
Superb from Reaves, who also wanted a foul. He'll have to settle for two.
USA timeout
It worked well last time....
Barrett does hit the target though and Canada are back ahead!
98-100.
Barrett misses an open three for Canada, Bridges follows up with a miss at the other end.
But not for long, Brooks is back!
USA regain their two-point lead from the free-throw line through Reaves.
SGA drives forward and hits the backboard, Dort follows up to level! Great hustle.
USA lead!
Edwards is back at it, makes space and finds a bucket!
96-94
A crucial block from Brooks as Bridges look certain to bag two points!
12-3 at the start of this fourth quarter.
Canada timeout
And boy, do they need it.
94-94.
USA level in no time!
A desperate effort from Alexander-Walker misses and Haliburton floats in for three! How have they turned this around for quickly again?!
The crowd are pumped right up for this and the Americans look to be feeding off it!
Here comes the USA train! 91-94
USA really needed that! Haliburton in for three!
Two out of two for the forward.
Bridges is bumped in attack and will get two free throws.
USA timeout
USA coach Steve Kerr has called a timeout with his team 10 behind. Now or never.
Reaves, Olynyk and Alexander-Walker all miss for three but Olynyk is fouled as he converts a rebound. 10-point Canada lead.
Ejim fouls Portis and the centre converts both times. First blood to USA in the fourth quarter.
Fourth quarter underway
Here we go! Can Canada hold on? Can the USA turn it back around?
The good news for the USA is they've come back from a bigger deficit already in this match. A big effort required in this last quarter.
End of the third quarter: USA 82-91 Canada
Brooks lobs one from over halfway as the clock ticks down, but hits the backboard. Third quarter over.
Barrett on point from the free-throw mark as Canada briefly hold a double-digit lead.
Canada edging ahead thanks to SGA
A nine-point lead for Canada now as SGA pulls out right and finds a bucket.
80-89.
Edwards seems to be gobbling up all of USA's points at the moment. Not much coming from elsewhere.
Alexander-Walker next to shoot for three...and it's in!
78-87!
Olynyk stetches Canada's lead from distance!
Barrett gets an easy basket at the rim, Edwards responds for USA.
A blocking foul from Olynk but Edwards can only get a point back 74-79.
Unbelievably, Brooks misses from three-point range...
Two out of two for Alexander-Walker!
An unsportsmanlike foul has been called, can Canada capitalise?
An official review on Portis, who fouls Alexander-Walker.
SGA is giving Kessler a torrid time in this third quarter. Another free and Canada open up a four-point lead.
Excellent defence yet again stops Edwards and then Haliburton. 73-76
Incredible dribbling and quickness of feet from SGA, who's fouled by Bridges as he tries a layup. Two free throw points.
SGA missed an easy-ish one a few moments ago but no mistake this time!
Another superb assist from Brooks gives Powell an easy two. 67-70.
Back underway and Barrett is next off the mark. 63-68.
Canada time-out
Canada call a time-out.
SGA uncharacteristically misses and Edwards races up the other end to loft one in. A four-point swing.
Bridges drives forward and makes an impressive two, and is fouled in the process. Edwards converts.
I don't know what Dillon Brooks will have to do to NOT be named MVP in this game. Superb once again, although he had so much space to line it up.
Canada challenge
Canada using their one challenge to check if SGA touched the ball on the way out of bounds or not.
He didn't and their six-point lead remains.
Great start for Canada as Brooks steals and tees up SGA, who lays one up and in!
Dillon Brooks staring where he left off. +2.
Second half underway
Here we go again! What do we have in store?
Shai Gilgeous-Alexander assists game leader
He's been one of the stars of the tournament so far and SGA is coming up trumps again. Five assists for him in the first two quarterts, more than anyone else on the court.
Canada small forward Dillon Brooks leads point-scoring
If you've read my little recap, you probably won't be surprised to know that Canada's small forward Dillon Brooks leads the scoring, with 21 points.
On the USA side, Bobby Portis has top scored, with just 10.
Half-time: USA 56-58 Canada
It's been a tale of resilience from both teams at different points so far. Canada really punished the USA in the opening quarter as they were afforded far too much time and space to shoot, with Dillon Brooks filling his boots. It was fitting that he notched the first three points of the game, and the Canadians held a 13-point advantage at one stage.
A timeout did little to help the US initially, but they managed to rectify things in defence at the end of the first quarter and came flying out of the blocks at the start of the second. If you'd gone to make a tea or coffee with Canada nine ahead, they would've been behind by the time you'd come back.
But just when it looked as if the USA were in full flow, Canada also responded and stepped up their own defence, making a number of crucial blocks as their opponents piled on the pressure. That allowed the Canadians to stay in the game and go back on the offence and they finished the second quarter as they'd started the game, with Brooks on red-hot form.
Half time: USA 56-58 Canada
What a response from the USA in that second quarter, although Canada also did really well to come back into it after coming under fire in the early part of the quarter.
What did Brooks have for lunch (Philippines time)? 21 points for him so far.
Broks back on fire! 54-55
Alexander-Walker does brilliantly to stop Edwards from what looked like two certain points.
A superb follow-up by Kessler to round off a free-flowing USA move after Edwards missed the dunk! Careless passing from Canada set that right up for the US.
The back-and-forth continues. Brunson puts USA back in front. No telling which way this will go.
Not anymore, Kessler fouls and Brooks converts twice.
We've had a little timeout, back underway, USA leading by one.
Edwards flips one free throw in but misses the second. 47-46.
Brooks bumps Edwards and USA are doing to have a chance to regain their lead...
Not running away that much...Bridges levels!
A dramatic out of bounds from Edwards as he tries to pick out Brunson. Running away from the US a little again.
SGA is starting to come into this. A "teardrop" floats in for another two.
Canada regain the lead!
Oh, what's that? Canada are back in the lead! SGA gets in on the action!
You don't see that often. Haliburton had almost too much time to line up from range there. Missed.
We're underway again, good defence from Brooks stops Hart from extending the US' lead.
15-2 in the second quarter so far...Wow.
Canada timeout
Role reversal in this second quarter.
USA lead for the first time!
Cam Johnson lofts in from out on the touchline and the USA lead for the first time! 38-36.
Hart flies along the court, sails through the air and there's just a point in it! What a comeback!
Reaves converts the free throw and it's 33-36.
Reaves does bag two points this time and is fouled by SGA in the process. USA creeping closer
Reaves three-pointer hits the rim and Olynyk snatches the rebound. That would've brought the US right back into it.
A strong start for the US and they're now just six points behind.
Second quarter underway
Away we go again. Can the US pull it back?
End of 1st quarter: USA 25-34
Canada looking strong so far.
Portis drifts in from the right and gets a couple of points back for the US before the end of the quarter.
23-24 with a minute left.
The United States have got some serious work to do here already. Canada's defence is doing a much more efficient job, and their shooting has been red hot so far. That's a winning combination.
Olynk bags a layup and gets fouled in the process. An extra point for Canada from the free throw.
Edwards gets a couple back for the USA from free throws after a foul. But Canada keep coming back for more.
Barrett next to hit the mark with a three-pointer. Not enough pressure being put on Canada's shooters so far.
Back underway after the time out.
USA call time out
The US look as if they need to regroup a little here...
USA defence posted missing as Dort has an age to pick his spot from the touchline. Another three, that's 13-22.
USA are chipping away at their lead but Canada are holding strong so far.
Reaves floats one in from range, but USA give up another two to SGA. 11-18.
Brooks has got his eye in early on! Another three for the Canada small forward!
Barrett misses a free throw but flips a second one in to restore Canada's five-point lead.
Kessler slams one down from close in and USA reduce the deficit to four.
Wow, Dort flies one in from downtown! What a start from Canada!
First three-pointer of the game and it's Brooks again! 0-5
Bridges already out of the game, looks like he's taken a bash on the nose.
First points of the game for Canada's Brooks!
Away we go! Powell wins the opening tipoff for Canada.
USA's starting five vs Canada
Some doubt over USA's starting five but it looks as if it'll be Bridges, Edwards, Brinson, Hart and Kessler.
Canada's starting five vs USA
Dort, Gilgeous-Alexander, Powell, Barrett and Brooks start for Canada.
The US, by contrast, are five-time champions, although their worst performance came in the last tournament in 2019.
Here's Fidel with a reminder of just how badly they did...
National anthem time!
Sign them loud and proud.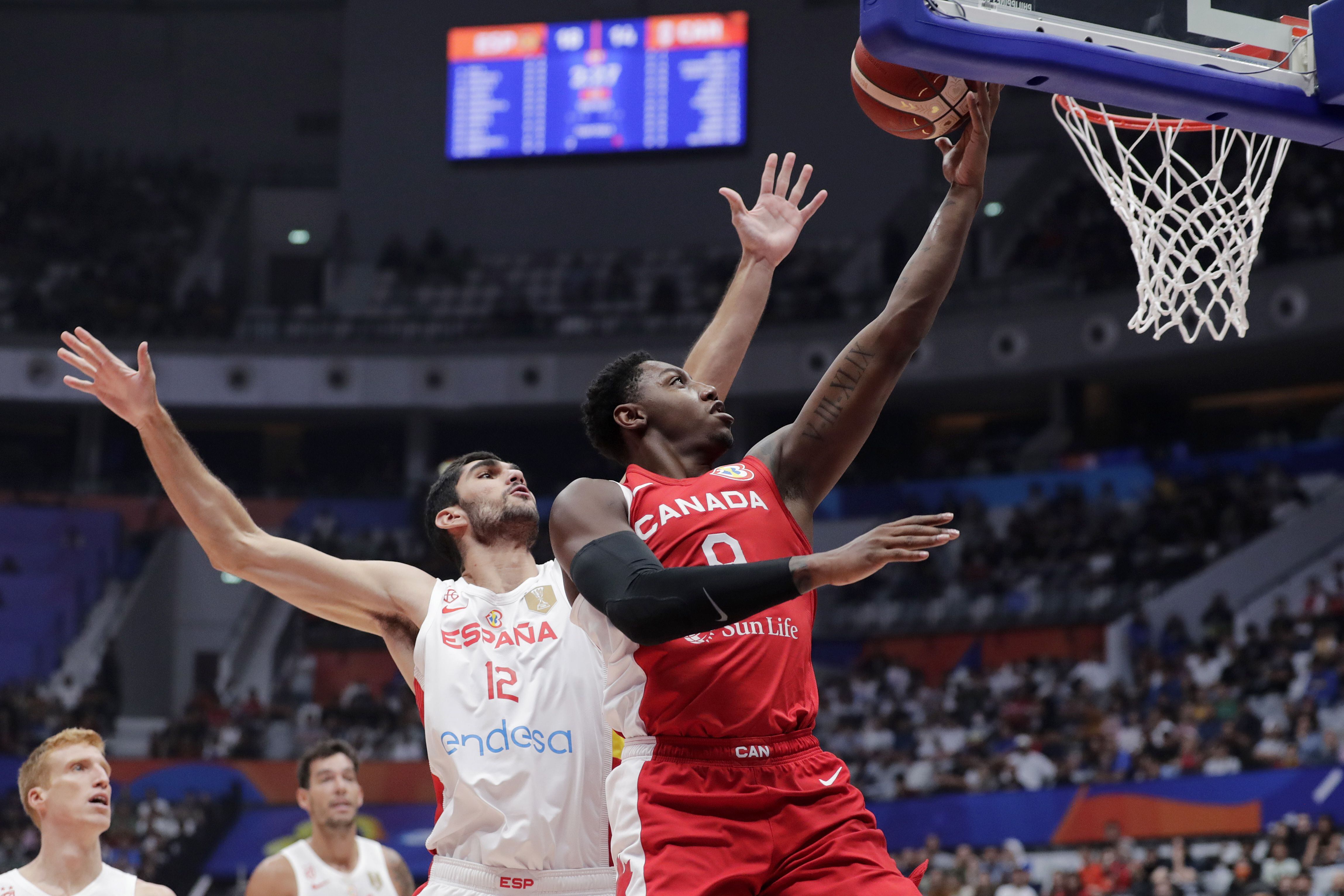 Canada going for first ever medal at FIBA Basketball World Cup 2023
Canada had never reached the semi-finals of the World Cup before this year which means, surprise surprise, they have never won a medal. They best they've ever done were sixth-placed finishes in both 1978 and 1986.
USA vs Canada: 10 minutes until tip off!
We've got about 10 minutes to go until tip-off in the Philippines, and our MC is VERY excited about this one.
USA and Canada's head-to-head World Cup record
The North American neighbours haven't faced each other in the FIBA Basketball World Cup since 1986 and this will be their eighth meeting in the tournament overall. You might not be too surprised to hear that the USA have won all seven previous encounters, although two were by just a two-point margin.
As US coach Steve Kerr said earlier this week, "this is not 1992 anymore", referring to the fact that basketball has become a much more global sport in recent decades and that other countries are now much stronger than they once were.
Can Canada show that today?
Have the USA and Canada qualified for the 2024 Olympic Games?
As well as competing for the World Cup itself, the tournament has also served as qualifying for the Olympics. The top two nations from the Americas qualify for next summer's Games in Paris, which the USA and Canada will achieve by virtue of finishing third and fourth.
I mentioned in a previous post that a whole host of nations are playing in the 2023 FIBA Basketball World Cup without their top players. USA are no different and are arguably the most affected team. Would it be a stretch to say they are playing their B team? Possibly not, with the roster for the Olympic Games next year, for instance, certain to look vastly different to this one.
In recent times, the US have used the World Cup to give young players top-level experience, while sprinkling in a few stars here and there. LeBron James, like Djokic, Giannis Antetokoumpo and several others, has opted to rest and recover ahead of the upcoming NBA season, especially with the summer Olympics just a matter of months away.
Canada have also suffered, with the Denver Nuggets' Jamal Murray opting not to play. Luckily for them, however, they do have All-Star Shai Gilgeous-Alexander, who has starred in their run so far.
Banchero, Ingram and JJJ out for USA against Canada
Well, this isn't good news for the USA. USA have revealed that Paolo Banchero, Brandon Ingram and Jaren Jackson Jr. will all miss the game against Canada because of illness.
That's two of the US' four NBA all-stars, while JJJ is the current NBA defensive player of the year.
Ouch. Does that hand the advantage to Canada?
Nikola Djokic-less Serbia beat Canada in the semi-final
Serbia may well have been without their best player (a recurring theme for many teams in this tournament) in Nikola Djokic, but Canada were unable to take advantage in Friday's semi-final. A slow start (the Serbs were 52-39 ahead at the end of the second quarter) let the North Americans with too much to do and although they did manage to reduce the gap, there was never any realistic chance of their overturning their deficit.
How did Canada get to the semi-finals?: quarter-finals
Luka Doncic or not, Slovenia were unable to stop Canada from marching on to the last four in just the second even meeting between the two nations. Gilgeous-Alexander outscored the Dallas Mavericks guard 31 points to 26, with an impressive third quarter (30-21) leading the North Americans to a 100-89 victory.
How did Canada get to the semi-finals?: second round
Canada also mirrored the USA in the second round, adding to their opening three victories with another win and a defeat. The North Americans were narrowly defeated by Brazil, which set up a mouthwatering decider against reigning champions Spain. The 2019 winners were comfortably ahead and had looked set to go through to the quarter-finals until Canada blitzed them in the final quarter by 27 to 12. A special comeback.
How did Canada get to the semi-finals?: first round
Canada started their 2023 FIBA Basketball World Cup campaign in Jakarta, Indonesia and, like the USA, had little difficulty in navigating their way through the first round. They even managed to outdo their neighbours in teams of points difference, with victories of over 25 points against France and Latvia sandwiching a 55-point thrashing of poor Lebanon. Three wins out of three, with Shai Gilgeous-Alexander scoring 27 points against both European teams.
Then, of course, came an epic semi-final against Germany, one which the USA would have expected to win but they knew they'd have to be on their game. The Germans flew out of the traps and built up an early 10-point lead. Could they maintain their lightning start?
Unsurprisingly they couldn't, but the platform they had given themselves in the first quarter proved to be a winning one. Anthony Edwards notched 23 points but was outscored by Andreas Obst, who led his team to a famous 113-111 victory, with the US just running out of time as they looked to turn the game around.
The US bounced back from the Lithuania defeat in impressive fashion, however, putting Italy to sword in the quarter-finals. Mikal Bridges top scored with 24 points as the Americans dismantled their opponents by 100 points to 63, a much more comfortable triumph than most had been anticipating.
Were the USA that good or did Italy just not turn up? The former forced the latter, would be my argument.
How did the USA get to the semi-finals?: second round
The big news in round two came in the form of a defeat to Lithuania, despite Edwards' 35 points, which was just three short of Kevin Durant's US World Cup scoring record. The 110-104 loss to the European perhaps illustrated the USA's lack of star depth, although they still made it through to the final phase thanks to an 85-73 win over Montenegro in their previous game, in which they pulled away late on to secure what was, at the time, a fourth straight victory.
How did the USA get to the semi-finals?: first round
As was to be expected, the USA made light work of the first round, in which they were drawn in a four-team group alongside New Zealand, Greece and Jordan. Paolo Banchero racked up 21 points in the opening win over New Zealand, a tally which Anthony Edwards bettered by one in the final game against Jordan. Three wins out of three (99-72, 109-81 and 110.62) and the US were into the second round with next to no fuss.
2023 FIBA Basketball World Cup final phrase bracket
Look away now USA and Canada fans. Both nations came so close, yet so far to reaching the final, which they would have set their sights on even before reaching the knockout rounds. Instead, they'll be vying for the consolation prize, which may mean more to one country than it does to the other. We'll investigate over the course of the next 90 minutes.
Mall of Asia Arena in Pasay hosts USA vs Canada
The 2023 FIBA Basketball World Cup is the first edition of the tournament to be played in multiple countries but every match in the final phase has taken place at the Mall of Asia Arena in Pasay in the Philippines. The venue has a 15,000 capacity for sporting events and you'd expect there to be a full house as two of the competition's top teams go head-to-head for a medal.
Before we get down to business, you may still be looking for a way to watch today's game. If you're in the United States, then you're in luck as there is a way and here are the details! Just be sure to stick with me too!
Watch USA vs Canada live stream on fuboTV, which offers a free trial
What time does the USA vs Canada tip off?
The third place game between the USA and Canada gets underway at 4:30 a.m. ET and 1:30 a.m. PT. East coasters, do you get up early to watch it or stay up all night? That's a tough one.
Over the next 90 minutes or so I'll be bringing you build-up, looking back at how the teams have fared in the tourmanent and plenty more. Let's do this!
Hello and welcome to USA vs Canada at the 2023 FIBA Basketball World Cup!
The climax of the 2023 FIBA Basketball World Cup is very nearly upon us. I say "nearly" as there is, of course, still one match left to be played after this one...
Welcome to live coverage of the third place game between the USA and Canada, the game neither country will have wanted to end up in. The winners' of today's match-up will take home bronze medals...but that's not the colour they were all hoping for.
Will they even watch the final between Serbia and Germany?