Chargers vs Jaguars summary: Incredible Jaguars comeback, score, stats, highlights | NFL Wild Card
Jaguars stun the Chargers with second half comeback
What the scoreboard operator wasn't even daring to dream he'd be putting up at the start of the second half.
Tale of two halves
The Jags were woeful in the first half. Lawrence threw the first of four interceptions as soon as the game was underway, allowing the Chargers in for a touchdown inside a minute and a half. On his first 16 passing attempts he only managed to find a teammate four times.
​​​​​​​But what looked like a consolation touchdown right at the end of the first half turned out to be the start of a remarkable comeback, with Lawrence leading the Jags to a 24-3 second half, including three straight touchdown drives and which finished with Riley Patterson slotting a field goal as the clock ticked down.
Of note, was Lawrence sneaking a two point conversion on their fourth touchdown, which meant the final field goal was for the win, not nervy overtime.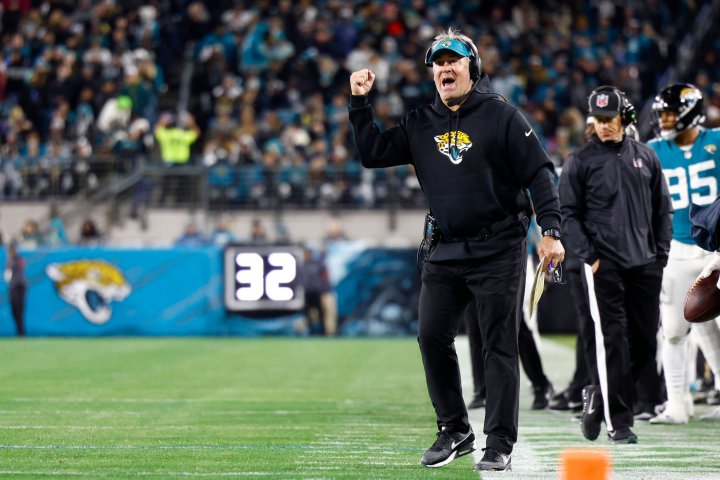 Jags' Pederson
Jags' coach Doug Pederson said his team had to just keep chipping away, and that's exactly what they did, until Patterson chipped the field goal over for the W.
Remarkable.
That's the tweet
Jags referencing one of the all time classic memes. The Chargers did indeed have them in the first half, and boy did they have them. But it all turned around in that second half.
Crazy scenes in Jacksonville! The Chargers are just beyond shellshocked, they can't believe it. Utter euphoria for the Jaguar players and fans! They've recorded one of the comebacks for the ages, turning around a 27-0 deficit!!
The Jaguars win it 31-30! This is madness!
IT'S ALL OVER! AN HISTORIC COMEBACK!
Field goal is good... but there's a penalty on the play... BUT IT'S ON THE DEFENSE!
Going to be a 36-yard field goal attempt for the Jags to almost certainly win it.
Jags now in field goal position...
ETIENNE! WHAT A CALL! Looked they were going to sneak for the first down but instead Etienne runs right and he's made big yards! Up to the Chargers 16.
Etienne SO close to the first down. Jags take a time out. Need a yard, fourth down!
Jags up to the 45 yard line. Just need a field goal.
Kirk under massive coverage from Callaghan but he comes up with the ball! Up to the 50-yard line.
Now Lawrence is scrambling for eight to the Jags 41...
Kirk! Up to the 33 yard line.
Van Noy SO close to an interception but the ball was too fast for him.
So Jags need to head up the field and notch a field goal to win it.
Jags defense holds and stops the first down. Scott punts 49 yards to the Jags 21 yard line...
Herbert sacked for a loss of 7 yards! Crowd now absolutely loving this.
Wow! Jags decide to go for two so a field goal would win it for them. And Lawrence sticks his arm over the line (with the ball obviously) for the two points - the fact they were on the one yard line was thanks to the Bosa penalty.
Chargers 30 - 28 Jaguars!
Bosa slams his helmet into the turf and he's called for unsportsmanlike conduct. He thought there'd been a false start, but he's not getting that call.
KIRK! Into the corner and Lawrence picks him out perfectly!
Engram! 21 yards and Jags 1st and goal...
Another good route to Kirk, this time for a gain of 17! Up to the 30...
Jags into the Chargers half! 12 yards from Kirk to the Chargers 47.
Lawrence hits Jones right for a first down, but Chargers challenge, arguing he grounded the ball. Play under review...
​​​​​​​Ruling on the field upheld! Jags up almost to the 50 yard line.
Lawrence bandaged up and good to go.
Lawrence had his thumb stood on when he got sacked and he's bleeding. He heads to the sidelines looking for treatment.
Lawrence taken down! Loss of nine yards as Mack sacks him.
That was a 14 play, 58 yard drive, that resulted in a missed field goal, but the best thing for the Chargers was that it ate up 6:57 of time, and they are still 10 points to the good.
FIELD GOAL IS NO GOOD!
Dicker pulls the effort left and we still have a 10 point game!
Offense holding. Penalty declined to make it 4th down and the Chargers to go for the field goal.
Teams working out how many possessions each might get and looking at that 10 point gap. A Chargers field goal here makes it 33-20, so two TDs would still do it for the home side.
5 yard penalty for an ineligible man downfield. 1st and 15 then at the Jags 46 for the Chargers.
Chargers use their first timeout.
On 3rd and nine, Herbert holds and holds and then sees a gap to run into and he takes it himself for the first down. Scrambles 13 yards for a first down at the Jags 41 yard line.
Lawrence sacked! But a personal foul on Walker, pushing Lawrence roughly when the play was already over means all the good work is undone. 15 yard penalty.
Chargers obviously keen to run down the clock, but that could be dangerous depending on how the plays fall...
Chargers up to their own 33, as Palmer catches for 18.
Fourth quarter underway. Chargers possession
End of the third quarter!
Chargers 30 - Jaguars 20
Unsportsmanlike conduct on Bosa. 15 yard penalty but doesn't change the missed two pointer. Bosa said something to the umpire.
Incomplete! So with the missed two pointer it's Chargers 30-20 Jaguars
Jags going for the two pointer!!
MY WORD! Lawrence spots Z Jones sprinting downfield left and he picks him out for a 39 yard touchdown!
Jones! Up to the 48 yard line now. Lawrence starting to put together another solid drive. Last one ended in a TD...
Etienne, like a slippery eel wriggles and writhes through to the Jags 37 yard line. Neat football.
Good return from Agnew... he's lightning quick. 36 yard return to the Jags 32 yard line.
That drive petered out, so Dicker the Kicker has a go at a 50 yard field goal... and he slots it! Chargers 30 - 14 Jaguars
Chargers are up to their own 44. 2nd and 10.
Bosa being offside on the play (just his helmet too) when the Chargers sacked Lawrence ended up being very important. Such fine margins...
And all of a sudden 27-0 has become 27-14...
MARVIN JONES! He had so much room out left. Lawrence took his time and picked him out. 89 yard drive. And we have a game on our hands!
Snap... but the clock was out. Delay of game. That's atrocious. Back to the six yard line. Third and goal. Lawrence has to control that better.
Etienne gets to the ONE YARD LINE!
13 plays and 86 yards for the drive.
First and goal! 12 plays on the drive now. Up to the seven yard line!
Lawrence is sacked! But Bosa lined up offside! Five yard penalty. Major, major mistake.
INCOMPLETE! Jones to the left corner of the end zone, Lawrence close to picking him out but the defensive cover is good!
Engram again! Six catches for him now. Running diagonally left to right he bursts the cover and takes the ball all the way up to the Chargers 22 yard line!
Up the 50 yard line for the Jags! Neat short pass right to Engram and Jags looking somewhat smoother on this drive.
Chargers' Davies down hurt as Engram gets up to their own 31 yard line for the Jags.
Lawrence hits Kirk at the 24 yard line.
The Chargers' win probability has fallen from 96% to... 95.4%. They won't be worried, but will be determined not to get complacent because it's only three touchdowns...
Punt flies up to the Jags' 11 yard line. What's Lawrence got in his locker this time?
Pressure on Herbert on a series of downs and we end up at 4th and 10 on the Jags' 38.
Folllowed by Herbert finding Allen for 11 yards. Up to the 38!
3rd and 9 at the Chargers own 26. Herbert finds Everett who runs for 25 yards! Into the Jags half, at the 49.
Cooke kicks into the endzone, so we'll start with a touchback.
Can the Jags pull back 20 points in the second half? It doesn't feel particularly likely but now they've got something under their belt they'll be coming out in the second half with at least some belief.
Chargers receive at the start of the second half.
That first half was all Chargers - who racked up 27 points without reply - until right at the end when the Jags managed to get onto the scoreboard with Lawrence finding Engram in the end zone.
Whether it proves to be the start of a famous fightback remains to be seen, but at least the home crowd have something to cheer about as they head to look for a halftime hot dog and beer.
That's the end of the first half.
Chargers 27 - 7 Jaguars
Extra point is good! And the Jaguars are 20 points behind. 27-7, but at least the home team have something going in at half-time.
Lawrence holds in the pocket and he picks out Engram running from left to right. That's a perfectly placed ball!
Jones catches out right and it's up to the nine yard line now. 2nd and 5...
Lawrence connects to Jones for the first down! Up to the 14 yard line!
4th and 1 at the Chargers 26 yard line. Jags take a time out. They've got to go for this.
Chargers' Asante Samuel is the first player to grab three interceptions in his playoff debut. He's got three of the four interceptions his side have made.
First timeout from the Jags, with 1:22 remaining. 2nd and 10 at the LA 35.
Jags will start at the Chargers 47.
Fumble from Herbert! He manages to recover but with that being third down at their own 27, they'll need to punt.
2nd and 10 at the Chargers 18 yard line. Herbert finds Allen for 9 yards - he dives over the 1st down line but doesn't quite make it.
Herbert to Allen done a lot of damage tonight.
Cooke slams it 46 yards to the Chargers 18 yard line.
3rd and 2. This is key... Lawrence throws nicely to Kirk, wide open and over the first down line. AND HE FUMBLES. Dearie me. Forced to punt again. Woeful stuff from the Jaguars.
Off we go again. The Jaguars will start from their own 28 yard line. Can they produce a solid drive and get on the scoreboard so they go in at half-time at least feeling they have some tiny sliver of a chance?
Just under four and a half minutes of the first half left. The Chargers have been electric, the Jags tame as anything. 27-0.
Well that's a let off for the Jags, with the Chargers deciding to go for the field goal, which they score but that was prime chance for another TD. 27-0 now.
Herbert misses his first three attempts at the TD from the five yard line, all incomplete.
Claybrooks gets hit on the helmet by the punt! And the Chargers come up with the ball, at the six yard line! This is crazy, terrible bad luck for the Jags on what is turning into a truly miserable night for them.
Chargers up to their own 40 yard line, but it's fourth down so they are punting.
By the way, our scoreboard appears to be a little stuck at the moment. We're in the second quarter and the Chargers are leading 24-0!
Just when you're thinking it can't get worse for the Jags, another interception. Chargers up 24-0 and now have possession at their own 32. Just under seven minutes left in the half.
ANOTHER INTERCEPTION! Fourth pick, the third by Samuel! Jags QB Lawrence, looking frustrated hurled one down the middle long looking for Engram, but Samuel was there first. At the Chargers 32.
First two downs, two incomplete passes. Lawrence just can't find his men.
Agnew! Runs 50 receiving to mean the Jags start the 50 yard line.
Jags need to come up with something, anything, here. The Chargers win probability is at 95.9%... the only thing they've got is that there is still a long, long time to go. The problem is that the way this is going that is going to mean more Chargers points...
Cameron Dicker swings his boot and heaps a smidgen more pain on the Jags... 24 - 0 now for the visitors!
Herbert goes for Everett at 3rd and goal and Everett spins and FIRES INTO THE ENDZONE!
Cisco! My word! Just gets a hand on a ball into the end zone and that denied Parham another TD for the Chargers.
First and goal! 13 yards to Palmer out right. Jaguars fans completely deflated right now.
Remember the Chargers are receiving in the second half too. Leading 17-0 at the moment. Things looking lovely for them right now.
Will that sack knock the momentum out of Herbert... NO! He finds Allen up the middle for 23 yards and a first down at the Jags 23 yard line!
Allen finds his way through and slams Herbert!
Herbert finds Parham! Nice ball right and high. 12 yards.
Everett injured with Muma coming down on the back of his leg. Sore one. He's walking off but not clear he'll be able to be back. 3rd down and 5 at the Chargers' 43.
That sack means it's punt time on 4th and 9 at the Jags 16 yard line. Cooke puts his boot through it and produces 46 yards up to the visitors' 38.
Lawrence sacked by Joseph and Murray! His night ain't getting any better yet.
Back underway in the second quarter. Jags start at their own 19 yard line, 2nd and six.
End of the first quarter!
This has been a first quarter where pretty much everything has gone right for the Chargers on both offense and defense and it's been the absolute opposite for the Jags. Lawrence's three interceptions a disaster for him and his confidence.
Chargers 17 - 0 Jaguars.
That was not Pederson's game plan.
Dicker the kicker slots the extra point over and Jacksonville is STUNNED.
And it's Ekeler into the end zone again! He ran left and found enough space to take it in.
That's three interceptions now for Lawrence.
ANOTHER INTERCEPTION! Lawrence went for Engram short right but Samuel is watching Lawrence's arm and he nips in and takes the ball. At the Jags 16. So dangerous!
Lawrence goes long, long, long to Jones and Samuel manages to kill it. There's a flag but no foul! Umpires rule Jones's action was fine there to stop Jones getting to the ball.
Herbert failing to make any progress and on 4th down it's punt time at the Chargers' 47. He hoofs it 39 yards up to the Jags 14.
Chargers' Salyer's blocking tonight been excellent so far. Keep an eye out.
That's not a great punt, just 32 yards to the Chargers 42. Another chance for Herbert to turn the screw....
Lawrence under pressure on 3rd and 4 and he ends up just throwing it to the deck. Jaguars will punt.
Pederson on the touchline telling his men to stay cool. Long way to go in the game.
Touchback to get us underway again.
The Chargers looked on course to make it two TDs, but run out of steam and have to settle for a field goal. Dicker makes no mistake from 22 yards, and we have ourselves a 10 point game!
Herbert goes for the Allen hat-trick for the TD, but the pass is deflected off Keys' helmet! Allen was wide open! Key helmet positioning.
Herbert finds Allen for the first down and we're at the 10 yard line now... Herbert firing on all cylinders early on here.

​​​​​​​And Allen on the left hand side this time and he's to the FOUR YARD LINE. Chargers crackling here...
Herbert INCOMPLETE to Palmer, who really should have caught that... and he'd have been in. 3rd and 5 at the 16.
Another first down... who needs a huddle? Herbert waits and then RIFLES one down the middle to Carter who goes for 14 and a first down at the 21 yard line.
Everett! 23 yards, he just keeps going and all the way up to the Jags' 35 yard line.
Chargers have a first down at the Chargers 39.
Lawrence looked like he finding his groove on the drive, but a couple of missed passes and he throws an interception on a pressure fourth down. He's absolutely disgusted with himself.
Lawrence went for Jones but Samuel picked that one off like it was a piece of candy. He runs for 16 yards up to the Chargers 39.
But a couple of missed passes and it's 4th and 7... and not taking the 51 yard field goal attempt. Lawrence goes for it and INTERCEPTED!!
Etienne for 12 yards down the left. Neat running thanks to solid blocking and this is turning into a decent drive from the Jaguars who are up to the Chargers' 36 yard line.
Lawrence finds Engram for 16 yards out right. That'll settle his nerves a bit after that poor start.
That was a 2 play, 18 yard touchdown from the Chargers, all thanks to an interception coming straight after the kick off, as Lawrence threw poorly and allowed Joseph-Day to get a finger on the ball, which fell back to his own man, Tranquill.
Ekeler comes flying through for a 13 yard touchdown! Dicker good for the extra point and it's Chargers off to an absolutely stunning start: 7-0 with just a minute and a half gone!
INTERCEPTION! Second down and Lawrence fakes and throws right and Tranquill grabs it! That is not the start the Jaguars wanted. The Chargers get a first down at the Jaguar 35.
CHARGERS GET US UNDERWAY! Jaguars receive and Lawrence has his first drive...
Chargers' Brandon Staley vs Jaguars' Doug Pederson, that's the coach match up.
Jaguars out!
70,000 LOUD fans welcome the home side to the pitch. Here we go!!
Predictions Chargers v Jags
This is a fascinating matchup, with predictions split broadly between the two, and good arguments for both teams. Us, we're neutral of course, but if we had to pick we'd say Jaguars by a TD.
Weather at TIAA Bank Field for Chargers vs Jaguars
It's 56º in Jacksonville, with a few clouds scudding about. Good weather for football!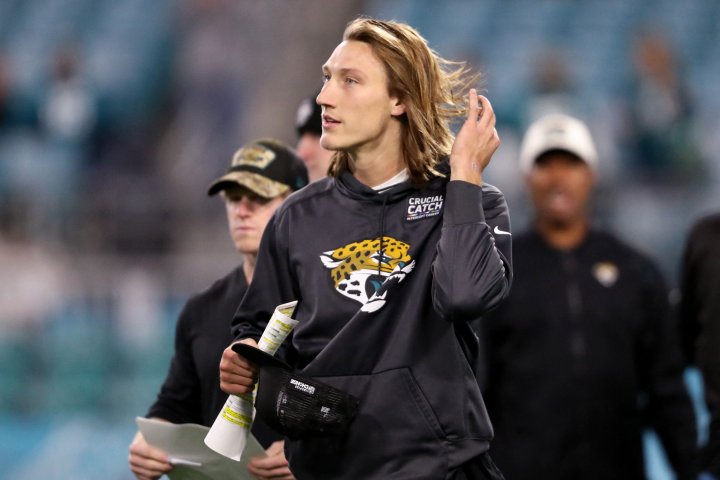 Lawrence in the house
The Jaguars have been out on the field ahead of the game. Not long to go...
New overtime rule for the playoffs
Remember that after last year's complaints (and those from year's before), the NFL have approved a new rule for overtime, which is in effect for the playoff games. If a game goes to overtime, both teams are guaranteed one possession, if the score is tied after each team has possessed the ball, then next score wins.
If the team that kicks off to start the overtime period scores a safety on the receiving team's initial possession then the team that kicked off is the winner, with the other team not getting the chance to score a safety.
Jaguars injuries
As expected Trevor Lawrence and three other players listed as questionable will in fact all be available for tonight's game. The other three are:
Wide receiver Jamal Agnew (shoulder), long snapper Ross Matiscik (back) and right guard Brandon Scherff (abdomen).

Wide receiver Kendric Pryor is out with a shoulder injury, with these four also out:
- Cornerback Montaric Brown
- Cornerback Gregory Junior
- Outside linebacker De'Shaan Dixon
- Defensive lineman Jeremiah Ledbetter
​​​
49ers on fire against Seahawks
After a tight first half the 49ers are now running away with it, having just run in another TD. They're now leading 38-17 in the fourth quarter. Follow all the action Seahawks vs 49ers live!
Chargers vs Jags - battle of the QBs
A lot of the focus of this fascinating matchup is on the two quarterbacks: Justin Herbet of the LA Chargers and Trevor Lawrence of the Jacksonville Jaguars. Both are under 25 and both are making their playoff debuts. This is the first ever playoff game between two QBs selected in the top 10 within the previous three drafts - ok, it's maybe a slightly forced stat, but it's still shows what we're dealing with. Two great hopes for building huge franchise futures around, meeting this early on at the playoff stage. ​​​​​​​
Herbert and Lawrence are the two most efficient passers in the second half of the season - so since week 9, though despite being undefeated in the last three games Lawrence was notably off his previous pace. Notably he's been struggling with a sore toe, and while fully expected to play, he's constantly been on the injury list and has been somewhat restricted in practice.
Chargers at Jags Wild Card Weekend
Good evening and welcome to today's second Super Wildcard Weekend match, this one featuring the LA Chargers at the Jacksonville Jaguars.
The action gets underway at TIAA Bank Field at 8:15 p.m ET.
We'll be providing live coverage, stats, highlights and analysis of the second playoff game of the 2022/23 postseason.