Dwayne Haskins dies after being struck by dump truck | Live updates and NFL reactions
Dwayne Haskins passes away: reactions and updates
HEADLINES:
- Dwayne Haskins, 24, died after being struck by a truck in south Florida where he was visiting for Spring Training.
- Steelers' coach and teammates send out messages of support, mourning the young quarterback's untimely and tragic death.
- Steelers coach Mike Tomlin says Haskins "quickly became part of the Steelers family"
- The Ohio State Department of Athletics send a message of support to the Haskins family after their tragic loss.
Commemorations shirts at Ohio Stadium 
Ohio State fan paid his respect to Dwayne Haskins by creating a memorial corner at the Ohio Stadium ground.
TJ Watt about Dwayne's influence on him
The 2021 NFL Defensive Player of the Year, TJ Watt, reflected in his condolences message on the positive outlook character of Haskins.
Dwayne Haskins after his first NFL career win. 
Haskins' first win as a starter came during Week 12 against the Detroit Lions, where he completed 156 passing yards, 28 rushing yards, and an interception in the 19–16 victory. He was named the NFL Rookie of the Week for his efforts.
R.I.P. Simba
Chicago Tribune Silver Football (2018)
Graham–George Offensive Player of the Year (2018)
Griese–Brees Quarterback of the Year (2018)
Sammy Baugh Trophy (2018)
Kellen Moore Award (2018)
2019 Rose Bowl MVP
First-team All-Big Ten (2018)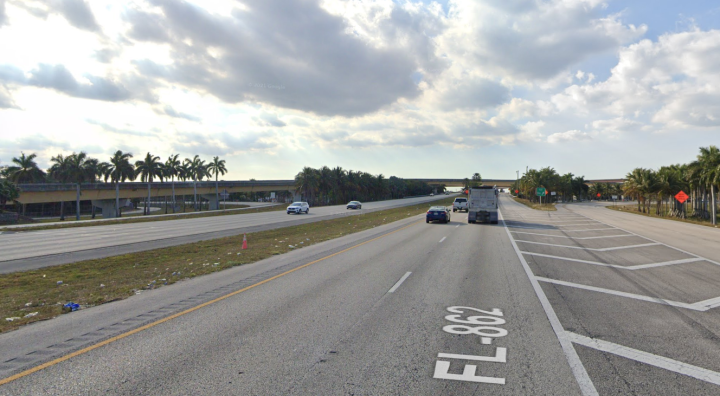 Place of the tragic incident, where Dwayne Haskins lost his life
The Florida Highway Patrol is still investigating a fatal vehicle and pedestrian crash on westbound I-595 at I-95 that happened around 7 a.m. on Saturday.
According to the Florida Highway Patrol, Haskins was attempting to cross the westbound lanes of Interstate 595 in Fort Lauderdale when he was knocked by a truck around 6:37 a.m.
He was pronounced dead on the scene.
There is still a lot of uncertainty and hard to explain what Haskins was doing at the specific time in the morning, crossing an Interstate highway.
Dan & Tanya Snyder, Washington Commanders co-owners, share their condolences on the passing of Dwayne Haskins Jr. 
Daniel Snyder, the Commanders owner since 1999, and his wife, Tanya, sent out a sincere message of grief for Haskins, describing him as a young man with an infectious personality.
They joined the prayers along with the Haskins family and all the people who knew and adored Dwayne.
Pittsburgh Steelers eulogy for Dwayne Haskins Jr. 
The Pittsburgh Steelers originally signed Haskins in January 2021, and he didn't see any action in the 2021 regular season.
He signed a one-year restricted free agent tender in March and was among those expected to compete for the starting job in 2022.
Steelers quarterback Dwayne Haskins died on Saturday morning in a tragic accident in Florida while preparing for one of the spring training camps.
Adam Schefter's original tweet creates a lot of controversy after a wrong choice of words
On Saturday morning, Adam Schefter, ESPN NFL insider, was the first to inform the tragic death of 24-year-old quarterback Dwayne Haskins.
Schefter's original tweet described that the former Ohio State QB died when he was knocked by a car in South Florida — but it also contained an unnecessarily negative comment about the QB's NFL career. In his original tweet, Schefter wrote:
"Dwayne Haskins, a standout at Ohio State before struggling to catch on with Washington and Pittsburgh in the NFL, died this morning when he got hit by a car in South Florida, per his agent Cedrick Saunders. Haskins would have turned 25 years old on May 3."
Many commentators, analysts, and fans objected to his use of words to describe Haskins NFL career as a struggling one, which forced the ESPN analyst to delete it and offer a more diplomatic and prudent message in his next take.
Rivera was heartbroken after finding out of Haskins death
Ron Rivera, Haskins coach during season 2020 at Washington, wrote about the talent and the potential career that awaited the 24-year-old.
Upon Rivera's arrival at Washington, he and Haskins had on-field struggles and off-field controversies throughout that year, which ended with the quarterback's release.
Rivera still spoke about how much he would be sorely missed on his first NFL team and the support to the Haskins family from the whole Washington Commanders community.
Washington sends their last farewell
The Washington Redskins franchise also shared their last goodbye to their first-round pick of the 2019 NFL Draft. During the two seasons spent on the Capitol football team, Haskins had 2,804 yards with 6.3 yards avg and 12 TD in total, while he played as a Case Keenum and Alex Smith's substitute.
Haskins' first win as an NFL starter came during Week 12 of the 2019 season against the Detroit Lions, where he finished with 156 passing yards, 28 rushing yards, and an interception in the 19–16 victory.
Patrick Mahomes joins the mourning of the Dwayne Haskins.
The Super Bowl LIV champion Patrick Mahomes joined the prayers dedicated to Dwayne Haskins and his family after the young Steeler quarterback died this morning in an unfortunate traffic accident.
Cincinnati Bengals QB Joe Burrow is grieving his Steelers colleague
One of the first to send his reaction to Dwayne Haskins death was this year's Super Bowl finalist Joe Burrow who wrote on how he will miss the young Steeler QB.
Ohio State mourns the loss of their honorable quarterback
Before his NFL career, during his Collegiate run, Dwayne Haskins helped OSU win the 2019 Rose Bowl championship game, and this effort brought him on the shortlist for the Heisman Trophy award that year.
In his 22 games as Buckeye, he made 5,396 yards and scored 54 touchdowns.
"We are thinking of the entire Haskins family during this most difficult time. Our prayers are with the family and with his current and former teammates, coaches, friends, and relatives," posted by the Ohio State Departemtn of Athletics on Instagram.
Pittsburgh Steelers Head Coach Mike Tomlin reacted after the news broke.
The news of Dwayne Haskins passing represents a significant loss for the Steelers community. The 24-year-old was a beloved member of the team.
Hello to our NFL community; we are following LIVE reactions and news around the death of the Pittsburg Steelers quarterback - Dwayne Haskins [1997-2022]
Haskins died after being hit by a car in South Florida, on Saturday morning, while he was there for spring training.