Dmitry Bivol will accept a rematch against Canelo Álvarez under one condition
The Russian boxer said that he is open to giving Sául Álvarez a rematch, but he wants to renegotiate the terms of the contract first.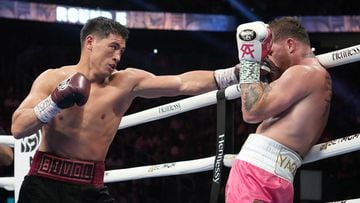 Only a few people believed that Dmitry Bivol could defeat Sául Canelo Álvarez, but with a solid performance he was named the winner over the weekend at the T-Mobile Arena in Las Vegas, Nevada.
After suffering his second defeat as a professional, the Mexican boxer said that he wanted to exercise the rematch clause in his contract even though he doesn't feel that comfortable fighting at 175 pounds.
"That's where we feel the best," said Álvarez referring to his best performances at 168 pounds. "We're going to see if we're going to take on this rematch," he added during the post-fight news conference.
Bivol open to rematch
The Russian boxer is not afraid to give Canelo the rematch, but since he came out victorious he wants to renegotiate the terms of the contract if there is indeed a second fight. "I just want to make sure I can be treated like a champion now," said Bivol.
If the rematch doesn't happen with Canelo, the Russian boxer could go on and try to unify all titles at 175 pounds. Artur Beterbiev has two belts in the division and Joe Smith Jr. has the other one. Both are scheduled to fight in June, so Bivol could fight the winner later this year instead.