Wimbledon 2022 prize money: how much do the singles champions get?
Novak Djokovic and Nick Kyrgios, who on Sunday battle it out for the Gentleman's Singles Trophy, will both pick up seven-figure Wimbledon prize money.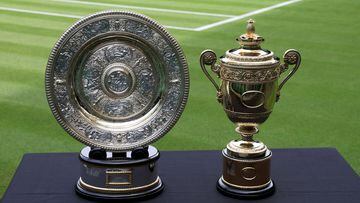 On Sunday on Centre Court, Novak Djokovic and Nick Kyrgios will compete for the 2022 Wimbledon men's singles title, as Djokovic goes for his fourth straight crown in SW19 and Kyrgios chases a first ever Grand Slam triumph.
£40m overall prize pot at Wimbledon this year
In addition to lifting the 18-inch high, silver gilt Gentleman's Singles Trophy, the winner of the 135th men's final will also join Elena Rybakina, this year's women's singles champion, in taking home £2 million in prize money.
That's their share of a Wimbledon prize fund that totals £40.35m - a 15.23% increase on the £35m up for grabs 12 months ago. The 2022 prize pot is also 6.23% higher than in 2019, when the tournament was last at full capacity.
Winners' prize money up nearly 18% on 2021
The £2m awarded to the 2022 Wimbledon singles winners represents a 17.65% increase on what Djokovic and women's champion Ashleigh Barty received in 2021, and is 14.9% more than the Serb and Simona Halep pocketed in 2019.
The runners-up this year get just over half as much as the winners: £1.05m. That's a 16.67% increase on 2021, and a 10.6% rise from 2019.
Men and women have received the same amount of prize money at Wimbledon since 2007. The All England Club was the last of the four major tennis tournament hosts to bring in equal pay; by that point, indeed, the US Open had been handing out the same to both its singles champions for 34 years.
Wimbledon 2022: singles prize money at a glance
| Performance | £ GBP | $ USD | % change vs 2021 |
| --- | --- | --- | --- |
| Winner | £2,000,000 | $2,507,460 | 17.65% |
| Runner-up | £1,050,000 | $1,316,416 | 16.67% |
| Semi-final | £535,000 | $670,745 | 15.05% |
| Quarter-final | £310,000 | $388,656 | 3.33% |
| Round 4 | £190,000 | $238,209 | 4.97% |
| Round 3 | £120,000 | $150,448 | 4.35% |
| Round 2 | £78,000 | $97,791 | 4.00% |
| Round 1 | £50,000 | $62,686 | 4.17% |
| Q3 | £32,000 | $40,119 | 25.49% |
| Q2 | £19,000 | $23,821 | 22.58% |
| Q1 | £11,000 | $13,791 | 29.41% |