SERIE A
"At Real Madrid everything went wrong from the start" - Jovic
Luka Jovic, scorer of the decisive goal in Fiorentina's victory over Milan, explains why it didn't work out for him with Los Blancos.
Luka Jovic had his most remarkable evening since arriving in Italy, scoring the decisive goal for Fiorentina in their triumph over AC Milan with a spectacular header. He now has a total of 11 goals in 34 games, four of which were in Serie A. The Tifosi are optimistic that this goal will be the catalyst for their final push, as Fiorentina target their remaining two objectives, which Jovic had set for himself on the day he joined the team.
Jovic says he always wins silverware
"I informed my Serbian teammates that we would win the Conference League and the Italian Cup, as every season, since I became a professional, I have won at least one trophy with any top-tier team," the forward said during an interview in La Repubblica, where he also discussed his difficult time at Real Madrid.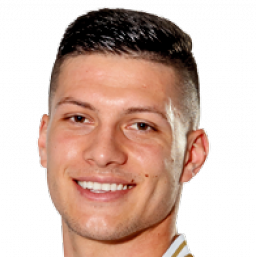 In regards to his time at Madrid, Jovic reflected, "Everything went wrong from the start. I left Eintracht too soon, after only one season at the highest level. All eyes were on me, and it's tough for a 21-year-old to adapt to the biggest club in the world.
"You have the chance to play with the best, but you also need time - some make it, some don't. Between injuries, COVID, and unfair pressure, it was an unhappy experience. It was an honor, but I've moved on and am solely focused on Fiorentina."
"Here, I can grow a lot and thrive; it's the perfect environment to rediscover myself. I'm thankful to President Commisso, who really wanted me."
Jovic admires Ibrahimovic, avoids social media
In the interview Jovic revealed his admiration for Zlatan Ibrahimovic, who he considers his idol, "partly because of his Slavic roots." He also mentioned Radamel Falcao as another inspiration, saying, "I always watched his games and tried to emulate him. I also loved his hair..."
Regarding rumors that he was brought in to replace Ibrahimovic at Milan, however, Jovic expressed his pride but clarified, saying, "It's an honor that they said I could replace Ibra at Milan, but there was no truth to that rumor."
Finally, the striker shared his feelings about social media. "I'm using it less and less. It's a fake world that portrays false images of people."