Barcelona vs Mallorca live online: Busquets, Jordi Alba, score, stats and updates, LaLiga
Barcelona vs Mallorca: As it happened
Champions Barcelona closed out the season at Camp Nou with a comprehensive 3-0 win over Mallorca, saying goodbye to some club icons in the process.
Club captain Sergio Busquets and defensive stalwart Jordi Alba with both leave the club at the end of this season and Sunday's game was their final home appearance.
Having wrapped up the LaLiga title weeks ago the Barcelona support was in the mood for celebration. Ansu Fati got the party started within the opening minute when he fired home from close range.
Mallorca had Ndiaye Amath dismissed after 13 minutes for a lunge on Alejandro Balde and the visitors never looked like getting back into the game.
Ansu Fati doubled the lead with his second ten minutes later and Barcelona went into the break in cruise control.
Gavi made it three with a fine strike in midway through the second half. Alba and Busquets were withdrawn in the final minutes to receive a rousing reception from the home fans, paying tribute to their years of service to the club.
It was the last game at Camp Nou before the temporary move to Estadio Olimpico de Montjuic while renovations are carried out on the famous old stadium. Barcelona fans could not have hoped for a better send off.
Barcelona wrap up 3-0 win in final Camp Nou game this season
It was a day of celebration for Barcelona, who finish at home with a resounding 3-0 win against ten-man Mallorca.
Full time at Camp Nou
That's that, game over. Ansu Fati got the party started when he opened the socring in the first minute and they never looked back.
Camp Nou rejoices, another season done at this famous old ground.
It has been an utterly dominant performance from Barcelona today and they have deserved this comfortable win. Not only that, but it's a fitting ending to an imperious season in LaLiga and a tribute to their departing greats.
Two minutes of added time
There are just 120 seconds of football at Camp Nou remaining this season. And it may be some time before they are back.
There's a party atmosphere as Barcelona knock the ball around in the final minutes. A Mexican wave breaks out. What a day for the Barca faithful.
Formalities over, Barcelona get a free kick from at least 30 yards out. Ferran Torres steps up and spanks the ball at least 30 yards over.
Mallorca make two changes with Gonzalez and Quintana coming on for the visitors.
They get quite the reception, but only because Busquets is giving the crowd a final wave on the touchline. All in attendance rise to applaud him once again.
And the number five is up.
Sergio Busquets is withdrawn to a deafening applause in Camp Nou and a standing ovation from all inside. He blows a kiss to his family up above and shares a warm embrace with Xavi, former teammate and now coach, who also seemed to have a tear in his eye.
It's Ousmane Dembele who departs now, replaced by Eric Garcia.
One more to come...
The question now, perhaps, is will Sergio Busquets be withdrawn ahead of time for his grand goodbye?
When Gerard Pique played his final game last year, Xavi substituted him on the 84th minute to allow him to soak up the applause. We might see something similar here.
The Camp Nou belts out 'Jordi, Jordi, Jordi' in tribute to the defensive stalwart, who has played his final minutes at the famous ground.
Next up it's Jordi Alba, who's time at the club have brought every trophy imaginable to Camp Nou.
Now his departure brings a tear to the eye of all in attendance. Including himself.
He is replaced by Marcos Alonso.
A spate of substitutions for Barcelona now, Ansu Fati off first for Raphinha.
What an effort from Robert Lewandowski, who's bicycle kick goes just over the bar.
Dembele dinked the ball into the centre and Lewandowski's acrobatic effort was punched into the ground, bouncing just over the crossbar.
Barcelona are really putting the squeeze on Mallorca now with eight players engaging in a bit of keep-ball around the visitors' box. Only 15 minutes to go at Camp Nou this season, they might as well enjoy it.
Chance for Ansu Fati on the left. The goal-scorer has been a lot quieter this half but he was found in space there. He ran onto the ball but the angle was too tight and his side-footed shot is comfortably saved by Greif.
A chance for Busquets to get on the scoresheet in his final Camp Nou appearance!
The ball is rolled back to the Barca captain on the edge of the box to strike; Busquets calmly takes a touch, shimmies past an onrushing defender and slips a neat pass out wide.
Of course he does.
GOOOOAAAAAL! Barcelona
And what a goal it is! Gavi has been looking to et forward today and his strike from just inside the box flies past Greif and into the Mallorca net.
3-0
That effort has got the crowd on their feet again and a chant of 'Campeones, Campeones' rings around Camp Nou.
Crossbar!
How much closer can he get? Lewandowski strikes the angle of bar and post with a curling effort from the left side of the Mallorca box. He wants his goal.
Free kick for Barca on the edge of the box, Lewa to take...
Now that the title is wrapped up for Barca, Xavi looks to be trying out some new things in the final games of this season.
Namely, the positioning of Gavi.
Sometimes characterised as a dogged midfielder, the young star has been pushing much further forward today. His combination with Lewandowski unlocked the Mallorca defence for the first goal and he is frequently playing higher than the striker.
Is this a taste of what to expect from Barca 2023/24, or just a sign that Gavi fancies getting himself a goal? Who knows...
Xavi must be wondering how this game is still 2-0.
Dembele gets into space on the right flank yet again and slides a ball through to the onrushing Roberto. He squares the ball for an easy finish but there is no one there to connect and it rolls across the face of goal.
Nearly at the hour mark.
Close again, this time from Robert Lewandowski.
Alba's crossing is proving a real source of chances for Barca today and the Polish forward connects well to nod his effort goalwards. It's just wide of the post however.
Straight up the other end, Barcelona nearly score!
A header from Dembele is clearly off the line by a gaggle of Mallorca defenders.
Fairly blatant attempt to earn a penalty there from Acosta, going down under very little contact in the Barca box. Appeals correctly waved away.
Both are back on their feet now, walking gingerly off the pitch.
Gavi certainly looks set to continue, Baba less so.
Brief stoppage here as two players are down in the Mallorca box after a collision.
It's Gavi and Mallorca's Baba who collided in the middle of the pitch. Both are receiving treatment but it doesn't seem to be too serious.
There was one change at the break, Mallorca swapping out Gaya for Grenier.
It's a defender for a midfielder, will the visitors show a little more ambition in the second half?
It's nearly three for Barcelona!
Jordi Alba is getting all sorts of space on the left side and he curls an inviting cross into the Mallorca box. Jules Kounde is there to meet it but his header crashes back off the crossbar.
And we're back
We're back underway at Camp Nou, the final 45 minutes at the stadium before the temporary move to the Estadio Olimpico de Montjuics. Enjoy it, Barca fans.
Can Ansu Fati make it three?
Barcelona starlet Ansu Fati has been linked with a move away from Camp Nou this summer but he reiterated his worth to the club with a coolly-taken first half brace.
He came close to a third with a vicious shot from the edge of the box shortly before half time. You wouldn't bet against him getting his hat trick in the second half.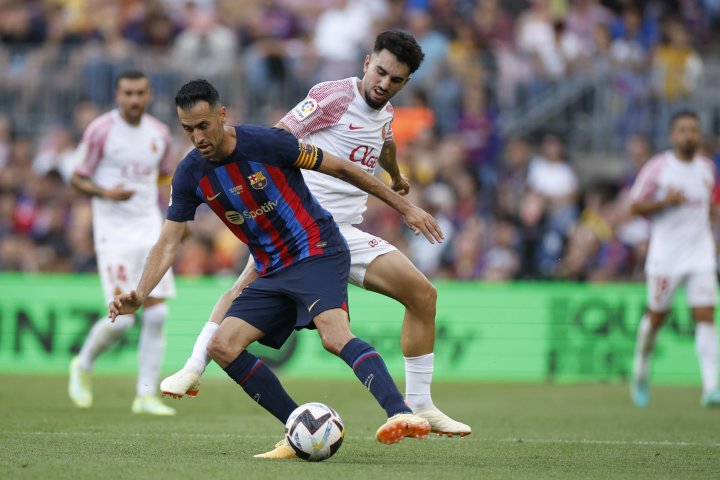 Last game at Camp Nou for 'Busi'
The metronomic heartbeat in the middle of some of the finest football teams of all team plays his final game at Camp Nou today. Sergio Busquets, the Barcelona captain, has defined his position over the past 15 years and is going out as a LaLiga champions once again.
Just 45 more minutes for Camp Nou to appreciate his unique talents.
Barcelona in complete control
Given that the opportunity had nothing left to play for and went down to ten men in the early stages, it's a little difficult to fully rate the quality of the first half performance from Barcelona.
However it is certainly fair to say that they will have put in very few performances more assured that that this season. It was all Barca in the opening 45. An Ansu Fati brace will make headlines but the quality of Lewandowski's interplay for both goals was just as impressive.
Second half coming up from Camp Nou shortly...
Here's how things stand at the break...
A comfortable opening 45 for Barcelona as they cruise to a two-goal lead against Mallorca, who had Amath Ndiaye sent off with the first 15 minutes.
Just the lap of honour that their supporters will have hoped for.
And that's the half!
Barcelona round off their season at Camp Nou with an absolute cruise of a first half against Mallorca.
And it's nearly a third for the hosts.
A corner ball works its way out to Sergi Roberto who fires a low shot through a forest of legs in the Mallorca box. The ball is blocked, but not cleared and a bit of a scramble breaks out.
Eventually, more through luck than judgement, Mallorca get the ball away from danger.
Two minutes of added time signalled.
Mallorca will just be hoping to make it to the break without conceding another.
So close from Ansu Fati!
The Spaniard nearly claims his hat trick with a wicked strike from the edge of the box, hit on the turn. Only a full-stretch save from Greif manages to deny Fati his third goal.
Another cross from Dembele, another hurried clearance from Mallorca.
Must of the first half has been a monument to the pass and move style that defined the Barcelona that Xavi played in. The other bits have largely been Dembele skipping past his defender on the right wing.
Quite the contrast so far.
There's clearly a little frustration amongst the Mallorca players now, who must have realised some time ago that today is not going to be their day. They are defending in what appears to be a 6-3-0 at the moment, men behind the ball to prevent any space between the lines.
Dembele stands up Costa on the left wings and skips past him, earning some space to curve a cross into the box. The ball is headed behind for a Barcelona and they work the ball back into the middle of the pitch.
attack vs defence continues at Camp Nou...
As the noise reaches a crescendo Mallorca manage a rare foray forward down the right flank. Wing-back Maffeo gets past Ansu Fati and wins his team a throw in close to the Barca goal.
THat spell doesn't last long, however, and the home team are now back on the attack.
This half has been all Barcelona. The red card has certainly not helped from a Mallorca perspective but this has been a really professional job from Barca so far.
The crowd clearly approve and the noise has increased yet again.
Robert Lewandowski goes close again with an outrageous first-time volley from a Jordi Alba cross.
The striker is clearly eager to add to his tally today and that effort flies just over the crossbar. It might not be too long before he finds the back of the net.
Busquets threads a brilliant, trademark pass through to the feet of Ansu Fati. The Spanish forward jinks inside and feeds Lewandowski who has his low shot saved by Dominik Greif. Nice play from Barca, once again.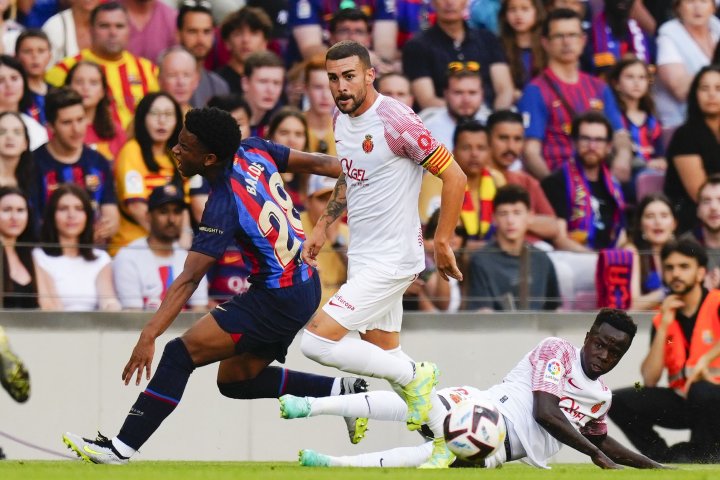 Amath Ndiaye dismissed for tackle on Alejandro Balde
Barcelona were enjoying a spell of comfortable possession when Frenkie De Jong upped the pace. He fired a low pace into the feet of Lewandowski and the Polish forward 's delicate touch sent Ansu Fati steaming through on goal.
Fati's frictionless right-footed finish slid into the back of the net to give his side a two-goal lead.
GOOOOAAAL! Barcelona
It had been coming!
Once again it came from a brilliant Lewandowski touch, once again it was finished by Ansu Fati.
2-0 to Barcelona, the crowd rejoices.
More chances for Barcelona, more blocks from Mallorca. This time its Ousmane Dembele who sees his left-footed shot strike a white shirt.
Barcelona are pushing for another here, Ansu Fati fires in from the edge of the box but his shot is deflected and comfortably claimed.
Sergi Roberto comes on to replace the injured Balde, who was immediately withdrawn from the action. The long-standing Barca utility man slots in at right back.
The tackle itself was a clumsy challenge, a fairly cynical attempt to bring down the young full back as he scampered away down the wing. The tackle from Amath Ndiaye, however, was out of control and he caught Balde with his studs, midway up the Barca man's calf.
RED! Amath Ndiaye
It is! The Majorca captain is sent off after 13 minutes for a very nasty tackle on Alejandro Balde. The left back limps off.
Yellow: Amath Ndiaye
It's a booking for a nasty looking challenge on Alejandro Balde.
Hang on, the ref's being called over to the VAR screen. That could be a red you know...
Ball is deflected out for a corner, which is played short. More possession for Barcelona, who definitely have the vibe of a 'lap of honour' at the moment.
Barcelona win a free-kick around 30 yards out.
'Messi, Messi, Messi' rings around Camp Nou...
In the opening minutes here this is looking much more like the style of play that Xavi Hernandez looked to introduce when he first came to the club. Fati and Dembele, the two wingers, are keeping their positions out wide, hugging the touchline.
This is creating space inside for the likes of Gavi to combine with Lewandowski.
Another neat touch from Lewa finds Gavi on the edge of the box and he fires in a low short. Comfortably saved.
Mallorca have managed to keep hold of the ball a little better in the last couple of minutes, moving the ball around nicely.
For Barca, Gavi is playing very close to Lewandowski and looking to link up with the Polish forward, as evidenced in the first 60 seconds here.
It was a brilliant first-time touch from Robert Lewandowski that unlocked the Mallorca defence there. His trough ball found Gavi in space behind the Mallorcan backline and he slid it square to the onrushing Ansu Fati.
A brilliant start and one that's certainly got the home crowd in good voice.
GOOOOOAAAAL: Barcelona
That didn't take long, did it?
Within the first minute Ansu Fati is on the scoresheet, slotting into an empty net after some great work from Gavi.
Party time now!
And we're off, Barcelona get us started in their final Camp Nou game of the season.
Busquets wears special 'goodbye gift' boots from Nike
The Barca captain is one of the players who defined the most successful period in the club's history and he takes to the field at Camp Nou for the final time today. To mark the occasion Nike have created a personalised pair of boots for the Spanish midfielder.
Expect them to be getting plenty of touches on the ball today.
Little over five minutes to go until kick-off
The stage is set and the Camp Nou is packed for the final home game of the season, as LaLiga champions Barcelona host Mallorca in their penultimate fixture of the season.
It is thought that there will be tributes to Sergio Busquets and Jordi Alba today, both club legends are leaving this summer.
Can Robert Lewandowski add to Pichichi tally
The Barcelona frontman starts up top today, looking to add to his tally of 23 goals in his first season in the Spanish top flight. The Polish forward is currently five goals clear at the top of the LaLiga goalscoring rankings...
1. Robert Lewandowski, Barcelona: 23
2. Karim Benzema, Real Madrid: 18
3. Joselu, Espanyol: 16
We'll have full minute-by-minute coverage of Barcelona vs Mallorca right here, but there are also ways to watch or stream the game wherever you are.
If you're in the United States, here's everything you need to know...
The players are out at Camp Nou
For most of the Barcelona team, today's game is little more than a lap of honour. It's a final chance for the title-winners to soak up the applause in front of the home support.
However for Marc-Andre Ter-Stegen it's also a chance to break a LaLiga record for the fewest goals conceded in a season. If he can keep a clean sheet today he will reach that milestone.
No wonder the German stopper looks pumped in the warm up!
Strong teams named by both coaches
There's nothing left to play for in LaLiga for either team but both managers are clearly eager to finish a successful season on a high note. After defeats to Real Sociedad and Valladolid in their most recent fixtures Xavi has changed up the front line, bringing in Ansu Fati and Ousmane Dembele to play either side of Robert Lewandowski.
And here's the Mallorca line up...
Mallorca boss Javier Aguirre makes two changes to the team who beat Valencia last time out. Josep Gayá and Jaume Costa come into the team to face Barcelona at Camp Nou.
Barcelona starting XI
Here's how Barcelona line up for their final home game of 2022/23. It's pretty much a full strength team for Xavi Hernandez, with the only surprise the introduction of Ansu Fati in the forward line.
Will Lionel Messi be back at Barca next season?
In an interview in Poland, Robert Lewandowski discussed winning the LaLiga title with Barcelona and the possibility of having Lionel Messi back at the club.
"I would like to play with him [Messi] here. He has changed his style in recent years. It's easier to play with players who understand football as deeply as he does," said Lewandowski.
He added that he has enjoyed his first year in Spain, bringing the LaLiga title back to Barcelona for the first time since 2018/19.
"I'm proud of our season. Winning the league and the Super Cup is a great achievement. This title tastes different from the ones I won with Bayern; and I won eight in a row there. Here we are in transition. We are building something new."
Barcelona in the house
For the final time this season, the players and officials of FC Barcelona arrive at Camp Nou for matchday. We haven't had team news yet but Xavi Hernandez is expected to name a full-strength side to give his side the best chance of finishing with a win.
For much of the season Marc-Andre Ter Stegen had looked set to break the LaLiga record for fewest goals conceded in a single season. However in the past three games, effectively since Barca's LaLiga title was secured, the Barcelona backline seems to have taken its eye off the ball.
In the past three games Barcelona have conceded nine goals, as many as they let in in the first 33 league fixtures.
Mallorca beat battling Valencia last time out
Barcelona come into this game off the back of two consecutive defeats. Mallorca, on the other hand, secured a 1-0 win over Valencia in the midweek fixtures. Can they repeat the trick against Barca and spoil the party today?
The stage is set in Barcelona
Barcelona took the difficult decision to move out of the club's iconic Camp Nou stadium this summer to allow renovation work to be done. For at least the next season the team will play at the Estadio Olimpico de Montjuic, up in the hills above the city.
It's not a 'goodbye', it's a 'see you soon'
There had been much speculation that today's game could be the last time that Barcelona fans see Ousmane Dembele at Camp Nou. The French winger has impressed in fits and starts since his moved from Borussia Dortmund but failed to show his full potential.
With Barcelona's current financial situation, this has led to suggestions that Dembele could leave the club this summer if a significant offer was made.
However in a recent interview Dembele insisted that he wants to remain at the club: "I feel very good at Barcelona, it's the club I love."
"I hope to become a great player here for many years to come. Now my goal is to keep winning titles with Barça and try to win the Champions League."
Welcome to Barcelona vs Mallorca: Live!
Welcome to AS USA, I'm Will Gittins and I'll be bringing you all the action from Spain as Barcelona take on Mallorca in their final home game of the season.
It will be an emotional day for the Culers in the stands. Barca captain Sergio Busquets, a stalwart of the most successful Barcelona team of all time, will leave the club at the end of this season.
Not only that, but next year the club will relocate to the Estadio Olimpico de Montjuic while much-needed renovations are done on Camp Nou.
Those in the famous stadium will also want to celebrate the team's league title triumph, the first time that they have been crowned LaLiga champions since 2018/19.