Cádiz 1-1 Real Madrid summary: score, goals, highlights, LaLiga 2021/22
Cádiz vs Real Madrid: as it happened
Cádiz vs Real Madrid: headlines
- Mariano Díaz gives Real Madrid early lead after great play by Rodrygo
- Sobrino equalises for Cádiz with powerful shot shortly before break
- Negredo misses second-half penalty for hosts
- Late Mallorca winner sends Cádiz into drop zone ahead of final day
Peeep peeep peeeeep! All over at the Nuevo Mirandilla. Cádiz created more than enough chances to win that game, but must settle for a point. That last-gasp goal for Mallorca means the Andalusians drop into the relegation zone going into the final day. Álvaro Negredo's penalty miss is looking very costly right now.
As for Real Madrid, the chief goal for them was to avoid any injuries to key personnel ahead of the Champions League final in two weeks' time. Oh, and by the way, Hazard actually looked in pretty decent nick when he came on.
Thanks for reading!
Having just said Cádiz are hanging on, it's the hosts who'll have the final chance. Militao gives a free-kick away on the left, and Alcaraz delivers. It's headed away, but when Cádiz recycle it right towards Fali, he tumbles under Carvajal's challenge just inside the box.
There's a VAR check on it, but in the end no penalty is given, and that will be that! There are a couple of yellow for Cádiz players who took their protests over that spot-kick call a little too far - I'm afraid I didn't see exactly who was booked. Fali may well have been one.
Cádiz are really hanging on now, and the nerves in the stands are palpable. Carvajal shoots from 20 yards out - but it flies off target, to much relief inside the Nuevo Mirandilla.
Mallorca back ahead against Rayo
Oh, wow. Mallorca have scored a huge goal at Son Moix. Abdón Prats has put Los Bermellones ahead in stoppage time - and that takes them out of the relegation zone and pushes Cádiz back into it!
That's a fine save by Ledesma. Ceballos jinks his way into shooting space on the edge of the box, before curling a low effort towards the near post. Ledesma gets down well to turn it behind. Latasa then heads the corner over.
Six minutes of time added on at the Estadio Nuevo Mirandilla.
Real Madrid launch a quick break, and when Hazard feeds it Latasa in space on the left, the striker knows he has Asensio all on his own 15 yards to his right. He can't find his team-mate, however. Asensio very visibly shrugs in frustration.
Carcelén and Sobrino bring Hazard down on the left wing. Kroos bends the free-kick into the Cádiz box, but Ledesma comes off his line to claim.
Hernández was booked after that foul on Hazard, by the way, seemingly or giving Mateo Lahoz a little bit too much lip.
Cádiz bring off Idrissi, Choco Lozano replacing the Moroccan.
Now Alcaraz is booked for bringing down Hazard, and Real Madrid have a decent-looking free-kick from 25 yards or so out.
Ceballos takes... and bends his shot straight into Ledesma's arms.
Carcelén earns himself a yellow card for bundling Hazard over as the Belgian drove towards the Cádiz box.
Cádiz continue to push for a second. Idrissi wins a corner, which is delivered right onto Sobrino's head at the near post. He can only send it off target, though, and the look on his face indicates he knows what a decent chance that was.
Real Madrid bring on youth product Juan Miguel Latasa for his first-team debut. Mariano makes way.
Negredo is booked for a late tackle on Casemiro.
Levante ahead against Alavés
More good news for Cádiz coming from the Ciutat de València: Levante are now ahead, Roger Martí scoring for the Granotas. That leaves Alavés five points behind Cádiz. Barring a late turnaround, the Basques are heading down.
With Alavés losing and Mallorca drawing, a win for Cádiz would seal survival.
Pérez boots his free-kick straight into the wall.
Carcelén is on for Akapo, who appears to be in a lot of pain.
That Hazard foul has given Cádiz a very inviting free-kick in shooting space, with Pérez looking the likeliest to take.
Hazard is booked for a late challenge on Akapo, who can't continue. Iza Carcelén is preparing to come on.
Alcaraz does very well to hold off his man and barrel forward into the Madrid half, before slipping the ball left to Idrissi. He advances into the box, but his attempt to square it is cut out.
Blimey. How did that not end up in the Real Madrid net? A left-wing cross drops right to Negredo at the back stick, but he can't get a good connection on it. Lunin can't gather the ball and Militao can't get it clear, but neither Sobrino nor Espino can turn it into the net from five yards out.
Cádiz have created so many openings.
Chances at both ends.
First, Pérez slips the ball to Negredo, who advances into the Real Madrid box and cuts inside onto his left foot. His shot is too close to Lunin, though.
Madrid break, and work it to Asensio on the right. He also cuts inside onto his left, before unleashing a powerful shot that Ledesma does well to parry.
Rayo level at Mallorca
Some crucial news for the hosts that will, to an extent at least, soothe the hurt of that missed penalty: Rayo have just equalised at Mallorca. That lifts Cádiz back out of the relegation zone.
Triple change for Real Madrid: Dani Carvajal, Dani Ceballos and Eden Hazard are on for Vallejo, Valverde and Rodrygo.
Right away, Madrid break and aren't far away from rubbing salt into Cádiz's wound by taking the lead. Rodrygo leads the attack, before feeding it to Asensio. His low shot is just wide of Ledesma's near post!
Missed penalty - Negredo
Negredo takes... and Lunin saves! A huge, huge opportunity spurned.
Penalty to Cádiz! Lunin is deemed to have brought down Negredo!
When Militao misjudges a Cádiz hoof up the pitch, Pérez latches onto the loose ball and releases Negredo into the box. His touch seems slightly long, but he gets there before the Real Madrid keeper, who bundles him over - and Mateo Lahoz points to the spot!
What an opportunity this is for Cádiz.
Kroos looks up and clips a ball into the Cádiz box that picks out Asensio's run to the far post. Asensio knocks it first-time across goal, but Fali is there before Rodrygo can turn the ball into the net. A crucial intervention from the defender.
Levante level against Alavés
Some good news for Cádiz: Levante have equalised against Alavés, Óscar Duarte levelling for the hosts. That would leave Alavés four points behind Cádiz and Mallorca, and out of the race to stay up. Clearly, it would benefit Cádiz to go to Mendizorroza next weekend with the hosts already out of it.
Idrissi runs at Vallejo and Valverde, before crossing from the left. The ball bounces off Vallejo and behind, and the crowd scream for a handball. To say their appeals were optimistic would be being kind.
The corner comes to nought, but Cádiz come right back at Madrid, roared on by the home support. Fali collects 35 yards out and strikes at goal, but his shot is well, well over.
Casemiro shoots from 25 yards out, but sends his strike right at Ledesma.
Oh, if Sobrino had been able to control that ball, Cádiz may well have gone ahead. A long throw from the left is flicked on by Negredo at the near post, and runs through to Sobrino underneath the posts. The ball bounces off him, however, and the chances is lot.
Moments later, Idrissi shoots off target. A point doesn't really do Cádiz, and it's clear they know it.
Nacho is the first Real Madrid player to go into the book, after a foul on Sobrino.
Immediately Cádiz are on the attack, Espino forcing Nacho to send a hurried clearance over the bar.
The corner is finally worked out to the opposite wing, from where it's played to Fali. He doesn't need a second invitation to have a dig from the edge of the box, but his shot trundles well wide.
Peeeep! We're back up and running in Cádiz. No half-time changes for either side.
As it stands: Cádiz set for crunch final-day clash with Alavés
It's oh so tight at the bottom. Not only are Mallorca winning, in the process pushing Cádiz into the drop zone, but Alavés are also ahead now. Joselu's goal late in the first half has the Basques ahead against already-down Levante.
Were it to stay this way, Cádiz would go to Alavés next weekend level on points with Mallorca, and two ahead of their hosts, who would leapfrog them with a win. Granada are looking far from out of the woods, too - they're losing to Real Betis, and are currently just one point clear of Mallorca and Cádiz.
Peeep peeep peeeep! That's half time in Cádiz. It was a very enjoyable first half. Sobrino's excellent equaliser means Cádiz are level - and, in truth, they've created enough chances to be ahead by now. Real Madrid haven't really done a huge amount in attack, but, as we've seen, when you've got lads like Rodrygo Goes in your, all it takes is one moment of quality.
That's another great chance for Cádiz, who are making excellent inroads down the Real Madrid right. Militao's slip allows Pérez to scamper into the Madrid box and, with a shot probably looking like the best option, he opts to square it to Negredo - and directs his pass behind his team-mate!
Three minutes of time added on.
Sobrino is the first man to go into Mateo Lahoz's book, after hauling Kroos down as he looked to launch a Real Madrid counter-attack.
Militao heads into the side-netting! Kroos delivers a free-kick from the right that the Brazilian connects with at the back post, but he can only send it just wide.
Oh, wow. Cádiz are almost ahead right away. Lunin gets himself in a terrible tangle inside his box, his loose pass allowing the hosts to win it back. It's cut back to Pérez, who can't get his shot away, but it runs right to Negredo, who does get his shot away - and Lunin saves!
Seconds later, Espino drives into the box on the left and squares it to Pérez, but he miskicks, and the chance is gone!
Cádiz are level now! It's a fine goal by Rubén Sobrino!
Sobrino carries the ball forward to the edge of the box, wriggles his way into shooting space, and thumps the ball in off the underside of the bar! Bedlam at the Nuevo Mirandilla.
What an excellent chance for Cádiz to draw level! Fali steps out of defence, before slipping a through ball out to Idrissi, who's barrelling in on the Real Madrid goal from the left. He directs his finish well enough, but doesn't quite get enough power on it, and Lunin parries!
Espino is completely bamboozled by Rodrygo's change of direction in the Madrid half, and scythes the Brazilian down. He gets a stern talking to from Mateu Lahoz, but escapes a booking.
Back underway at the Nuevo Mirandilla. Mariano controls and shoots from 25 yards out, but sends his effort wide of Ledesma's right-hand post. A minute later, Rodrygo lets the ball roll across his body, creating space to shoot from a similar distance. He also pings it wide.
Ah, we're going to have drinks break. There seems to be a little bit of surprise at the decision to have it - 21 degrees in Cádiz, I make it.
Sergio takes the chance to give his players a good jeeing-up. As it stands, it's going to be all on their final-day trip to fellow drop-zone dwellers Alavés.
Mallorca ahead against Rayo
Real Mallorca are leading at home to Rayo Vallecano, by the way - a goal by Vedat Muriqi after 12 minutes. As it stands, then, Cádiz are heading back into the relegation zone.
Again Nacho is in the right place at the right time to clear. A right-wing cross arrows straight onto Negredo's boot on the penalty spot, but his first touch is a little long, allowing Nacho to nip and boot it away.
Luis Hernández sends a long throw into the Real Madrid box, which Negredo heads on. It loops straight into Lunin's arms.
Mariano then loses just a little needlessly, and Cádiz mount another attack. Idrissi lays it off for Espino to cross, but Madrid clear. Cádiz work it back to Espino, who this time tries to barrel his way into the Madrid box, but is dispossessed.
10 goal involvements in 10 games for Rodrygo
There's an interesting stat that illustrates Rodrygo's recent uptick in form. Per Opta, he has 10 goal involvements in his last 10 Real Madrid appearances - as many as he had managed in his previous 50 games for Los Blancos.
That first quarter of an hour was utterly frantic. It's calmed down a little in the last couple of minutes.
Back come Cádiz, working it to Pérez in shooting space just inside the Real Madrid box. He takes maybe just a second too long to get his feet sorted out, though, and his effort is blocked.
That's a goal-saving interception by Nacho! Negredo shows tremendous strength and speed to hold off Militao and drive into the box. He squares for Lucas Pérez, who's arriving at the back post for what looks like a certain tap-in, but Nacho is there to clear!
Cádiz have had most of the play, but every time Madrid get forward, they look like scoring. This time, Mariano completely hoodwinks the hosts' defence, dummying to shoot before slipping the ball to the right to Asensio, who's peeled off into space in the box. Asensio gets it out of his feet and shoots low, but Ledesma gets down well to save! That could very easily have been two.
Cádiz don't look to be cowed by falling behind. First, Idrissi bends in a menacing cross that Vallejo has to look alive to head behind at the far post. The corner is then delivered onto Fali's head at the back stick, but he can't direct it goalwards.
Alcaraz shoots twice from the edge of the Real Madrid box. The first effort is blocked, the second is well over.
That Madrid goal is an absolute gut punch for the hosts. They've had all the play, save for that one attack by the visitors.
Real Madrid take the lead! Mariano Díaz with it!
It's Mariano's goal, but all the credit should go to Rodrygo Goes. The young Brazilian picks the ball up on the left wing and sets off towards goal. He leaves two, three, four players in his wake, before squaring it. From only a couple of yards, Mariano has the very easy task of finding the net!
That's the striker's first goal of the season.
It's a lively start from the hosts - as you might expect, given all that's at stake for them. Alcaraz controls some 35 yards or so out and takes a pot shot at goal, but it's too close to Lunin. An easy enough claim for the Real Madrid goalkeeper.
By the way, it appears that Nacho and Militao are Real Madrid's centre-back pairing, with Vázquez at left-back and Vallejo on the right.
Right away, Akapo tries his luck from range for Cádiz! When Espino's left-wing cross is cleared, the loose ball falls to Akapo, who's arriving at pace on the right. He lets fly from 25 yards, but it's always rising over the bar.
Peeeep! Antonio Mateu Lahoz gets us underway!
Teams out at Nuevo Mirandilla!
Out come the teams at the Estadio Nuevo Mirandilla, where there's a particularly enthusiastic hug between the two captains, Cádiz's Álex and Real Madrid's Nacho, as they meet for the coin toss. They are brothers, after all.
Ledesma yet to concede against Real, Barça this term
Such is Cádiz's good form against Real Madrid and Barcelona, indeed, that goalkeeper Conan Ledesma has saved every shot on target in games against the two LaLiga giants this season.
Cádiz punching above their weight against big boys
Since returning to the top flight in 2020, incidentally, Cádiz have a very decent record against Real Madrid. The Andalusians have won one, drawn one and lost one against Madrid, holding Los Blancos to a 0-0 draw at the Bernabéu in the teams' first league meeting this season.
What's more, if you add Cádiz's clashes against Barcelona into the mix, it makes for a really quite remarkable record against LaLiga's 'big two' since the start of 2020/21: W3 D3 L1. Cádiz haven't yet lost to Barça, and earned a crucial, crucial win away to the Catalans in April.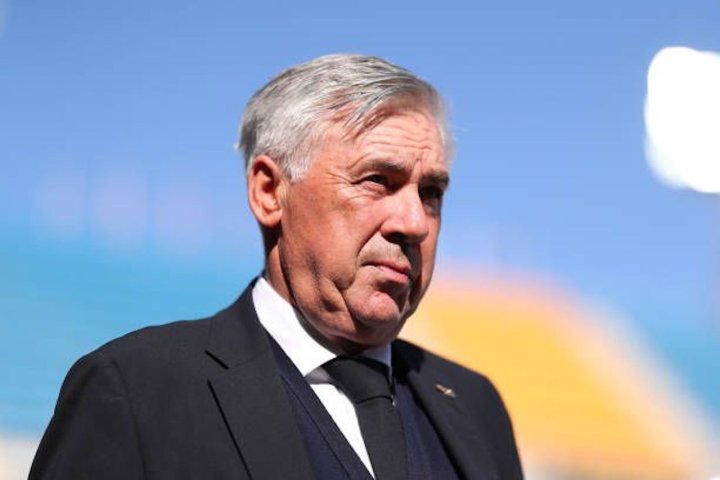 What the coaches said: Carlo Ancelotti, Real Madrid
Rest for Benzema, Vinícius and Courtois:
"I rested him because he deserves it. I've given him two days. Tomorrow I will also rest Vinicius and Courtois. They will be back on Tuesday. Carvajal, Ceballos and Hazard are back. We are doing well with the plan and next week they will all be back."
Eden Hazard's future at Real Madrid:
"He's staying, and with a lot of motivation because he hasn't had a good time. He wants to show his quality. Hazard's plan is clear. He is staying."
Ancelotti's pre-match press conference in full
(Photo: Fran Santiago/Getty Images)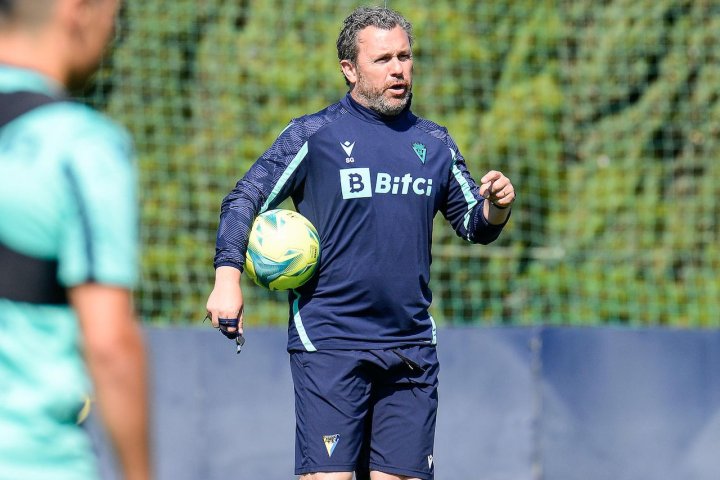 What the coaches said: Sergio González, Cádiz
Cádiz optimistic of survival:
"Two or three months ago, we'd have taken being in this situation at this stage. If the others at the bottom think they can do, then why not us, too? It's going to be a difficult game, a very difficult game, but we're going to fight tooth and nail for the points.
"The vibe I'm getting from the lads is one of confidence, that we're going to do it. I'm seeing optimism in their faces. It's Real Madrid who are coming to town, sure, but we have the ability to put in a great game. I haven't seen a shred of pessimism in the dressing room."
(Photo: Álvaro Rivero/Diario AS)
Cádiz battling to stay in top flight
While Real Madrid are already confirmed as champions, Cádiz are in an almighty scrap to keep themselves in the top tier. Sergio's men are one place above the drop zone, two points ahead of Real Mallorca in 18th and five clear of 19th-placed Alavés.
Kicking off at the same time as Cádiz vs Real Madrid, Mallorca host Rayo Vallecano and Alavés are at home to already-relegated Levante. "It's going to be difficult not to be watching out for results elsewhere," Sergio admitted in his pre-match press conference.
Above Cádiz, Granada and Getafe look likely to stay up, but can still mathematically be dragged into the bottom three. They face Real Betis and Barcelona, respectively.
Six changes for Real Madrid
Real Madrid head coach Carlo Ancelotti makes six changes to the team that thumped Levante 6-0 in midweek. Andriy Lunin, Éder Militao, Casemiro, Toni Kroos, Marco Asensio and Mariano Díaz come into a side that is quite far from being Los Blancos' strongest XI.
Thibaut Courtois, Karim Benzema and Vinícius Júnior are all rested, while Luka Modric is suspended. That's Madrid's four best players this season right there. Ferland Mendy, Eduardo Camavinga also make way.
Eden Hazard is on the bench, by the way, having returned to the Madrid squad for the first time since March.
Meanwhile, Cádiz boss Sergio González makes three changes to the team that lost 3-0 to Real Sociedad, as Fali, Rubén Álcaraz and Álvaro Negredo replace Madrid loanee Víctor Chust, José Mari and Tomás Alarcón.
Real Madrid team news
Starting line-up: Lunin, Vázquez, Militao, Vallejo, Nacho, Valverde, Casemiro, Kroos, Asensio, Mariano, Rodrygo
Cádiz team news
Starting line-up: Ledesma, Akapo, Hernández, Fali, Espino, Sobrino, Álcaraz, Álex, Idrissi, Negredo, Pérez
Cádiz vs Real Madrid: preamble
Hello! Welcome to our live coverage of Cádiz vs Real Madrid at the Estadio Nuevo Mirandilla. Kick-off is at 1:30pm ET - about an hour away.
With the title already sewn up, and the Champions League final 13 days away, Real Madrid can be forgiven for having one eye firmly on their date with Liverpool in Paris. Thibaut Courtois, Vinícius Júnior and Karim Benzema have all been left out of the squad, and - as we'll see in a moment - Carlo Ancelotti has gone with a weakened team in Cádiz.
As for the hosts, who sits just two points clear of the drop zone, today's game is rather more important. They'll also be keeping tabs on how relegation rivals Mallorca, Alavés and Granada are getting on - they're all in action at the same time.
Let's take a look at the team news!