LA LIGA
Can Marc-André ter Stegen still break the LaLiga clean sheet record?
The Barcelona goalkeeper has been in incredible form this campaign and could make Spanish league history.
Barcelona wrapped up the LaLiga title last weekend with a resounding victory over city rivals Espanyol. However there is still something to play for in Barca's remaining games. Namely, a piece of LaLiga history.
German goalkeeper Marc-André ter Stegen has been among the league's top performers this season and he could well break a record that has long been thought of as untouchable. He has already kept 25 clean sheets this season, leaving him just one short of the all-time LaLiga record.
Ter Stegen might have hoped to draw level with the record against Real Sociedad on Saturday but La Real shocked the champions with a goal after just two minutes. Real Valladolid put two goals past Barça before 30 minutes in the following game, meaning that the record might be slipping through his grasp.
The German stopper has just two games remaining, meaning that the record is still within sight.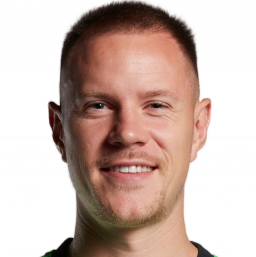 What is the La Liga clean sheet record?
Even with the disappointing early goal against La Real, Ter Stegen will have recorded an incredible 25 clean sheets in 36 league games. So far this campaign he has kept a clean sheet in 69% of his league outings. If he can keep up this record he would be expected to get two more shut-outs from his remaining fixtures, just enough to surpass the all-time record.
This would beat the league record of 26 set by Deportivo La Coruna goalkeeper Francisco Liaño in the 1993/94 season. Deportivo finished second in that campaign but Liaño's record has been unbeatable for the past three decades.
On two occasions in the early 1990s the Deportivo goalkeeper picked up the Zamora Trophy, awarded to the La Liga goalkeeper with the best 'goals-to-games' ratio.
What is the La Liga record for fewest goals conceded?
Not only are Barcelona on track to beat the clean sheet record, they could also end the season having conceded fewer goals than any side before them.
The current record for the fewest goals conceded in a 38-game season is 18, held jointly by Liaño's 1990s Deportivo side and Atletico Madrid in 2015/16.
Ter-Stegen has been one LaLiga's best players this season and undoubtedly a key part of Barcelona's first league title since 2018/19. The German could well end the season with the best defensive record of all time.