Eden Hazard's poor Clásico record with Real Madrid
The Belgian has not played a single minute in nine games against Barcelona in all competitions.
Like the rest of his Real Madrid team-mates, Eden Hazard went to receive his Spanish Super Cup runner-up medal on Sunday. It was the ninth El Clásico that he had watched from the bench without playing a single minute.
Hazard arrived as Cristiano Ronaldo's replacement a year after the Portuguese's departure, but after almost four years he has yet to play in a single Clásico. He missed the first five due to injury. In 2019 he missed the two Clásicos in the league due to the ankle fracture he suffered against PSG. He came close to playing in the Clásico at the Bernabéu, but suffered an injury a week before the game (defeat against Levante).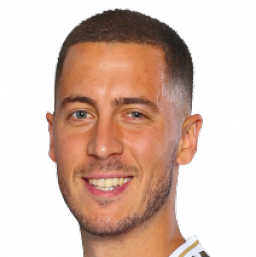 In the 2020-21 campaign, he suffered a muscle injury in his right leg earlier that season, although the area of the injury was not revealed at the time: he was out for 25 days and missed five games, including the Clásico at Camp Nou. He also missed the second leg at the Di Stéfano stadium with another muscle injury.
Now recovered, the former Chelsea attacker has missed the last four Clásicos, with Carlo Ancelotti deciding to keep him on the bench. He didn't appear in last year's Super Cup, a match Madrid won (3-2), or in the Clásico at the Bernabéu (3-1). He also missed the 4-0 defeat in Madrid and Sunday's final in Saudi Arabia.
297 minutes in seven games
Ancelotti explained that Hazard would be important in the second half of the season, i.e. after the World Cup, but he has only played in the Copa del Rey, against Cacereño, where he played 68 minutes. This season, the Belgium international has played in seven matches - three in La Liga, three in the Champions League and one in the Copa del Rey - for a total of just 297 minutes. He has started three times and was taken off in all three, and on four occasions he came off the bench. His last full match was in December 2021, against Andalusian outfit Cádiz at the Bernabéu (0-0).
Copa del Rey next
Against Villarreal, in the Copa del Rey this Thursday, he could get another rare chance. It is a test for Madrid as losing in two tournaments in just four days' time would be a massive blow. Madrid have not won the Copa del Rey since 2014, when goals from Ángel Di María and Gareth Bale helped defeat a Barcelona side who were on course to win both LaLiga and the coveted cup.