Gonzalo Higuaín: "I'm enjoying possibly the best time of my life"
The striker spoke to TyC Sports about life in Miami, the complexities of being a footballer and the Argentina national side.
Gonzalo Higuaín spoke to TyC Sports and analysed his career with MLS side Inter Miami and also looked at the Argentina national side with the 2022 World Cup just around the corner.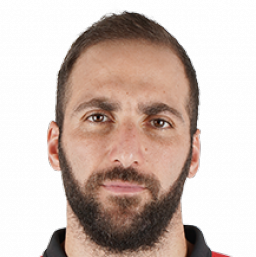 The 24-year-old analyzed the complex life of being a professional football player: "I feel that I have lived 15 years unnaturally. People think that we have an easy life, and no, it's not like that. Even a walk down the street can be difficult as you may get insulted and then if you respond or react, the repercussion is double. If you lose a match, miss a goal or get eliminated from a tournament you can't go out in public. Football is a sport, a job, and there's no need to confuse the two. It seems very unfair to me to have lived 15 years as an elite player and not to have been able to react at times when I had to bow my head in the face of insults and disrespect. At this point in my life I can no longer tolerate it.
Avoiding constant negativity
The striker continued: "as a person I grew a lot thanks to my family and friends. I am presently enjoying one of the best moments of my life. I now endeavour not to see everything as a negative. We had to play in major finals, we lost them ok, but we reached the final. Clearly the only thing that counts in football is success and not the journey you make but it's also important to see the positive things that have been achieved and to see them as a source of pride. So many people will never get to experience what it is to play in a World Cup final and I can take pride in having experienced it.

The 'albiceleste' and Scaloni
Finally, the Inter Miami player also had time to reflect on how he saw the current situation of the Argentina national team under Scaloni. "I didn't have much of a relationship with Lionel Scaloni. He was with us when I was with the team, but I had no idea that he could be the national team coach. He took over without managing any major high profile team. He then made changes, laid the foundations, he supported his players, strengthened them, won a Copa America and qualified for the World Cup. He will be very aware though that football is about success and that one day they put you on a pedestal and the next they will bury you deep underground.
He also summed up his time with the national side: "I'm at a point in my life where neither praise makes me feel good nor criticism makes me feel bad. The most important thing is balance, and when you are at peace with yourself, everything else is secondary. I am calm because I gave my life and more for the national team. I am proud of what I gave for the national team and I have absolutely no regrets".