PREMIER LEAGUE
Erling Haaland makes history at Man City
Against Bournemouth, Haaland scored again to break a Manchester City record.
Erling Haaland had not scored for ten days. His tally of nine goals in the three months after the 2022 World Cup is a far cry from the 23 he managed in the previous four months. The Norwegian striker set the bar high before he went on holiday, and is finding it hard to match it on his return.
Manchester City boss Pep Guardiola offered an explanation for Haaland's dip: "It's my fault that he doesn't get as many passes because I ask the players to be in control, and when you ask for that, the players don't want to take risks. They look at Haaland and see that he is always surrounded by opponents".

Haaland continues to score, albeit less frequently. He netted against Arsenal, and failed to find the net against Forest and RB Leipzig. He did, however, score again on Saturday against Bournemouth. He looked for space and even smashed a ball against the crossbar. And he scored. In the 29th minute, he took advantage of Phil Foden's pass from Ilkay Gündogan's cross. It is now 33 goals in 33 games in his debut season with City.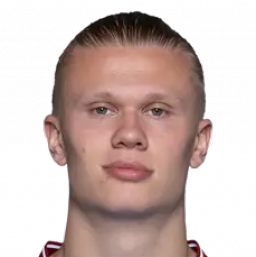 Haaland breaks City record
The Norwegian is breaking records. He did it again with his goal against Bournemouth. He has now scored 27 goals in 2022-23, surpassing Sergio Agüero's tally of 26 goals in 2014-15. Haaland has scored the most goals for City in a single Premier League season. And there are still thirteen games to go.