PREMIER LEAGUE
Haaland talks Guardiola, Bellingham, treble and Champions League
Erling Haaland spoke in an extensive interview with L'Équipe in which he opened up about his time at the Etihad Stadium and the historic treble won with Manchester City.
In an extensive interview for the French newspaper L'Équipe, Manchester City forward Erling Haaland discussed his first season at the Etihad Stadium working under Pep Guardiola.
It was a historic season for the Norweigan, with 52 goals and a treble under his belt, something that could lead to him winning the 2023 Ballon d'Or.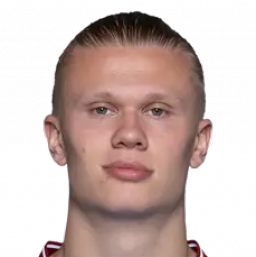 What will you have achieved in 10 years?
"It's a good question. Obviously, I would like to have won many trophies with my teammates, but I would also like people to remember me as someone different on the pitch, because of the way I play. In any case, that's what I try to do every week, show something special, if you will. Yes, being recognized as someone different would be very good for me."
Haaland breaks Premier League record
Challenges for the 2023-2024 season
"It will be difficult to do better. We have achieved a historic treble, so everyone expects us to do even more. Last year everyone wanted to beat us in the Premier League because we were the reigning champions in England, but this season it will be even more like that because now the whole of Europe wants to beat us, but I'm not looking that far. I am very motivated on a day-to-day basis, training, evolving and improving in the smallest details. It is this daily drive that gives me the appetite to try to achieve the same performance as last year, and even better. Now, to be honest, I didn't expect to break the Premier League goalscoring record (36) in my first season in England. But, given the quality of the team, by the middle of the season, I knew it was possible."
How do you manage to be so focused in every game?
"It all starts with feeling passion for what you do, but real passion. If not, you can't keep it. That's why I concentrate every day because it's what I always like to do. And that's good because Pep (Guardiola) demands a lot from you. You can't relax with such a demanding coach and you have an exam every week because the game tells you if you have prepared well or not. Taking exams every week is our life, and that means we can't slack off. The key is not to prioritize the matches, because they all count. You can't take it easy on a Saturday against a team from the bottom of the table just because the following Wednesday you play against Bayern (Munich) or Real Madrid in the Champions League. The league is a marathon and there are no games that count for less than others. This is how you prepare for Europe. It is a mentality that I have worked and continue to work on, to be in the moment, and focus on the present, without letting other thoughts interfere.
Winning Champions League with City
Goalless in Champions League semifinal and final
"I had scored quite a few during the season, right? Speaking seriously, let's take the example of the comeback against Real Madrid, which is perhaps the best game in the history of City. That day I had the opportunity to score two or three goals, but Thibaut Courtois had one of the matches of his life. Not everything is scoring goals. The most important thing is that we have won and that we have played well. Afterward, a final is always a special match, it was very close, and it all comes down to one match. But in the end, there is no better feeling than a collective victory. Of course, in the best of all possible worlds, I could have scored a hat-trick, but in the final, there is no time for such personal considerations, you just have to win. I even cried for the first time in a long time, because I had achieved my biggest dream. All that excitement and joy far exceeded my individual performance in that match."
Jude Bellingham's start to life at Real Madrid
"I watch a lot of football on television. By the way, I saw Jude's (Bellingham) incredible debut for Real Madrid, and I'm very happy for him. I'm passionate about football, it's what I've always loved and it's fair to say it takes up all my time, both professionally and in my life. In fact, I like to play a bit of football in the garden with my little sister, but there are so many games and so many training sessions that I also have to think about recovery."