Hazard: "I don't want to leave Madrid; maybe things will change after the World Cup"
Real Madrid forward Eden Hazard spoke about his situation at the club and his expectations for the World Cup.
Eden Hazard is already focused on his national side, Belgium, of which he is a key player - unlike at Real Madrid. The attacker spoke duing the Red Devils camp about his situation at the Spanish club and his expectations for the World Cup. "I don't want to leave Madrid. Maybe things will change after the World Cup. I want to play, but it is the coach who makes his choices. I accept it, but I want to show him that I deserve to play more. When you don't play, it's difficult", Hazard said at a press conference. "I keep smiling. I've had a few difficult months where I haven't been able to pick up the pace. Now I have to show that I can keep doing it. I don't doubt myself, but I understand that others do", explained the winger, who has featured just three times this season.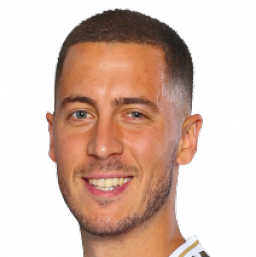 Eden referred back to the last major international tournament to argue that we may yet see the best version of himself this winter in Qatar. "It's like the last European Championship. I got minutes in the first games and then I was there in the quarter-finals against Portugal. Our technical and medical team will help me [to be prepared]. I feel good physically. Of course, I've lost my sharpness, so the last friendly against Egypt is important. Then I want to be there for the first game [against Canada]".
For Hazard, who has amassed 122 caps, it will be an important tournament, as at 31 years old he understands he cannot carry on forever at the top level. "I haven't suddenly lost my quality. This is my third World Cup and I want to show that Belgium can still count on their captain and that I want to give it my all. Some of us have reached an age where you can fall off the team. But not before going all out in Qatar," he says.
As for Belgium's chances, the Madrid winger doesn't rule anything out: "Our first focus will be to get through the group stage. Then everything is possible if we give the maximum. Quarters, semi-finals or even the final".
Belgium's schedule and group in the 2022 World Cup
Group F: Belgium, Croatia, Canada, Morocco
November 23
2:00 pm ET Belgium – Canada
November 27
8:00 am ET Belgium – Morocco
December 1
10:00 am ET Croatia – Belgium