NETFLIX
How many children do Georgina and Cristiano Ronaldo have? Are they married?
CR7′s partner Georgina Rodriguez is back on our screens with the release of the second series of her Netflix series of "I Am Georgina".
With more than 47 million Instagram followers, Buenos Aires born Georgina Rodriguez is an influencer, a model, mother, sister and a successful businesswoman... She's also the subject of a hugely successful Netflix documentary series 'I Am Georgina' which made the Top 10 in more than 60 nations.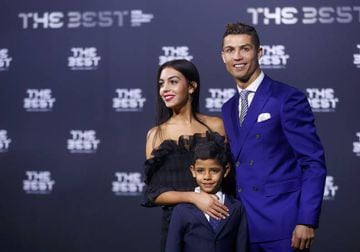 A recommissioned second series is back on our screens this week as Georgina travels from Manchester to Dubai, Lapland and the Latin Grammys, among other destinations as we see her highs and lows at close quarters.
Rodriguez's family and children play a central role in the series as does partner, soccer star Cristiano Ronaldo who met the former Gucci store assistant back in 2016 when he played for Real Madrid.
Gio and CR7 family matters
Georgina has five children with partner Cristiano Ronaldo (with the couple remaining unmarried), and is the stepmother of his first child (Cristiano Junior), raising the child as her own without involvement from the child's biological mother. In June 2017, the couple welcomed twins Mateo and Eva via surrogacy. In November 2017, Rodríguez gave birth to their daughter, Alana Martina and in 2022, Rodríguez gave birth to twins in April with the boy tragically dying during childbirth, while the girl twin survived, Bella Esmeralda.