PREMIER LEAGUE
How many matches is Casemiro suspended for after his red card against Crystal Palace?
The Brazilian midfielder was sent off following a brawl in the Premier League win over Crystal Palace.
Manchester United piled the pressure on Newcastle United, overtaking them in the Premier League after securing a 2-1 win at Old Trafford against Crystal Palace. It was a strong performance from Erik ten Hag's side but one that was marred by a red card to Brazilian midfielder Casemiro following an altercation with Palace midfielder, Will Hughes.
During the match, Casemiro, who arrived in the summer from Real Madrid, grabbed the English player around the neck with both hands, before realising his mistake and letting go.
Contact to the face or neck in football is a dangerous game to play, and Casemiro's usual cloak of invisibility did not stretch that far in the game on Saturday. Nor did his typical 'butter wouldn't melt' facial expression.
Casemiro red card incident
A challenge from Schlupp on Brazilian winger Antony caused a both teams to spontaneously combust and the near-22 man brawl ensued. Referee Andre Marriner consulted the VAR screen after a word in his ear and subsequently sent off the ex-Real Madrid midfielder in what is his first ever straight red card in his European career.
How long will Casemiro's ban last? What games will he miss?
An automatic 3 game ban is issued on receiving a straight red card, so Casemiro will miss Manchester United two upcoming clashes with Leeds United (8 and 11 February) as well as the game against Leicester (19 February).
Manchester United back to winning ways
Marcus Rashford scored again as Manchester United restart their winning run after losing to Arsenal last month. His goal came around the hour mark after a fantastic move on the edge of the box that swished from left to right before the English striker found the space to tap home, sealing the three points.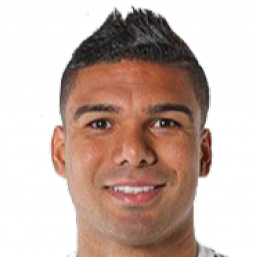 Premier League 2022/2023
*Data updated to date Feb 4th, 2023