2022 Qatar World Cup Human rights protests and reactions live: LGBTQ, armbands, rainbow flags...
World Cup 2022 protests and reactions: latest
Iranians chant for Mahsa Amini
Right before England beat Iran, the fans gathered outside the Khalifa International Stadium to chant the name of the woman whose death sparked the protests in Iran: Mahsa Amini.
Germany remembers migrant workers who died in Qatar
In Herne, northern Germany, 20,000 candles were lit at a football stadium to remember the migrant workers who lost their lives while building stadiums and infrastructure for the Qatar World Cup. Hundreds of volunteers, including schoolchildren, spent Sunday setting up the protest in the stadium at stadion Strünkede Castle.
According to estimates, at least 6,500 migrant labourershave died in Qatar while working on the tournament project - deaths attributed to "natural causes" without being adequately investigated, while many others suffering appalling abuse, being forced to work for up to 10 hours a day in temperatures of up to 45C.
Gary Lineker speech
On the opening day, Gary Lineker made this speech about the controversy surrounding the World Cup in Qatar, human rights and the LGTBI community.


Germany hit out at FIFA for banning protests
Germany have been highly vocal in their criticism of FIFA, with German Football Federation boss Bernd Neuendorf saying his team were prepared to be fined for wearing the rainbow armband. It's not clear what the stance will be if the players are booked and eventually sent off.
Neuendorf said last week that this was a matter of "human rights" not a political matter. FIFA have attempted to argue that protests over Qatar's anti-gay laws are political and therefore have no place in football.
On Friday, Neuendorf said Germany had taken the decision not to back Infantino's re-election next year due to the soccer body's stance on human rights issues in Qatar and its failure to take a stand on Iran.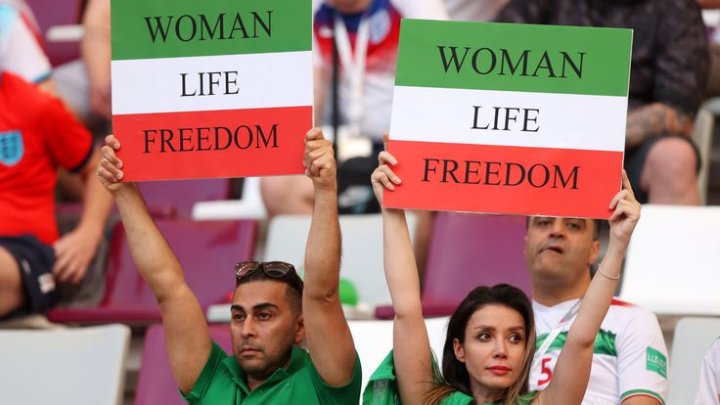 Iran silences its own national anthem in Qatar
The players on the field did not sing it and the fans in the stands whistled it in protest of the crackdown following the death of activist Hasti Amiri.
Opening ceremony ignored
The BBC ignored the opening ceremony of the World Cup in Qatar as a protest in favor of human rights and the LGBT community.

Alex Scott reaction LGTB
Former footballer Alex Scott on LGBTQ sanctions, armbands, rainbow flags on the BBC
What England stand for as a team
Gareth Southgate spoke about England taking a knee before the game against Iran, although they opted not to wear rainbow armbands given the likelihood of being cautioned.
In the end the protest lasted only a few seconds, with the referee pushing for the game to kick-off.
England players take the knee... for three seconds, in World Cup opener against Iran
Despite the rainbow armband decision, Gareth Southgate's England players took the knee, very briefly, in their opening game. Moments before kick-off, the Three Lions knelt for two, perhaps three seconds, making a statement about "inclusivity" as a demonstration against discrimination and racism.
England returned to taking the knee in their World Cup opener after ditching the gesture in their two previous games - Nations League qualifying matches against Germany and Italy in September.
Why are World Cup captains not wearing rainbow armbands? Immediate and harsh reaction
Ahead of Game 2, between England and Iran, the communication came out that several captains who had planned to send a strong but subtle message would not be happening.
Back in September, the English Football Association communicated to FIFA that the team's captain would wear a 'OneLove' rainbow armband for games in the 2022 World Cup. It's purpose, to send a message of support to the LGBT+ community and a reminder to controversial hosts Qatar that inclusivity and human rights are fundamental in a modern society.
As Monday 21 November arrived, Day 2 of the tournament, England captain Harry Kane was readying himself for the nation's first game against Iran, another country that could be aided from his stance. Instead, a joint statement from the Football Associations of England, Wales, Belgium, Denmark, Germany and the Netherlands make it clear that the governing body's sanctions has changed their minds.
So much for Gianni Infantino's "I feel gay" speech a few days ago. What do they say about words vs actions?
Most expensive World Cup
The tournament is the first FIFA World Cup to be held in the Middle East and cost $300 billion to get it it place.
But no sooner had the we kicked off in Qatar than the debates and controversy over human rights and equality resurfaced darker than ever.
Problems in and around the stadium for the opening game were being reported and we moved cautiously into Day 2.
World Cup human rights protests: welcome
Hello and welcome to our coverage of the unfolding situation in Qatar away from the Beautiful Game itself.
There were serious doubts from the moment the idea of the oil-rich regime were hinted at as a contender to be hosts of the FIFA tournament, but once they were awarded it -- a decision shrouded in corruption -- we were assured that human rights issues, and others, would be dealt with sensitively.
This, as it has turned out, was not to be the case.