REAL MADRID
Jude Bellingham: "Real Madrid signed me for moments like this"
The Englishman has hit the ground running at Real Madrid and has now bagged five goals in his four LaLiga games for Carlo Ancelotti's side.
Another Real Madrid game in the 2023-24 season and another goal from new signing Jude Bellingham as the England international pounced in added time to secure the winner against Getafe and extend Madrid's winning run to four games from four.
Speaking to Real Madrid TV post game, the 20-year-old maintained that he was signed "for moments like this" and admitted that he had never heard anything as loud as the Santiago Bernabéu crowd as the fans packed into the newly refurbished stadium celebrated the win.
Five goals and another comeback: "We had to play with patience as the game was a bit hectic and Getafe made life difficult for us. As for the goal, I saw that Lucas fired the shot and was ready. It's not the prettiest of goals I'll ever score but it requires plenty of mental work to anticipate where the ball can land but I have to say the noise from the stadium after the goal was impressive."
Four wins: "We've done well with the first three away games but here today, the reaction was good and you couldn't ask for more. In the second half we played with more intensity and finished better. When we dominate, we are unstoppable."
Santiago Bernabéu: "The stadium is so loud. The moment after the winning goal is the loudest I have ever heard. When they sang 'Hey Jude' I wanted to stop and listen to the fans and my legs were shaking. Real Madrid signed me for moments like this."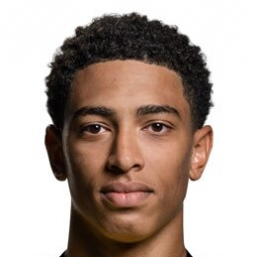 Support from the stands: "Yes, I felt it the warmth of the supporters and every time I delivered a good pass I felt their support. My aim to is simply keep contributing and helping the team."
Everyone is responding well to you: "Thank you very much (in Spanish). It's a dream come true and even more so if you score and win. It's difficult to explain it in words. I have to keep my feet on the ground."