Leeds United - Manchester City summary: City back on top, score, goals, highlights, Premier League 2021/22
Leeds United 0-4 Manchester City
City came into today's game knowing they had to win to go back to the top of the table after Liverpool beat Newcastle 0-1. On paper that was never going to be too hard a task - see the 7-0 in the previous fixture this season - but City had players out and Leeds are fighting for survival and at home. Pep always says the opposition will be tough, but this time at least it was believable that Leeds were going to put up something of a fight.
And they did. An earlyish Rodri goal from a fine, floated Foden free-kick was a punch in the guts for the home side, but they fought their way into the match and started causing the City back line real problems with some physical football and lovely direct running, in particular from Dallas. How cruel then that the Northern Islander was stretchered off just before half-time after a collision with Grealish. It looked serious. Before Dallas had even hit the deck he knew he was playing no further part in the game.
The second half started lively, and both sides felt they might carve something out, but when Dias rose wonderfully in the 54th minute at the back post to nod a Foden corner down for Ake to make it two, the game was, in reality, over.
Leeds to be fair kept chuntering away, and a lovely Raphinha run nearly got them a goal, but Laporte was there to block. And the home side's problem was that City were still keen to add to their tally, and so they did. A great strike from Gabriel Jesus from an even better pass from Foden to make it 3-0 and Fernandinho popped up to put the icing on the cake for City, or add a further dose of misery for Leeds, depending on your point of view.
And that's full time! Leeds United 0-4 Manchester City.
Liverpool went up to Newcastle and went top. City go to Leeds and reclaim the summit. Four games left, who blinks first?
Icing on the cake time for City and a bit unfair for Leeds, as Fernandinho pops up at the very death to score a rather scrappy goal.
90 minutes up. Three more to be played.
Real Madrid, who won their 35th LaLiga title today, won't be too upset by what they've seen today ahead of their Champions League semifinal second leg on Wednesday. City still have problems at the back, and haven't been so convincing going forward, particularly in the first half. Though City have players out and rested...
City really fancy a fourth, and they almost get it, as Cancelo is released free on goal, but his shot is straight into Meslier's breadbasket and the rebound keeps nearly falling to City feet but Leeds just manage to get it away.
Greenwood has come on for Rodrigo for Leeds.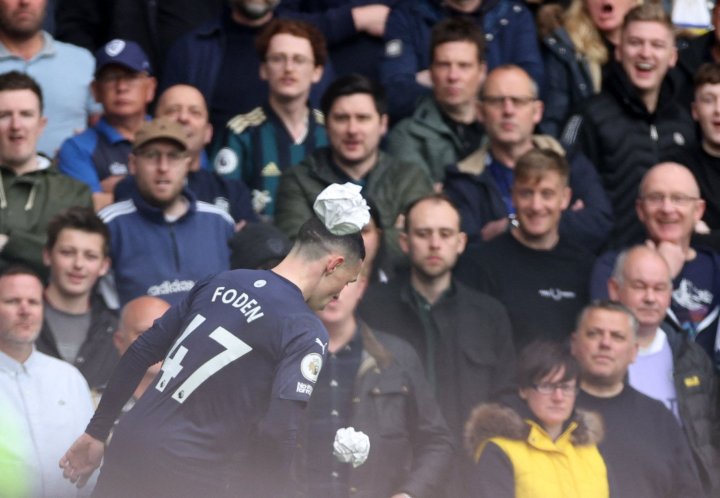 Paper balls at Leeds
One of the many thousands of paper balls hurled onto the pitch as it hits Foden.
Good hands from Grealish to grab one of the paper balls as they rain down on him on the touchline. He's all smiles now.
Gabriel Jesus! He absolutely spanks that one home.
It was a lovely pass from Foden to play Gabriel Jesus in and he made absolutely no mistake, firing past Meslier who came flying off his line but could only watch as the ball went zinging past him.
After all the paper fun and games the corner leads to another corner, and a chance as the ball flies across the face of goal, but there's no lunging toe there to turn it in and give Leeds hope.
City get the ball back and put an end to a mini-mini decent spell from Leeds.
Leeds fans pelting their own players with paper as they go to take the corner. This is bizarre behaviour from the home supporters. Raphinha points this out to them and a few look a bit sheepish, while another couple of paper balls land near him. Daft.
Raphinha played in by James down the right and he cuts back wonderfully to create a shooting chance, but it's just deflected over. Fine chance that one.
Tierney's pencil gets some more action, as Cancelo goes in late and he picks up a yellow for his sins.
It's all City at the moment as they go chasing their third to absolutely put this one to bed. Leeds' coach Marsch is has been rattling the fourth officials' ear and ref Tierney decides he's out of order. Yellow for the coach.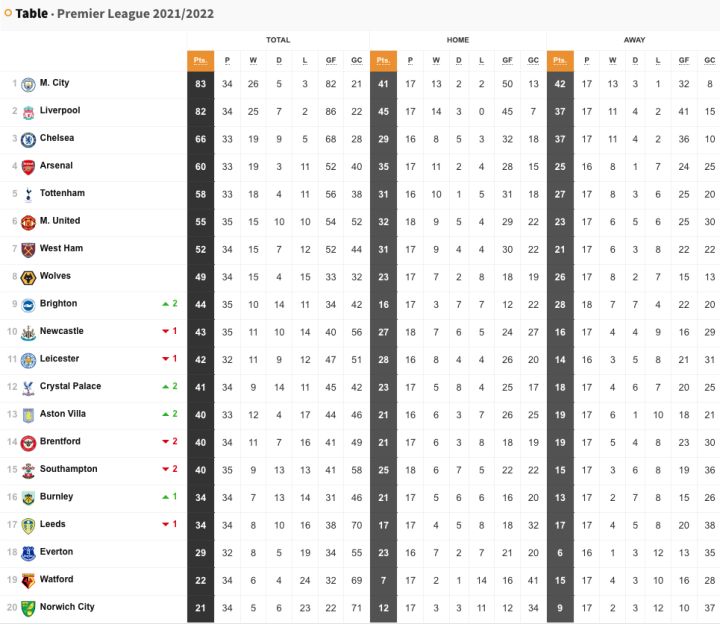 Premier Table
How things look in the Premier as it stands.
Junior Firpo's time is up, at least in terms of this match. 19-year-old Joe Gelhardt the man to replace him.
10 attempts on goal for Man City to two from Leeds so far.
Grealish is everywhere at the moment, and he sets up Gundogan at the top of the box who looks to curl one onto the postage stamp... it's close but just off the edge of the envelope.
Goal-scorer Ake heads off to be replaced by Zinchenko.
Leeds fans absolutely pelting Grealish with paper and also some fruity language as he goes to take a corner. He takes it all in his stride.
The corner comes to nothing though.
AKE! Another corner, another goal for City!
Corner comes in from the right and Dias jumps well at the back post to nod it down to Ake, lurking wonderfully, who steers the ball home and City can rest much, much easier now.
Such good skills from Sterling, who takes it into the box on the run and beats two and shields it from another to get the shot off. It's blocked and eventually falls to Grealish who cannot do anything remotely useful with it in a scoring a goal kind of way.
City pressing down the right, Sterling showing some neat skills to skip round one man, but they lose ball and suddenly look like one pass could see Leeds in... but the pass doesn't come. Guardiola will be raging at how shaky City look when they lose the ball, even far up the pitch.
There were no subs at half-time by the way. We've just had the very sorry switch of James coming on for the injured Dallas, right before half-time.
Quite the lively start to the second half. Junior nearly getting in again for Leeds and then Grealish escaping after some physical battles to make a burst down the left and whip in a tempting ball that finds nothing more than lonely, empty space.
Second half underway and Leeds send it neatly down the left to Junior who hits a shot-cum-cross-cum-just-get-it-in-there and for a moment it looks like it might drift near the back top corner and catch Ederson by surprise, but it's just a mirage in the evening air and the ball floats away harmlessly.
Players back out. Second half about to get underway. Can Leeds find a way through?!
Half-time! City go in at the break leading thanks to Rodri's goal after 13 minutes.
City probably deserved that, they had most of the possession, naturally, and managed to create a few half-chances, though never looked highly penetrating. The goal though was a peach, perfectly flighted from Foden (who has looked lively at times) onto the head of Rodri who dealt with the chance well to glance it flying past Meslier.
Leeds got better as the half wore on, and got into the danger area a couple of times, though over-excitement at being there prevented them turning chances into movement on the scoreboard. Dallas, in particular, was fine - moving roguishly up and down the right wing, but alas his collision with Grealish in time added on saw him stretchered off and he'll play no further part.
City will be fairly confident about holding onto this lead, and likely adding to it, to ensure they go back to the top of the Premier League (they currently sit two points behind Liverpool, who beat Newcastle earlier) this evening, but I suspect a fly on the wall of the City dressing room right now is listening to Pep go on and on and on about not giving the Leeds players space down the wings.
And Dallas is carried off on the stretcher to warm applause. James comes on for him, so the injury was clearly too severe to try and work on it at half-time. The Leeds fans chant: "There's only one Stuart Dallas!". This is gutting.
Dallas still down. Looks like he will be going off on a stretcher.
Stretcher out for Dallas. He's not moved since he went down. That's going to be a major loss for Leeds. The Northern Islander has been a real menace down the right, harrying, running and generally just getting in about City.
City happy enough to practice their passing for the final few minutes. Oh, but that's a sore one! Grealish and Dallas collide like two freight trains on the same line, both going for the ball. Both are on the deck, in some pain. Grealish looks to be recovering, but the Leeds player is in real distress.
City happy enough to practice their passing for the final few minutes. Oh, but that's a sore one! Grealish and Dallas collision. Both are on the deck, in some pain.
Have four minutes of time added on. Expected more actually after that massive head clash between Laporte and Koch.
Dallas hares up the wing and smashes right through Gundogan to win the ball and start a very promising break, until he hears the whistle for what was a clear foul.
Sterling on the point of making it two for City when a defender slides in from nowhere to block. Bodies on the line stuff.
Grealish is absolutely raging AGAIN as he goes down under attention from Dallas. Not even a foul. Barely a glance from the ref in fact.
Dallas and Rafinha down the right again and Leeds have their first corner! City need to watch this.
From the corner Ederson comes to punch at absolute full stretch, and the ball falls to a Leeds player on the edge of the box but his decision to lob it back into the six yard box comes to nothing as the defense has the attacking players swamped.
City, who haven't produced much for a few minutes here, get the ball to Gabriel Jesús who gets a shot off, but will need to do a lot better than that to trouble Meslier who gathers comfortably.
Another decent chance for Leeds, taking advantage when a City move broke down to sweep up the right and get the ball into the box with only three defenders there, all gasping to get position having pegged back. Alas for Leeds both a lack of touch and communication mean the move breaks down as they bring it into the real danger area.
Junior Firpo! Great Leeds chance, as a cross swung over Ayling on the right goes across the box to Junior at the back post with plenty of time. He fails to calibrate his shot though and sends it flying over the bar.
If Leeds can push up the wings the City defense does look exposed to movement in the middle.
Grealish skips past a player out left and it looks like there was a wee touch, and the England international stumbles. He manages to recover and get a toe to it, but the move breaks down and Grealish falls to the turf. He has a little hitting-the-ground tantrum as it probably was a foul, but ref Tierney could not care less.
City win a free-kick some 30 yards out, and Foden plays one off the training pitch. Alas his teammates either forgot the routine or didn't know he'd called it and the ball trundles harmlessly into the arms of Leeds keeper Meslier.
Leeds fans incensed as Aké handles the ball to prevent Leeds coming out with it and then goes on to win a corner. City player could maybe argue his arm was that far away from his body for balance, but they're usually given. It's all academic anyway, as the corner comes to nothing.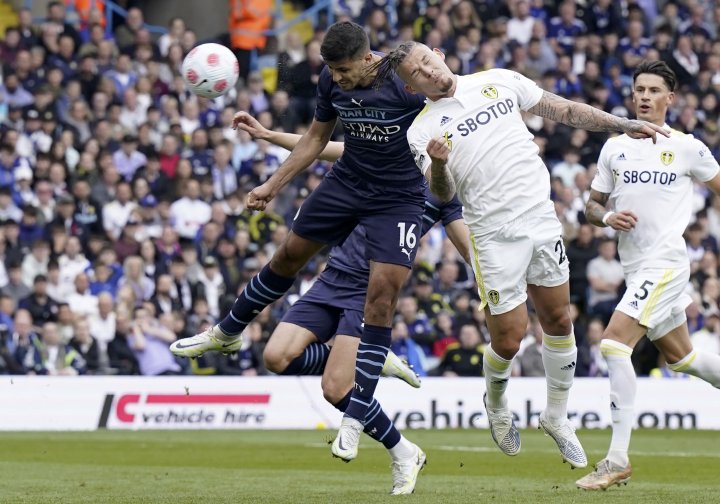 Rodri nods home
There's Rodri's header for the opening goal. Well taken under pressure.
City back with the ball, though they're starting slightly deeper as Leeds push up a little more. Possession at 25:75.
Koch is also back up and he reckons he's ok to carry on. Of course it's not actually up to him, but the doctors, but they're giving him the ok. Fair amount of time to be added on for that stoppage.
Laporte back up but looking rather groggy. Pep is wandering around anxiously looking preoccupied.
Both Laporte and Koch are down receiving treatment after they both went for a Leeds cross from the left and ended up finding each other's noggins rather than the ball. A proper nasty one.
Grealish slides in late and straight into the book. He tweaks his hairband indignantly but doesn't have any real complaints.
Rodri! City are in the lead!
That's a lovely free-kick from Foden who curls it right down the corridor of uncertainty onto Rodri's head and he glances it nearly past Meslier for City's opener.
10 minutes gone here and City have had 74% of the possession. Shocker, indeed. So far though Leeds have had the best chance, thanks to Cancelo slipping as he gathered the ball from a cleared City corner. If Rodrigo just had a shade more afterburner it's be 1-0 now to Leeds.
Ayling goes crashing into Foden. The Leeds player was late and Foden is rather upset by it all. His bleats to the referee however fall on deaf ears.
Leeds' Firpo into the book for a spot of holding - ref has spotted the home side are up for this physically and has clearly decided he'd like to put a stop to that early doors.
Leeds! The City corner broke out to Cancelo, who bizarrely fell over (well he slipped) and gifted the home side a peach of a break. Rodrigo went haring off up the pitch and got into the box on the left, but he was just too slow and unsure of exactly what he wanted to do with it, and the City defense got back in time to nab the ball off him. Some let off for City that!
Leeds! The City corner broke out to Cancelo, who bizarrely fell over (well he slipped) and gifted the home side a peach of a break. Rodrigo went haring off up the pitch and got into the box on the left, but he was just too slow and unsure of exactly what he wanted to do with it, and the City defense got back in time to nab the ball off him. Some let off for City that!
Leeds playing with a packed back-line, five of them most of the time when City have the ball, which so far has been most of the two minutes of the match. And two minutes in City have their first corner, after some gentle probing down the right. Sterling looks business-like.
And we're off! Leeds in their all-white, while City are in the their navy away kit, which is quite smart, I suppose.
The players take a knee #blacklivesmatter
Players coming out at Elland Road. Fans holding up yellow and blue banners in support of Ukraine. And it is LOUD.
Leeds v City
Looking at the historical record things are pretty even between the sides. 28 wins for Leeds, 26 for City and 10 draws. But then City haven't always had millions of dollars invested from Abu Dhabi...
City haven't won at Elland Road since 2000, when Haaland's dad was in the team. Though of course you have to play there to win there, and they've only played there three times since.
Norwich relegated
Confirmed: Norwich have been relegated to the Championship after being beaten by Aston Villa 2-0-

Premier League table
Here's how things look at the top of the table, where Liverpool are sitting provisionally top, having won at Newcastle earlier today, with City looking to reclaim the summit with a win at Elland Road. Full table.
Manchester City Starting XI
Pep's mighty football brain has crafted the following side to head out at Elland Road.
Ederson
Cancelo
Dias
Laporte
Ake
Rodrigo
Gundogan
Grealish
Jesus
Foden
Sterling
Subs: Steffen, Zinchenko, De Bruyne, Bernardo, Fernandinho, Mahrez, Egan-Riley, Mbete, McAtee

Leeds United Starting XI
Leeds will head out as follows:
Meslier
Ayling
Firpo
Struijk
Cooper
Koch
Dallas
Phillips
Raphinha
Harrison
Rodrigo
Subs: Klaesson, Llorente, Cresswell, Shackleton, Klich, Bate, James, Gelhardt, Greenwood

Man City injuries
Pep Guardiola confirmed that Kyle Walker and John Stones are both ruled out.
"It's tough because Leeds are a tough team. The crowd, they are fighting for points. We need points. We know it. The people feel it. The players trained today with incredible focus; I think everybody at the club knows what we're playing for and what they have to do."
Leeds United injuries
Jesse Marsch confirmed back on Thursday that he has a number of players out injured.
Jamie Shackleton has been struggling to shake off an Achilles injury, Crysencio Summerville is out for the rest of the season after twisting his ankle. Patrick Bamford, Adam Forshaw and Tyler Roberts are all improving but won't be fit for today.
Manchester City 7-0 Leeds United
You'd expect Man City to have a stroll in the park this afternoon looking at the previous fixture between these two this season. Back on 14 December, matchweek 17, Guardiola's side handed out the mother of all thrashings to a sorry Leeds United, tonking no less than seven past them. The goalscorers: Foden, Grealish, De Bruyne (2), Mahrez, Stones and Aké. At least City showed some mercy - the final goal game in the 78th minute.
But! Expect a tougher game today. While City are still massive, massive favourites, Leeds United are better than they were then, and are fighting for their lives to avoid relegation. They're in 16th and five points safe as it stands, but Everton back in 18th have a game in hand on them. They're also at home, and Elland Road is never an easy place to come to.
Still, we'd predict a comfortable 1-3 win for Guardiola's side.
Hello and welcome to our live coverage of Manchester City's visit to Elland Road to play 16th placed Leeds United in the English Premier League 2021/22.
Pep Guardiola's side will have had all eyes on Liverpool's trip to Newcastle where a Keita strike gave Klopp's side all three points and put the pressure back on City in the hunt for the League title.
Liverpool, having played one game extra (34) then are sitting on 82 points, while City are on 80. Provided Guardiola's side win this afternoon they'll maintain their one point advantage, with just four games left to play.