Manchester United legend Rio Ferdinand: "We need Varane back"
The Frenchman succumbed to injury against Chelsea and his ticket to the World Cup is in danger. Rio Ferdinand, a legend of the club, says he will be missed by the team.
Raphael Varane walked off Manchester United's most recent match with tears in his eyes and then left the stands with those tears rolling down his cheeks. The French centre-back was forced off in the match against Chelsea due to injury. After 60 minutes against the Blues he was substituted due to a knee injury sustained as he tried to cut off a pass aimed for Chelsea forward Pierre-Emerick Aubameyang.
The former Real Madrid player covered his face with his shirt so the cameras wouldn't catch it, but the feeling of sadness permeated the fabric, his presence at the World Cup, which is now less than a month away, at risk. Lindelof came on to fill the void in a game that was decided in the final moments: Jorginho made it 1-0 with three minutes to go from a penalty before Casemiro levelled the game for the Red Devils at Stamford Bridge with a fantastic header.
Fate flattens the Frenchman as he finds form at United
Despite not knowing the extent of his injury, at Manchester United they already lament his absence as it had appeared that Lisandro Martínez and the Frenchman had begun to establish themselves in recent weeks as a solid pairing. Since the heavy defeat in Manchester derby (6-3 against City), United had improved their defending significantly and with both players on the pitch, they finished two difficult games against Newcastle (0-0) and Tottenham (2- 0) without conceding, as well as during hour Varane endured against Chelsea.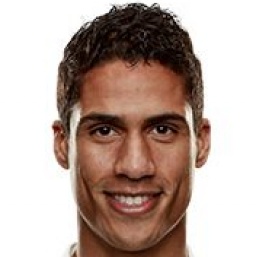 His good performances (both 6.4 and 7.1 in the last two matches according to BeSoccer Pro) had convinced both Ten Hag and the fans, as well as many media legends surrounding the club. And in Varane's case, his highest praise came from the 'cum laude' when it comes to playing centre-back for Manchester United, Rio Ferdinand.
The English centre-back spoke very highly Varane on his podcast Vibe with Five and assured that the team will miss him in his absence. "Lisandro Martínez is playing at a top level, but Varane gives you something different. That speed, that experience, and his physique. I think it's going to be a big loss. We need you two back again. When they play together, they make us a different team, it's as simple as that."
Rio also weighed up his potential substitute, a name that has been on the lips of so many debates in the centre of United's defence: Harry Maguire. For Ferdinand, it should be Lindelöf who replaces Varane ahead of the English defender. "It seems to me that it is not going to be Harry Maguire who comes in now. I think it will be Lindelöf. He is a decent player. He can come in and do the job well, but it depends on how long you ask him to do it for," he explained.
In the coming weeks prior to the World Cup, Manchester United will fight to keep their European dream alive as well as facing important clashes in the Premier League, although on paper they are less of a strain than the top-level matches of previous weeks.
In the upcoming match day they will face Sheriff in the group stage of the Europa League and on Sunday they host West Ham. November 3 will present them with their most important game of the group stage in which they will battle it out for the top spot against Real Sociedad, the team that beat them at Old Trafford in September. From then on, back-to-back games against Aston Villa in the Premier League and EFL Cup await before they finish the first half of the season against Fulham in London on November 13.
The big doubt that haunts Ten Hag is the questions of how many games he will be without Varane and how his defence can hold up without the Frenchman. In Manchester they are just as tearful as the defender himself when it comes to the trips to the hospital. With the recent performances it is no wonder his club and manager will miss him, and he deserves such a reaction.