Pelé wants Neymar to continue playing with Brazil
Pelé has asked PSG and Brazil forward Neymar not to quit international football.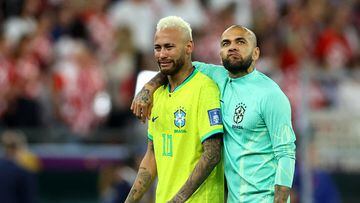 Portuguese outlet A Bola report that Brazil legend Pelé has asked Neymar not to quit international football after his country's World Cup defeat to Croatia in the World Cup quarter-finals.
Pelé, who is suffering from cancer, is reportedly responding well to hospital treatment for a lung infection. From a Sao Paulo hospital, Pelé wrote on social media:
"Your legacy is far from complete. Continue to inspire us all and I will continue to applaud you for every goal you score, as I did in every game I've seen you on the pitch. Congratulations for having equalled my number of goals. However, you know, as I do, that no number is as great as the joy of representing our country."
Is Neymar going to retire from international football?
Neymar's strike against Croatia drew him level on 77 goals for Brazil with Pelé but in the aftermath of the defeat, there are fears that it could have been his last ever goal for his country.
When asked about retiring, he said: "Honestly, I don't know. I think talking now is bad because of the heat of the moment. Maybe I'm not thinking straight.
"To say that this is the end would be rushing myself, but I don't guarantee anything either. Let's see what happens going forward.
"I want to take this time to think about it, think about what I want for myself. I will not close the door to playing with Brazil, nor do I say 100% that I'll come back.
"I need to think a bit more about this, about what is the right thing for me and for the national team."
CONMEBOL want Brazil to change three of their stars to hearts
La Nacion in Argentina have reported that CONMEBOL, the South American football confederation, have suggested that Brazil change three of the five stars above the national team's badge to hearts as a sign of respect for Pelé.
CONMEBOL president, Alejandro Domínguez, has suggested that Brazil make the change to signify Pelé's involvement in the nation's trio of World Cup wins in 1958, 1962 and 1970.
Domínguez said: "As CONMEBOL we propose to the CBF, so that Pelé always lives on in the hearts of all of us who love football, that Brazil swap three of their stars for three hearts. So that everyone knows, although he was not the only architect of those three World Championships because football is a team sport, that he gave birth to 'Jogo Bonito'".