WORLD CUP 2022
Poland vs Argentina times, how to watch on TV, stream online, World Cup 2022
Poland meets Argentina at Stadium 974 in Ras Abu Aboud on 30/11/2022 with a start time of 2:00 p.m.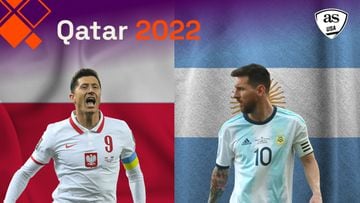 You can follow the live action of the crucial game between Messi's Argentina and Lewandowski's Poland on As.com.
One of the matches that arouse enormous interest in the final round of the World Cup group stage is the one between Poland and Argentina, who will compete in Doha this Wednesday.
World Cup news:
Strictly Vincic, a no-nonsense ref
Saudi Arabia vs. Mexico: How to watch
The Polish national team led by Czeslaw Michniewicz has so far collected 4 points in Group C, thanks to a draw against Mexico and a win against Saudi Arabia, but they could have had more.
Poland vs. Argentina preview
Poland
Robert Lewandowski did not score the penalty kick in the duel with the Mexicans, and now the Polish fans hope that those points will not be missed by their selection, which in case of defeat against Argentina, would find themselves in an uncomfortable situation. It is not sure that they would pass on.
However, the Poles are tough and challenging to concede goals, and it seems that Wojciech Szczesny is in brilliant form between the posts; he saved a fantastic penalty in the previous round and then stopped a shot from close range even more skillfully. Poland will need such bravado in this crucial group stage match, and Lewandowski will also need to be joined by other upbeat players in the attack phase, such as Arkadiusz Milik, who has a solid season with Juventus behind him and needs to shine on the national team stage.
Argentina
Under coach Lionel Scaloni, Argentina opened the competition with a disastrous defeat against Saudi Arabia. Still, it managed to pull out a win against Mexico to stay in the game for one of the top two spots in the group. The key figure of this selection is expected to be Lionel Messi, who has scored two goals and assisted another, so we can say that Leo is keeping the Argentines afloat, but he will have to be joined by others in this crucial match.
We are still waiting for Lautaro Martinez to do something in the attack, and the responsibility is also on Angel di Maria, who has been quite dangerous on the right side so far. However, he is still waiting for his big moment at this World Cup. The Argentines will also have to pay attention to their defensive tasks so that goalkeeper Emiliano Martinez does not end up in a difficult situation again, as he did on two occasions at the tournament's opening.
Poland vs. Argentina predictions
We know that Argentina has a national team full of stars, which is especially true for the offensive part of the team, but it was shown at the World Cup that the "gauchos" have a hard time scoring goals, especially when they play against strong opponents.
That's precisely the kind of opponent Poland is, which plays organized football and will patiently wait for its opportunities in this match. If Szczesny defends again as he did against Saudi Arabia, then Messi and the company have a challenging mission.
Who is the referee
Dutchman Danny Makkelie will referee Wednesday's match between Poland and Argentina at the FIFA World Cup in Qatar. He will be assisted on the lines by his compatriots, Hessel Steegstra and Jan de Vries.
Leaders
Player receives a yellow card for an infringement