Portugal vs Nigeria summary: Dennis penalty miss, Bruno Fernandes double, score, goals, highlights, World Cup 2022 friendly
Portugal 4-0 Nigeria: as it happened
Peeep peeep peeeep! Portugal have thumped Nigeria.
It's a cheering result for Fernando Santos' men - who, lest we forget, had lost two of their three previous games.
But, though the Nigerians improved in the second half, they really didn't offer up all that much of a test. The Portuguese can hardly expect to enjoy strolls like that in Qatar.
A reminder that Portugal get their World Cup campaign underway against Ghana on 24 November.
For Nigeria, it's now three straight losses in all competitions, and six friendly defeats in a row. They're not going to be at the World Cup, and it isn't a happy time to be a Super Eagle.
Thanks for reading!
Two minutes of time added on in the Portuguese capital.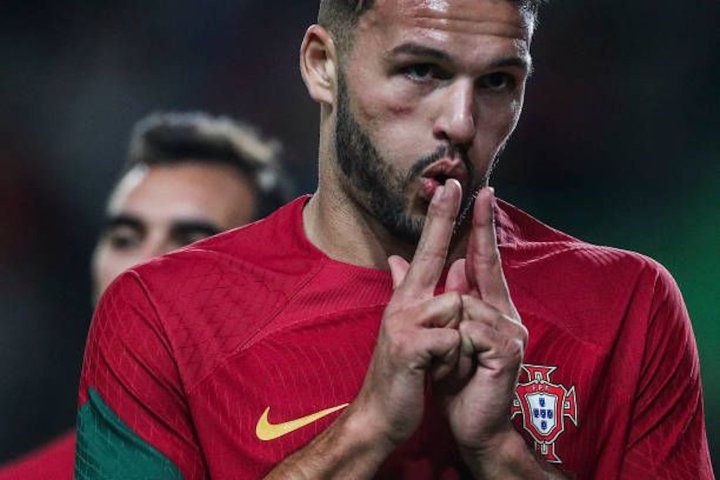 Gonçalo Ramos celebrates after scoring Portugal's third goal.
(Photo: CARLOS COSTA/AFP via Getty Images)
Goal! Portugal 4-0 Nigeria - Joao Mário makes it four!
​​​​​​​And that really is goodnight Vienna for Nigeria. This time it's Joao Félix who collects the ball in space on the left of the box. He cuts it back across goal to the back post, where Joao Mário sidefoots into the net!
Goal! Portugal 3-0 Nigeria - Gonçalo Ramos grabs a debut goal!
​​​​​​​The deficit could have been cut to one a moment ago, but now it's three! Portugal work it through to Guerreiro, who's in acres of space on the left-hand side of the Nigeria area. He has a couple of team-mates queuing up for a tap-in, and it's the debutant Gonçalo Ramos who prods the ball home from six yards!
Penalty saved!
​​​​​​​Emmanuel Dennis takes it, and Rui Patrício saves! It's a pretty weak spot-kick. The goalkeeper pushes it against the post, and 2-0 it remains.
Dennis had come on for Moses Simon five minutes earlier, I now realise I had neglected to tell you.
Penalty to Nigeria!
​​​​​​​Turning our attentions back to the action in Lisbon, Nigera have a spot-kick! Dalot shoves over Osayi-Samuel just inside the Portugal area, and the Cypriot referee points to the spot! It was a silly challenge by Dalot.
Portugal take Otávio off for Ricardo Horta.
A minute later, Dalot crosses from the right to João Félix, who again has a shot on. He's crowded out, though, and can't test Uzoho.
As if spurred into action by the Chukwueze moment, Portugal create their first shooting chance in a little while. They work it out to the left-hand side of the Nigeria box to João Félix, who takes one touch to steady himself, before firing at goal. Osayi-Samuel throws his body in the way of the strike, and deflects it over.
That's fine play by Chukwueze. By a distance Nigeria's best moment of the evening. Receiving on the right flank, the winger skins António Silva and, in the blink of an eye, is bursting clear into the Portugal box. The angle is pretty narrow, though, and Rui Patrício is quickly off his line to meet Chukwueze. The keeper just gets enough on the Villarreal player's finish to divert it off target.
Nigeria replace Aribo with Oghenekaro Etebo.
Portugal keep it for an absolute age in the Nigeria half, before finally Vitinha tries to dink a ball through to João Mário. He doesn't succeed. This is becoming lower and lower key by the minute.
Portugal make a substitution. André Silva is off, with Benfica's Gonçalo Ramos coming on for his international debut.
Well now, here's a dangerous Nigeria free-kick on the left wing, after Onuachu is brought down close to the edge of the box.
The dead ball is delivered right into Rui Patrício's hands, however.
Twice, Nigeria get crosses into the Portugal box; twice, António Silva clears. First, Bassey is released into space on the left and whips a low ball into the danger area. After Silva clears, Onyeka drives towards the box and centres, again to no effect.
On the edge of the Nigeria box, Vitinha touches it left to Joao Félix. He has Guerreiro arriving at pace outside him, but instead tries to nutmeg Iwobi. He isn't fooled, and brings it clear.
Nigeria make another substitution, replacing Moffi with Paul Onuachu.
We've returned to the first-half script of Portugal dominating possession almost entirely, but the hosts have clearly dropped down a gear or two now. The result? Lots of Portugal ball, not a lot of actual action.
Vitinha exchanges passes with André Silva on the edge of the Nigeria box, before trying to spray the ball out wide to the right to Joao Mário. His pass is overhit, however, and his intended recipient won't be getting to that.
In these opening minutes of the second half, there's definitely a bit more oopmh and fighting spirit about this Nigeria team. First, Chukwueze collects the ball, gets his head down and runs at a backpedalling Portugal defence. He's dispossessed by Pepe, but Onyeka latches on to the loose ball and tries to slip Moffi into the box. His pass is cut out, but still; slightly better from Nigeria.
Nigeria start the second 45 on the front foot. (They also began the first half promisingly enough, mind you, before proceeding to do absolutely Fanny Adams.)
The visitors work it out left to Bassey, who thumps in a first-time cross. It's too close to Rui Patrício, who steps off his line to gather.
Peeeep! We're back up and running in Lisbon.
Ndidi and Lookman are the two Nigeria players who made way at half time.
A few half-time substitutions to tell you about. Portugal boss Fernando Santos has brought on Pepe, Vitinha, João Mário and Raphael Guerreiro for Rúben Dias, Nuno Mendes, Bernardo Silva and Bruno Fernandes.
For Nigeria, meanwhile, there's a couple of changes: Samu Chukwueze and Frank Onyeka are on. I'll confirm in a mo who they have replaced.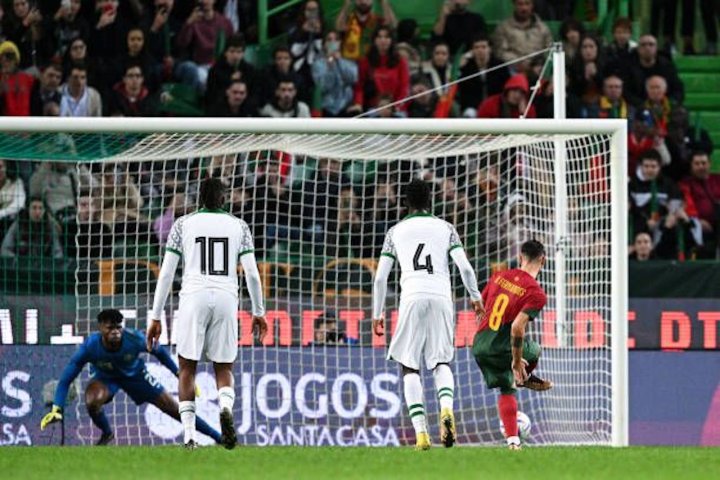 Bruno Fernandes (right) rolls his penalty past Francis Uzoho to double Portugal's lead.
(Photo: Octavio Passos/Getty Images)
Peeep peeep peeeep! That's half time in Lisbon. Portugal have been so, so much better than Nigeria. The hosts lead 2-0, and it could have been more.
Bruno Fernandes is very close to his hat-trick! It's a lovely through ball by Joao Félix, who splits the Nigeria defence clean in two to put Fernandes in on Uzoho. The Manchester United man rounds the keeper, but takes the ball a little too far wide to the left. He needs to finish with his left foot, but instead tries to turn the ball into the net with the outside of his right boot. It trickles just wide of the post and into the side netting.
Nigeria pin Portugal back, sort of, for a minute or so. They really haven't done that often this evening. Finally, however, Lookman can't control a low ball fizzed into him on the edge of the area, and loses it.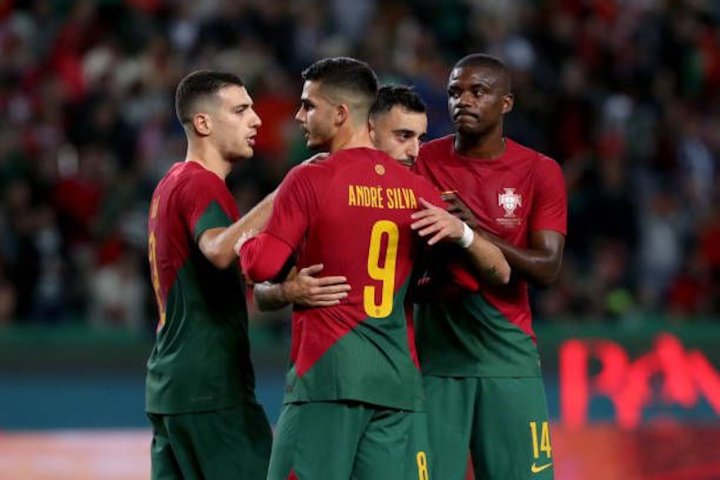 Bruno Fernandes (second right) celebrates with Portugal team-mates after scoring his team's second goal from the penalty spot.
(Photo: Pedro Fiúza/NurPhoto via Getty Images)
Simon takes on his man on the left, before slipping the ball inside to Aribo. The Southampton man has Dias in close attendance, and when he tries to find Rui Patrício's goal with an angled shot, the Portugal defender is there to block.
Portugal really are in total and utter control. This is not a good Nigeria team.
Bruno scores the penalty! Portugal 2-0 Nigeria!
Bruno Fernandes takes, and strokes low into the right-hand corner past a static Uzoho. Two goals for Portugal, two goals for Fernandes.
Penalty to Portugal!
​​​​​​​Bernardo Silva again has the chance to cross from the left - and when he sends his ball into the box, it bounces off the trailing arm of Osayi-Samuel! The referee has no hesitation in pointing to the spot!
Ndidi brings Otávio down some 40 yards out from goal, and Portugal have the opportunity to deliver a dead ball into the Nigeria box.
Hold on, it's taken short - and after a quickfire exchange of passes involving several players, Bernardo Silva's cross from the left is too long.
That's the first time Rui Patrício has had to do anything at all, I think. Simon receives on the left, before cutting inside and fizzing a low shot at goal from the corner of the box. It's well enough hit, but the Portugal goalkeeper is quickly down to gather with relative comfort.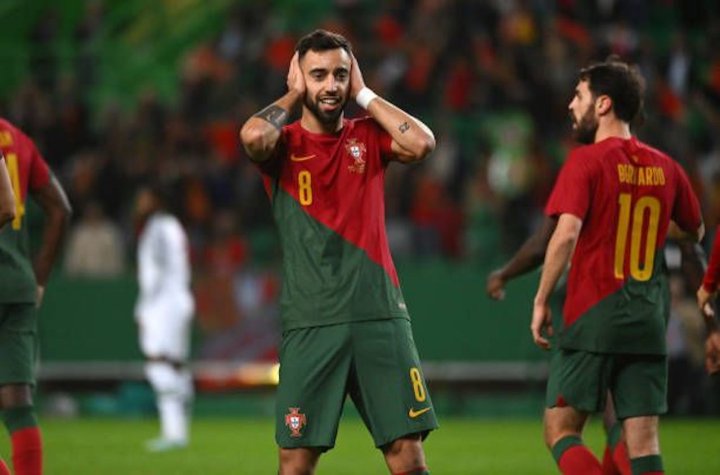 Bruno Fernandes celebrates his opening goal in Lisbon.
(Photo: Zed Jameson/MB Media/Getty Images)
Portugal do a neat short-corner routine that ends up with Mendes cutting it back to Carvalho on the penalty spot. He strikes first time with his left, but it's well blocked.
Iwobi feeds the ball low into the box for Aribo, who for a moment looks like he's going to have a yard or two to get a shot in. António Silva is quickly across to close the angle, though, and put it out for a corner.
Aribo it is who sends in the corner, but Portugal deal with it with ease.
Nigeria manage, for the first time in a long while, to get over their halfway line and into an area around the Portugal half. Fernandes soon wins it back for the Portuguese, however, and suddenly has acres of space to sprint into. Ahead of him, Silva makes a darting run into the box, but Fernandes can't find him when he releases a low pass forward.
João Féliz receives with his back to goal some 30 yards out, before turning and setting off towards the Nigeria box. From the edge of the area, he tries to beat Uzoho, but sends his shot just a yard or two high.
The latest Opta stats at my disposal say Portugal have had 70% possession. It's certainly all being played in the Nigeria half at the moment.
Again Fernandes tries to combine with André Silva, but his first-time cross from the right is just a touch overhit, and Silva can't get on the end of it. It feels like a second goal for Portugal is in the mail, though.
Bernardo Silva whips a low ball into the Nigeria area, but it's too far ahead of anyone in a Portugal shirt. The hosts win it right back and immediately set about popping it about inside the Nigerian half, though. Finally, Fernandes tries to touch it back from the byline for André Silva to shoot, but the latter doesn't seem to be expecting the pass, and the ball runs out.
Back come Portugal, in search of an immediate second. On the right wing, Dalot wins a corner off Simon, and Mendes will take. He plays it short to Fernandes, before collecting the return and zipping a high ball over to the back stick. It's too high and too powerful for anyone to get their head to... but isn't far away from finding Uzoho's top corner!
Now Bruno has scored! Portugal 1-0 Nigeria!
​​​​​​​Félix lifts through a lovely ball for Dalot, who is suddenly in behind the defence and thundering into the Nigeria area. With Portugal team-mates lining up for his pass, Dalot shows excellent composure. He waits, waits and waits a moment more, before slipping the ball across goal for Fernandes to tap in with ease.
It's all Portugal ball now - and Bruno Fernandes is so close to opening the scoring with a fine goal!
António Silva feeds it forward to Bernardo Silva, who clips the ball across the top of the box to Fernandes. He controls, before firing the bouncing ball towards the top corner, but it flies just wide!
We also have a debutant in the Nigeria team, incidentally. Right-back Bright Osayi-Samuel is making his first appearance for the Super Eagles.
Portugal get the decibels rising inside the José Alvalade. Mendes brings the ball forward down the left, before playing it into André Silva's run towards the left-hand side of the box. Nigeria deal with that, but a moment later the hosts create their first clear shooting chance.
Bernardo Silva slips a neat reverse pass into the path of Joao Félix, who has peeled off into space on the edge of the box. He has plenty of room to strike... but he completely misses his kick! Chance lost.
Nigeria immediately win a corner, which Simon takes short. It's worked inside to Ndidi, who plays it out to the right to Lookman. He sidefoots a first-time cross into the Portugal area, but the hosts clear.
Peeeep! We're underway in Lisbon.
Portugal's 19-year-old centre-back António Silva is making his debut for the Seleção, by the way
Out come the teams!
The Portugal and Nigeria teams are out on the pitch at the Estadio José Alvalade, and it's anthems time. Nigeria first, followed by the home anthem. The Portuguese tend to belt theirs out pretty enthusiastically, and that's more or less the case tonight.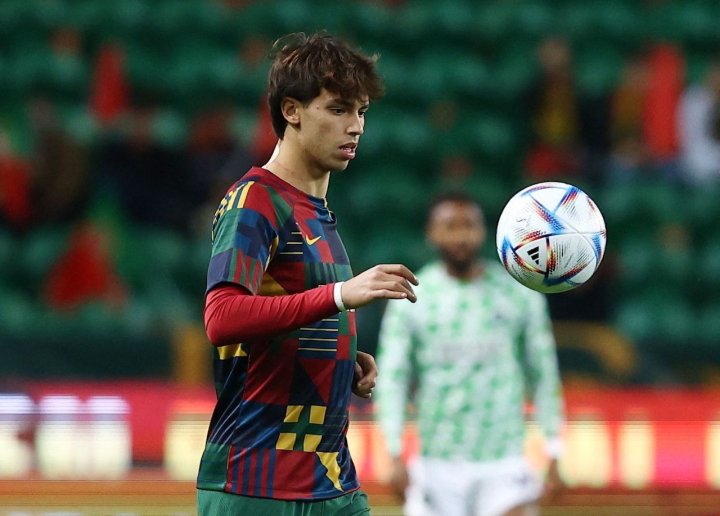 João Félix warms up for Portugal ahead of tonight's game in Lisbon.
(Photo: REUTERS/Rodrigo Antunes)
Peseiro back at Alvalade tonight
By the way, Nigeria head coach Peseiro, who has been in charge of the Super Eagles since May, faces his compatriots tonight a ground where he has previously been the home boss.
The 62-year-old Portuguese has had two spells as Sporting CP coach, most recently in 2018.
Among the many, many jobs he's had, Peseiro was also assistant to Carlos Queiroz during the latter's not altogether successful season at the helm at Real Madrid, in 2003/04.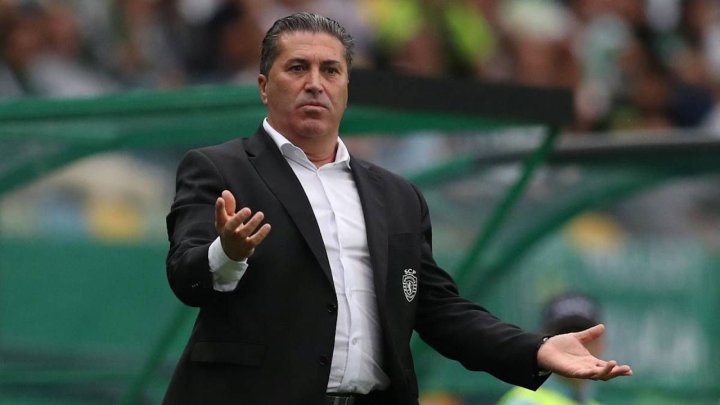 What the coaches said: José Peseiro, Nigeria
Nigeria without star striker Victor Osimhen:
"The doctor from Napoli sent a report to our doctor that after the match [against Udinese last weekend], Osimhen felt pain in his back and needs between ten and 15 days to recover. What can I do? Of course, I like to play with Osimhen. He's a fantastic player. I like to play with the best players."
(Photo: PETER CZIBORRA/Action Images via Reuters)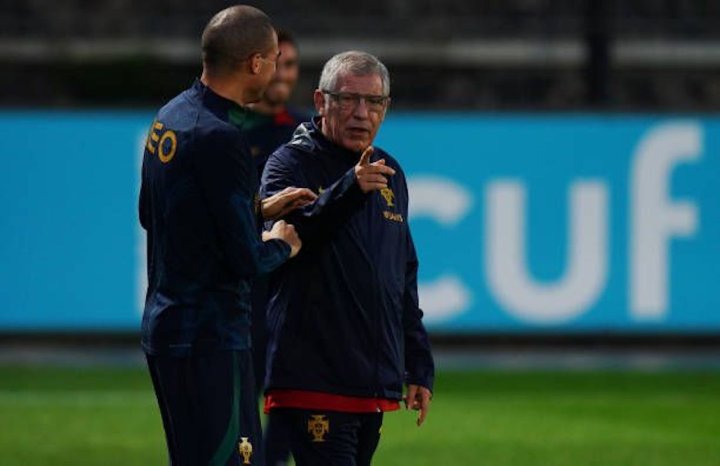 What the coaches said: Fernando Santos, Portugal
Cristiano Ronaldo out of game:
"Cristiano Ronaldo has gastroenteritis, that's what the doctors told me. So he's not available. As you know, it does not help much. It can really make players feel down. They normally feel weakened as they lose a lot of liquids."
Does Ronaldo really have gastroenteritis?
"If this was any other player, we wouldn't doubt it. We would assume he has gastroenteritis, which is true. But regarding Cristiano Ronaldo, everything can be a bit doubtful, things can be more complicated. But this is not the case. He really does have gastroenteritis. Therefore, he is not available and that's normal."
(Photo: Gualter Fatia/Getty Images)
Nigeria team news
The Nigerian starting XI is as follows: Uzoho, Osayi-Samuel, Akpoguma, Troost-Ekong, Bassey, Ndidi, Lookman, Aribo, Iwobi, Simon, Moffi.
Portugal team news
Portugal's starting line-up is out. It is: Patrício, Dalot, Dias, António Silva, Mendes, Otávio, Bruno Fernandes, Carvalho, João Félix, André Silva, Bernardo Silva​​​​​​​.
Nigeria check in at José Alvalade
Here, courtesy of Nigeria's social-media team is footage of the Super Eagles' arrival at the stadium this evening:
Portugal and Nigeria both in somewhat iffy form
Portugal's recent form is far from being anything to write home about, it must be said. In their last game, in September, Fernando Santos' side were beaten by Spain, Álvaro Morata's late winner sending the Spaniards into the Nations League finals at the Portugueses' expense.
Portugal also lost 1-0 to Switzerland in the Nations League in June, so they're on a run of two defeats in the last three.
Nigeria's recent results haven't been wonderful, either. The Super Eagles, who missed out on a World Cup place when they lost a playoff to Ghana in March, have been beaten in three of their last four games in all competitions.
Most recently, the Nigerians suffered friendly defeats to Algeria in September and Costa Rica this month.
The loss to Los Ticos was Nigeria's 12th straight friendly without victory, and the fifth friendly in a row that they have lost. You have to go back to March 2019, and a 1-0 win over Egypt, for the last time Nigeria came out on a top in such a clash.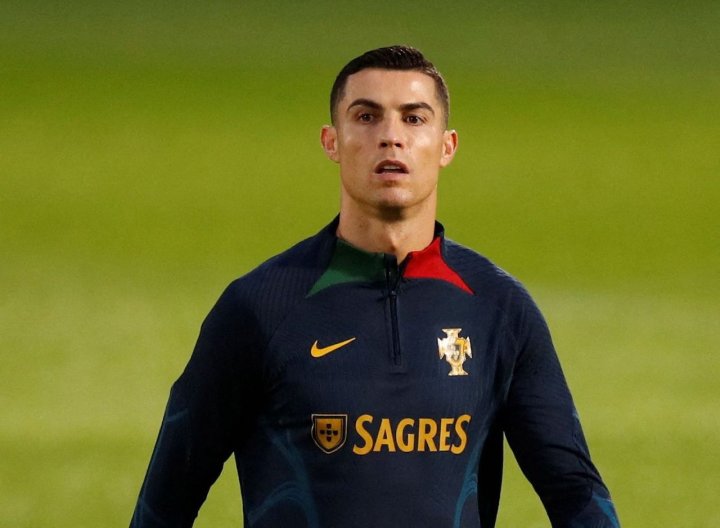 No Ronaldo for Portugal today
Speaking of Ronaldo, he won't be in action today. Portugal say he has gastroenteritis.
Unless you've been living under a rock, you'll be aware he has had a couple of less than complimentary things to say to Piers Morgan about Manchester United and the Red Devils' head coach, Erik ten Hag. My colleague Kieran Quaile has put together this summary of the first part of his Talk TV interview with Morgan.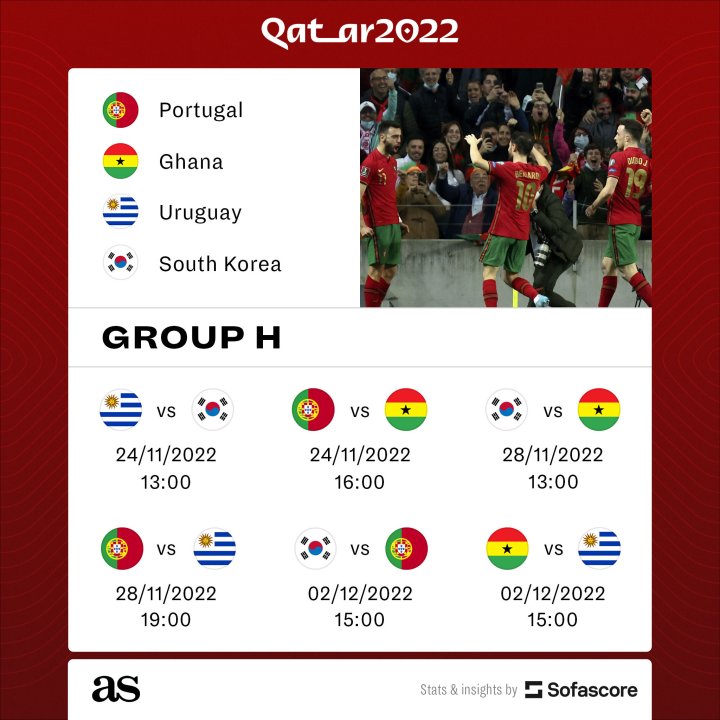 At-a-glance: Portugal's World Cup schedule
Courtesy of our colleagues at SofaScore, here is an at-a-glance look at Portugal's Group H schedule.
After facing Ghana on 24 November, Cristiano Ronaldo and co. then take on Uruguay four days later, before finishing their group stage off against South Korea on 2 December.
It was Uruguay, you may remember, who knocked Portugal out in Russia four years ago. Edinson Cavani's double sent the then-reigning European champions packing in the last 16, with Pepe replying for the Portuguese.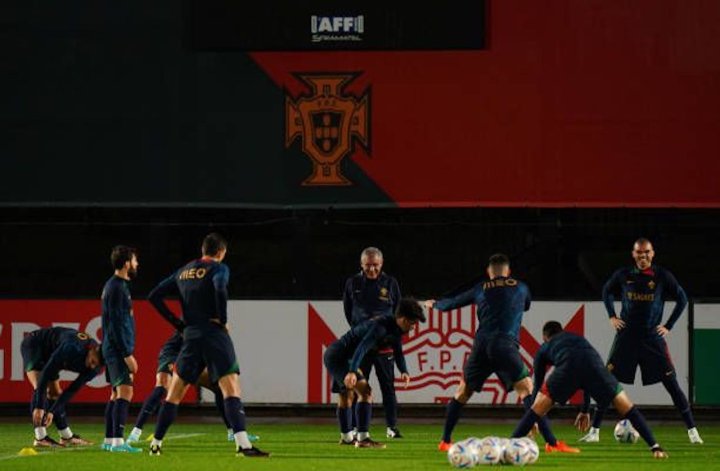 Portugal prepare for World Cup opener against Ghana
Competing at their sixth World Cup in a row, Portugal have been drawn into Group H with Ghana, South Korea and Uruguay. They get their tournament underway in exactly seven days' time, when they face the Ghanaians at Stadium 974.
Since making it to the semi-finals in 2006, the Portuguese have had three underwhelming World Cup campaigns: there were last-16 exits in 2010 and 2018, either side of group-stage elimination eight years ago.
(Photo by Gualter Fatia/Getty Images)
Portugal vs Nigeria: preamble
Olá! Welcome to our live coverage of Portugal's final game before the Seleção get their World Cup 2022 campaign underway in a week's time.
Fernando Santos' men host Nigeria at Lisbon's Estadio José Alvalade tonight, in what is the team's first ever meeting. Kick-off in the Portuguese capital is at 6:45pm local time (1:45pm ET).