Real Betis player Diego Lainez has interest from Spain, MLS, Liga MX, including Tigres and Chivas
Diego Lainez was sold by Club América to Real Betis is 2019, although he has struggled for form in Europe.
Diego Lainez has not managed to become the footballer he appeared to be. After shining with Club América, and winning the Liga MX in the 2018 Apertura, the Mexican winger was sold to Betis for an amount close to €15 million. However, the player has never been able to blossom in Europe and now his future is in limbo because Braga do not want the player, and nor do Real Betis.
With 51 Liga MX appearances, five goals, two assists and a bright future ahead of him, Betis set their sights on Diego Lainez and paid €14 million for his services, according to reports. The Spanish team bet on the Mexican player who promised great things, but he has failed to deliver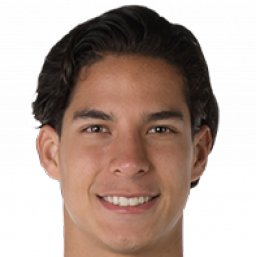 Lainez's steep decline in Spain
His time in Spain started well, playing 16 matches in all competitions in the first half of the season for Betis, even managing to score a goal in the Europa League. However, as time went by, Diego began to lose prominence with the Spanish team and it was not until the summer of 2022 that he was released.
Lainez arrived at Braga on a one-year loan, but has only played 153 minutes this season and, according to various reports, it is said that the Portuguese team want to terminate the loan early, leaving the player with an uncertain future.
Lainez has lost his value
Diego arrived in Spain with a market value of €14 million according to Transfermarkt, but in just 12 months that figure dropped to €10 million. As of April 2020, Lainez cost nine million dollars. Currently, the national team player is also priced at 2.5 million euros and has a contract with Betis until June 2025.
According to a report from Estadio Deportivo, Lainez has three options, as revealed by his brother: he has offers from MLS, Liga MX and the second division in Spain. In terms of the Mexican offer, the teams involved are Tigres and Atlas but the strongest potential suitor is Chivas, who are looking for a substitute to the injured Alexis Vega, although the footballer has not yet made a decision. Real Betis have recently stepped up their efforts to get the player moved on to pastures new.
The player, who missed out on Gerardo Martino's World Cup squad, will be looking to regain his form that led to clubs around Europe taking notice of him in the first place.