Real Madrid closely following Vlahovic's situation
Juventus negotiated his transfer to the Premier League in the January window, for a fee between 100 and 120 million euros, but the player's agent stopped the operation.
Juventus centre-forward Dusan Vlahovic is a serious option to strengthen Real Madrid's attack. Juventus' financial problems together with the Italian Football Federation's decision to hit the club with an exemplary sanction for accounting irregularities, have left the Italian club needing to reduce costs. According to sources who were directly involved in the negotiations, Juventus tried to sell Vlahovic to a top Premier League club, presumably Manchester United, during last month's transfer window. Juve were asking for a price between 100 and 120 million euros for the 23-year-old. But just when discussions were about to come to an end and the transfer was agreed, the Serbian striker's agent put a stop to it going through.
Real Madrid remain attentive to the Serbian player's situation - they now exactly know what possibility they have of signing him and the movements which pushed him to want to leave Juve. That Vlahovic, one of the most intelligent strikers in the game is on the market is promising news for Madrid. The debate continues in the Bernabéu back offices on how to make that transition from Benzema to a top player of the stature Haaland and Mbappé - two players whose contracts put them out of reach until 2024 or 2025 at least.
A lot will depend on what Benzema ends up doing this season. Madrid have two options: ride out the next two seasons (2023/4 and maybe the following one) with the players they already have in the squad and see how Endrick fits in, or sign a tried and test striker with guarantees, like Vlahovic - regardless of whether Mbappé or Haaland arrive at a later date (indeed if they do at all, neither of which is certain). Signing Vlahovic would be a way of covering all bases and making sure the frontline is filled…
Although the source did not confirm to AS that United was going to be Vlahovic's final destination in the January window, everything points to a proposed move to Old Trafford. After Cristiano's departure, the club combed the market in search of a goal scorer, and there is currently no specialist centre-forward in Ten Hag's squad.
Vlahovic joined Juventus from Fiorentina for 80 million euros in January 2022, but his first full season in Turin hasn't been easy. The turbulent situation at the club is not ideal for a newcomer trying to settle in. In the second half of last season, he scored nine goals in 21 games and this season, his figures are similar - nine in 19 games. Numbers that are similar to those he registered at Fiorentina, where he averaged almost one goal per game before being transferred.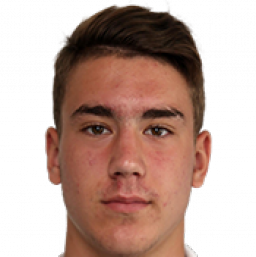 Real Madrid are keeping all of their options open between now and summer, and Vlahovic is one of them. Now, they know that he is on the market, the Serbian forward is one of the names that could help Real Madrid avert a future problem that could arise when they eventually need to replace Benzema. That Madrid and Juventus enjoy an excellent relationship (and a fundamental ally in the transcendental issue of the so-called Super League) will play in their favour. Madrid would be in a privileged situation to negotiate for the Serbian forward.
The issue of replenishing the attack is just one of many decisions Madrid must make between now and the summer. Nothing is being taken for granted, and so far no contract renewals have been made effective - not even those of Benzema, Modric and Kroos. Jude Bellingham appears as Madrid's number one objective this summer - his transfer will cost around 100 million euros. But that will depend on Borussia Dortmund agreeing to sell him, as the player is under contract until 2026. Meanwhile, Mariano will leave, and the option of Vlahovic is now on the table.