Real Madrid confident Tchouameni will come good
The French midfielder has made 17 starts in LaLiga this season, but the club is not worried - they believe that it is more a question of adaptation than anything else.
There were just over six minutes to go in last year's European Super Cup final, when Carlo Ancelotti decided to replace Toni Kroos with Aurélien Tchouameni. The player who Madrid signed as Casemiro's eventual successor to be a key figure in the midfield entered the field of play to help the team see out the final moments of the match. It's a situation that the French midfielder seems to be stuck in. He was originally brought in as a kind of a bodyguard for Kroos and Modric but doubts persist on how compatible he is in the centre of the park. The performances of his compatriot Eduardo Camavinga have converted Tchouameni into a player with a secondary role. His most recent start was in last Saturday's game against Villarreal, but in the 36 games he has participated in this campaign, he has completed just 11...
Tchouameni was the club's big signing of last summer. Madrid paid 80 million euros for the young French player. He started off well enough, but stagnated after the World Cup. Quite the opposite of his compatriot Camavinga, who is delighting both Madrid fans, coach, Carlo Ancelotti and president Florentino Pérez, who will study a possible contract extension and a salary increase to scare off potential suitors (especially from the Premier League) who might have designs to lure the talented young star.
Tchouameni began to show all his virtues in the Week 4 game against Betis. That day he gave a recital of all his football qualities - especially when it came to recovering balls. That has been without a doubt his best game with Madrid to date. But as soon as the World Cup arrived... everything seemed to vanish. The start of the New Year was a nightmare. He fell injured and as a result missed the Spanish Super Cup. During his recovery, while the team was playing the Copa del Rey Last 16 tie against Villarreal, he was spotted in Paris attending an NBA game, something that angered fans, but in which he was quick and skillful to apologize for.
But on his return to the pitch, he has not yet established himself as an anchor in midfield. To such an extent, that Ancelotti prefers Kroos in that position. Kroos did not like playing in Casemiro's role, but the Italian coach is insisting on playing in that position. Meanwhile Tchouameni has been tiptoeing about in the matches in which he has played - in the first leg against Chelsea, he barely made 10 interventions…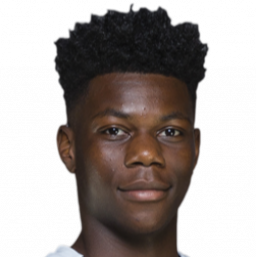 Within the club, they believe that Tchouameni's dip in form is probably down to him having to adapt to a new game model, a new country, and a massive club like Real Madrid with all that entails. Madrid is a very difficult club to adapt to as Militão and Modric can both attest to. For that reason, the club doesn't view his current situation as a big problem, but rather a period of adaptation. They remember how Militão struggled at first, but eventually found his feet and now is a leader in the back four. It took Modric just over six months to settle in - he finally found his rhythm in a Champions League clash at Old Trafford where he was the author of one of Madrid's two goals against Manchester United, which allowed the team to advance to the next round. Subsequently, they have become immovable pieces of the starting eleven under various different coaches who have passed through the Bernabéu.
Apart from his defensive duties, another reason why Madrid signed Tchouameni was for his power in attack. That's another area which he needs to work on. He has not yet scored his first goal for the club but did manage to score his first official goal for France in the recent World Cup - opening the scoring in the quarter final against England.
That's another quality in which he resembles Casemiro, who used to score several goals a season - headers or powerful shots from outside the area. Madrid are not prepared to listen to any offers for him. They know that sooner or later, Tchouameni will once again be the player who dazzled first at Girondins and then at Monaco. It's just a question waiting until he comes good…