REAL MADRID
Real Madrid defender David Alaba injured against Liverpool: how long is he out for? What injury does he have?
Alaba was taken off in the first half with his second injury of the season. He was replaced by Nacho.
Alaba is to make another trip to the injury room, for the second time this season, after having just left. It was in the 23rd minute of a great game at Anfield when a goal line scramble broke out inside the box. Militão managed to clear and cause Carlo to take a sigh of relief, but Alaba was down as the crowd dispersed.
He quickly asked for medical assistance and pointed to his right hamstring. He could not carry on and a change was quickly signalled by the medical staff. The best news for him is that he was able to leave the pitch on his feet and not on a stretcher. Despite not knowing the full extent of the injury report, the initial signs don't look good. The Austrian defender cannot catch a break this year.
Why is Alaba always injured?
Alaba has pretty much just returned from a right calf injury. He reappeared just before the Spanish Super Cup, where he was sidelined for weeks, missing a total of seven games: the two in Rabat, two Cup games (Villarreal and Atlético) and three league matches (San Mamés, Real Sociedad and Valencia). Until January 9th he had a completely normal season. But since then, he has suffered two quick-fire injuries. And, to add to the question marks, he didn't play at the World Cup.
Nacho, his substitute, is in great form
Ancelotti brought on Nacho to make up for losing Alaba at Anfield, but the debate will flourish again ahead of the derby on Saturday. If Tchouameni returns, which is part of the plans, the possibility of Camavinga playing at left back and leaving the pivot to his compatriot would once again appear.
What is certain is that Mendy will not be part of the game (with an injury to his left leg, he still has a month to go in his recovery plan). Carletto will have to put the puzzle back together, who for now has opted for the Spaniard.
When will Alaba be back?
Before the test are carried out and the results are known, it is impossible to say. Given that he missed so many games last time due to what, on first impression, appears to be a different injury, don't expect him to be back for the weekend.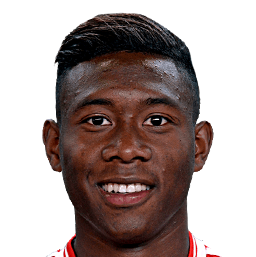 LaLiga Santander 2022/2023
*Data updated to date Feb 21st, 2023