REAL MADRID
Real Madrid eye Veiga, but could Barça beat them to Celta starlet?
Real Madrid and Barcelona are both very interested in Celta Vigo's 20-year-old midfielder Gabri Veiga, who has already spoken to several clubs.
Celta Vigo midfielder Gabri Veiga has a number of clubs eyeing a swoop for his services in the summer transfer window.
The 20-year-old, who is of major interest to Real Madrid, has a release clause set at €40m - an extremely affordable fee for one of Europe's brightest prospects. Madrid have established contact with Veiga's camp, which recently brought in super-agent Pini Zahavi to represent the player. Los Blancos face plenty of competition if they decide to move for the Spaniard, though.
Barça chief sees Veiga as ideal fit
Sources close to Veiga have told AS that dicussions are already underway with Premier League trio Liverpool, Manchester City and Manchester United, as well as German champions Bayern Munich. The same sources have also confirmed that Barcelona president Joan Laporta is keeping close tabs on the youngster. Laporta views Veiga as a potential recruit who would fit perfectly into the Blaugrana's playing style.
However, Barça will only be able to sign Veiga if they don't have to commit financial resources to a Lionel Messi return to the club, and if they are able to keep within LaLiga's spending limits.
From within Veiga's camp, the message is that the situation will have become much clearer in two or three weeks' time. That said, there is unlikely to be any confirmation on his future until the end of the season.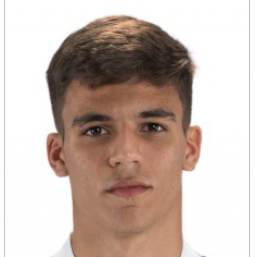 Veiga represents potential fresh blood in Madrid midfield
Madrid's interest in Veiga comes as part of the club's attempts to rejuvenate their midfield. Eduardo Camavinga and Aurélien Tchouaméni have already been brought in at the Spanish and European champions, and the next piece in the puzzle is expected to be Borussia Dortmund's Jude Bellingham. Now, Veiga is also high up Madrid chiefs' wish list - and there are several reasons for this.
Price appeals to Madrid, who don't want to see Veiga at Barça
Firstly, Veiga is exactly the kind of player that Madrid have made a habit of signing in recent years. He's young, homegrown and with huge potential, and is very reasonably priced: his release clause pales in comparison to the €150m fee Dortmund are seeking for Bellingham. Including the Englishman's wages and signing-on fee, plus agents' commissions, Bellingham stands to be a very expensive purchase. Veiga, meanwhile, would cost about four times less.
What's more, Madrid are reluctant to see arch rivals Barça snap up one of the midfielders of the future at such an affordable price, having themselves also had the opportunity to buy him.
Only buy-out fee will do, Celta say
Celta have said they won't be negotiating a fee for Veiga; only his buy-out fee will be accepted. It is therefore the player and Zahavi that interested clubs have to talk to. The agent has a very good relationship with Barça, having already brokered the deal that took Robert Lewandowski from Bayern to the Camp Nou last year. The Israeli also set up a potential Yannick Carrasco transfer from Atlético Madrid to Barça, which would go ahead if the Catalans triggered a clause included in Memphis Depay's move in the other direction in January. Zahavi likewise has a good rapport with Madrid: he recently did business with the club as the representative of David Alaba, who swapped Bayern for the Bernabéu on a free transfer in 2021.
AS USA visual stories - Bellingham makeweight?